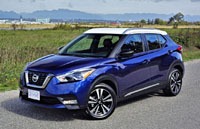 With a starting price of just $17,998 plus freight and fees according to CarCostCanada.com, which also provides dealer invoice pricing and rebate info that could save you thousands, the new 2018 Nissan Kicks is the most affordable crossover SUV in Canada. Even better, it's in our garage this week, so we're putting it through our regular testing process to see how it measures up against an ever-growing list of subcompact SUV competitors. 
The Kicks slots in just below the Qashqai, a slightly larger model that, since arriving just over a year ago in May of 2017, has already taken Canada's subcompact SUV segment by storm. Seriously, the Qashqai was number one in the class as of Q1 2018, and was thousands of models ahead by the end of Q2 with 9,257 units sold compared to the next best Mazda CX-3 with 6,803 deliveries. The Kicks just started selling in Canada partway through June, but it had already found 2,233 buyers by the close of August, meaning it could very well become the next subcompact SUV bestseller.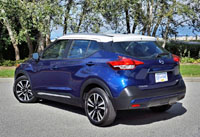 The Kicks is all new, but the vehicle it replaces should be well known to most who follow the auto industry. The Juke seems to either be loved or loathed thanks to quirky styling, but the Kicks won't suffer from unorthodoxy. It's cute and fun loving, but wears sheet metal that's potentially more palatable to the masses. What's more, that aforementioned starting price means it's a lot more approachable to those masses than the Juke ever was, boding well for a very promising future. 
Those who fell for the Juke due to its surprising high-speed agility and capable turbo-four/AWD drivetrain will be less enamoured with the Kicks, at least on paper. Its sole 1.6-litre four-cylinder makes a less spirited 125 horsepower and only 115 lb-ft of torque compared to 188 horsepower and 177-lb-ft for the Juke, but let's not forget the previously noted low pricing and the new car's fuel economy advantage. 
First, the Juke's available torque-vectoring all-wheel drive system is not on the Kicks menu, nor any AWD option for that matter. Instead, think of the Kicks as a tall, SUV-style five-door hatchback, which is really what most entries into the subcompact SUV segment are anyway. Like with most Nissan models, the transmission is a continuously variable type, but on that note make sure you come back to my full review to find out how well (or not) it "shifts", mimicking a conventional automatic. 
Of course, I'll also cover the Kicks' straight-line performance, handling, drivability in the city, fuel-efficiency, comfort, roominess, features and more, the top-line SR version tested as loaded with options as currently available. 
Until then, enjoy our abbreviated photo gallery, which of course will be expanded to include a full assortment of images to complement the review…