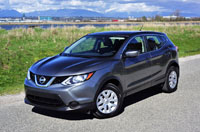 Nissan knows a thing or two about SUVs. In fact, the Japanese brand offers more sport utilities than any other mainstream volume brand. 
Nissan currently offers six unique SUV models to Canadian new car buyers, which amazingly is one model more than Toyota, Ford, Chevy or even Jeep currently had available at the time of writing, plus many more than other rivals. What's more, its experience building SUVs goes back nearly seven decades. Therefore it only makes sense they'd come up with a solid entry-level model to back up that good name. 
If you previously perused my 2017 Qashqai SL AWD road test you'd already know I've become a fan, and I must say this 2018 Qashqai S FWD had me even more enamoured. It's the Nissan Micra of SUVs, and I mean that in plenty of good ways. The Qashqai is inexpensive, comfortable, solidly built, reasonably well equipped, economical, and plenty of fun to drive, which is exactly the type of small SUV that first-time or fixed-income buyers need. 
Proof of this is in the pudding, or more specifically in sales numbers that do a fairly good job of showing a vehicle's popularity, providing dealers in respective markets can allocate enough to sell. I'm guessing that Nissan Canada's retailers haven't experienced much in the way of Qashqai shortages as the new model has quickly jumped into first place with 3,748 units sold over the initial three months of 2018. That number makes it 414 examples more successful than the Subaru Crosstrek, plus a shocking 993 deliveries more impressive than the longtime bestselling Honda HR-V that was down 16.7 percent over the same quarter, which as you can see was also eclipsed by the little Subie SUV that saw its Q1 2018 year-over-year sales rise by a shocking 121.4 percent. Not a bad start to the year for either SUV.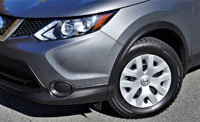 The numerous keys to the new Qashqai's success include attractive styling, strong performance, an efficient powertrain, interior comfort and quality, practicality, and generous features for the money, that last point especially true being that the Qashqai S FWD being reviewed here starts at just $19,998 plus freight and fees, as found on CarCostCanada.com (where you can access the most accurate retail pricing including invoice pricing and rebate info), making it the most affordable SUV in Canada—at least until the $17,998 Nissan Kicks arrives this summer. See what I mean about it being the Micra of SUVs?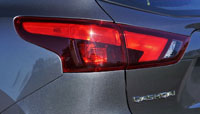 Of course, the Kicks will soon take over that mantle in both price and size. The Qashqai is actually a bit larger than the class average despite its value proposition. It measures 4,379 millimetres (172.4 inches) from nose to tail, with a 2,647-mm (104.2-inch) wheelbase in between, while it spans 1,836 mm (72.3 inches) in width and reaches 1,587 mm (62.5 inches) from the base of its tires to the uppermost point of the roof. 
As you might imagine that extra size creates more space for driver and passengers, plus it provides the most cargo space of all when the seats are laid flat at 1,730 litres (61.1 cubic feet). Its 648-litres (22.9 cubic-foot) capacity with the seats upright is impressive as well, albeit only second in the segment behind the aforementioned HR-V.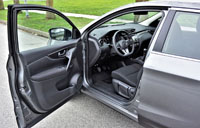 Changing gears, both figuratively and literally, a key reason my Qashqai S FWD started below $20k was its standard six-speed manual transmission. You can get the same SUV with a fully automatic continuously variable transmission (CVT), but it pushes the price up $2,700 to $22,698. The CVT comes standard in the Qashqai's two upper trims, SV and SL, so if you want the manual you'll need to stick with the bargain basement S FWD model. Alternatively if you want AWD you'll need to accept the CVT, that model starting at $24,898.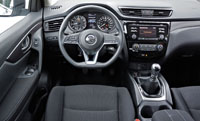 The SUV I just spent a week with is the base Qashqai S FWD, optioned out with $135 Gun Metallic grey paint. Dealer added accessories aside, that's it for extras. Still, the Qashqai S was quite livable thanks to a healthy list of standard features that includes heated power-adjustable side mirrors, a tilt and telescopic steering wheel, variable intermittent wipers, air conditioning, a 5.0-inch colour infotainment display, a rearview camera, Bluetooth phone connectivity and audio streaming, text message read and response capability, Siri Eyes Free, four-speaker AM/FM/CD/MP3/WMA audio, heatable front seats, 60/40 split-folding rear seatbacks, a cargo cover, six cargo area tie-down hooks, tire pressure monitoring with Easy Fill Tire Alert, all the expected passive and active safety features, plus more.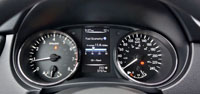 Walking around this stylish little SUV shows that Nissan only skimped on the wheels, 16-inch steel rims on 215/65 all-season rubber being normal for base models in this class. Nevertheless the silver metallic covers look surprisingly convincing from a distance, while I was even more impressed by the bright chromed grille and side window surrounds, the equally dazzling LED daytime running lights within the projector headlamps, the ultra-slim LED turn signals integrated into the body-colour side mirror housings, the body-colour door handles, body-colour rooftop spoiler, and the SUV's overall classy appearance in its aforementioned coat of metallic grey.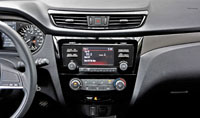 Click the substantive switchblade-style key fob, open the door and you're immediately greeted by a higher level of refinement than anyone could possibly expect for this pauper's price. The front door uppers are padded and covered with high-quality premium leather-like synthetic, this premium-like surface treatment finishing off the entire dash-top as well. Additionally, the door and centre armrest get comfortable, padded, woven cloth armrests featuring contrast grey stitching, while the seat upholstery receives a similar treatment for the bolsters and an attractive wavy pattern in black and grey for the inserts.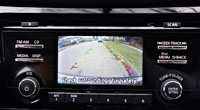 The front and rear doors open nice and wide, making access easy. The little SUV's height advantage over a car helps in this respect too, and I have to say Nissan does driver's seats better than a number of others in this class as well. Despite being a base model without the SL's powered actuation or adjustable lumbar support it was inherently comfortable, with good lower back support and excellent side bolstering. 
Setting up a good driver's position was easy, and while this might be expected this day and age, peoples' varying body types are often overlooked. For instance, my longer legs and shorter torso means that I need more telescopic reach than some others, and a few brands aren't too generous in this respect. Such is not a problem with the Qashqai, allowing me to fit in ideally.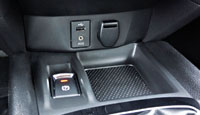 The steering wheel isn't wrapped in leather, but it's comfortably thick and padded just the same, plus it's shaped as if it's pulled out of a sports car with nicely carved thumb spats and a flat bottom no less, while a cool looking metallic silver trimmed dual lower spoke flows up to visually support the two spokes just above, the one on the left side filled with high-quality audio and multifunction display buttons, and the spoke on the right receiving a simpler assortment of phone controls.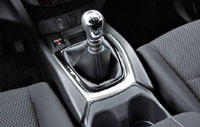 Framed behind the steering wheel is highly legible chrome-trimmed electroluminescent primary gauge cluster centered by a large colour TFT multi-information display, which once again is something only expected on a higher trim level, while a quick glance over to the piano black lacquer surfaced and chrome-adorned centre stack shows a small yet useful display audio system. It's not a touchscreen, which made it a bit difficult for navigating between smartphone playlists and podcasts, but it was serviceable enough. 
The same can be said for the nicely laid out manual HVAC interface that sits just below, while the knobs and buttons here and everywhere else were tight fitting and well damped. Still, if this example's heater wasn't broken the Qashqai has the worst heating system I've experienced in a very long time. You've got to crank the temperature dial all the way to the three o'clock position to even make the cabin lukewarm, and if you twist it one notch more it'll get uncomfortably hot. There was no happy medium.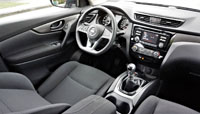 Nissan provides a USB charge port, aux plug and a 12-volt charger at the base of the centre stack, just above a tray for your cell phone, which sits right next to a chrome-trimmed electromechanical parking brake. Two-way seat heater rocker switches are positioned toward the rear of the lower console, flanking a deep bin that's ideal for a larger smartphone. Of course, dual cupholders are integrated within the lower console too, as is a storage compartment under the centre armrest, and once again it's all put together well and looks more upscale than the Qashqai's entry-level price should allow for. 
Nissan also houses a handy console overhead, featuring a felt-lined sunglasses holder and LED reading lights for both front occupants. Even the sunvisors are finished nicely, including the lidded vanity mirrors.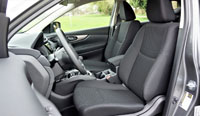 It's normal for taller, larger drivers to shy away from the subcompact SUV class, but I think they should give the Qashqai a try, as there's a lot of room available in every direction. The same goes for front and rear passengers, with the back compartment providing more than enough space for my medium-build five-foot-eight frame when sitting behind a driver's seat that was set up for my height. In fact, I had about five inches remaining ahead of my knees plus loads of space to move my feet around while wearing boots. Additionally, there was about four inches left above my head and another five or so next to my shoulder and hips. I'm not going to say the rear seats were as comfortable as those up front, because that would be difficult to match, but they certainly were supportive, and even provided some side bolstering.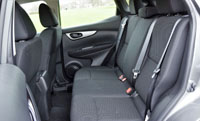 Back in the driver's seat, the six-speed manual transmission lever is as nicely finished as the previously noted steering wheel, with a black lacquer trimmed shift knob, a leather-like boot, and a satin silver and black lacquered surround. Again, this could be in a premium sports car, let alone a bargain-basement subcompact SUV. 
Even more importantly it's a well-sorted gearbox too, complemented by a free revving 16-valve, DOHC, 2.0-litre four-cylinder engine making 141 horsepower and 147 lb-ft of torque. Off-the-line performance is pretty good if you get deep enough into the throttle and let the revs climb before shifting, but of course that's not the best way to save fuel. Go easy and it'll pay you back with a claimed 10.0 L/100km in the city, 8.1 on the highway and 9.2 combined, which seems pretty decent until seeing that the same FWD setup with the CVT gets an estimated 8.8 city, 7.3 highway and 8.1 combined. Even the AWD CVT combination does better at 9.0 city, 7.5 highway and 8.4 combined, but I certainly couldn't complain despite Vancouver's high pump prices.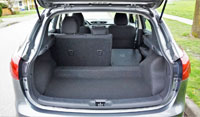 Once the Qashqai gets up to speed it's thoroughly engaging and fun to fling through the corners, feeling a lot more like a compact hatchback then anything traditionally SUV-like. Of course, it's aforementioned ride height advantage and subsequent good view of the road ahead and surrounding area reminds that it's indeed an SUV, while its expansive greenhouse leaves almost no blind spots at all, but it still drives like a little sports car in comparison to most utilities. 
With such a willing engine that's certainly fun to take to its limit, and a shifter that slips so easily into each gear, plus clutch take-up that's just as easy and light yet positive and engaging, speed can ramp up quickly. Fortunately the Qashqai's steering is direct and responsive too, while the little SUV's high-speed stability is actually very good for such a small vehicle thanks to that relatively long wheelbase mentioned earlier. Likewise, braking is excellent, the Qashqai coming standard with ABS-enhanced four-wheel discs that only had to stop 1,425 kilos (3,142 lbs) of as-tested curb weight, resulting in good all-round performance that delivers way more enjoyment then its paltry price should. 
That last point pretty well sums up the entire vehicle too, being that the 2018 Nissan Qashqai delivers way more of everything expected of an SUV priced so reasonably. No wonder it's leading its class in sales.