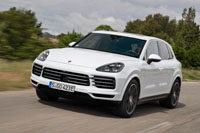 Hybrids are boring. Such has been the steady mantra from performance enthusiasts since Honda and Toyota started pairing gasoline engines with electric motors back at the turn of the century. 
Plenty of automakers have joined the fray over the past two decades including Porsche, which introduced its first modern-day hybrid in the 2011 Cayenne, and after that in the 2012 Panamera (auto history buffs would point to the 1899 Lohner-Porsche as the first hybrid ever). 
With these two models, and subsequent E-Hybrid replacements, Porsche helped to eradicate the "hybrids are boring" claim, and then totally crushed such rhetoric with the German luxury brand's first plug-in hybrid, the mighty 918 Spyder that sprints from zero to 100km/h in just 2.5 seconds, can reach a top speed of more than 340 km/h (211 mph), and currently holds the fastest Nürburgring Nordschleife time for a hybrid, not to mention the fourth quickest lap overall. Boring? Hardly.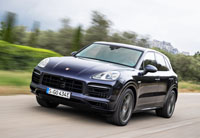 Last year Porsche adapted the 918 Spyder's plug-in hybrid technology to a model that more of us could enjoy, the redesigned Panamera E-Hybrid, and now it's done so to the most popular model in its lineup: Meet the new 2019 Porsche Cayenne E-Hybrid. 
The new model will replace the current Cayenne S E-Hybrid, but don't let the missing "S" fool you into thinking it's a less potent derivative, as the new luxury ute boasts higher outputs, quicker acceleration, a faster top speed, and more EV range than the outgoing SUV.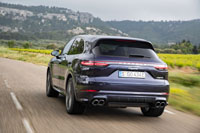 The 2019 Cayenne E-Hybrid gets a single twin-scroll turbocharged 3.0-litre direct-injection V6 making 335 horsepower and 332 lb-ft of torque, which when combined with the electric motor's 134-horsepower and 295 lb-ft of torque results in 455 net horsepower and 516 net pound-feet of torque (don't try to add them up because net hybrid output isn't so cut and dry). That's a sizeable 39 horsepower increase over the outgoing model that uses a less powerful supercharged V6/electric motor combo, plus 81 additional lb-ft of torque.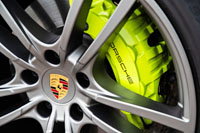 The most noticeable difference is straight-line acceleration, which sees the new Cayenne E-Hybrid hit 100km/h from standstill in just 5.0 seconds, carving 0.9 seconds out of its predecessor's sprint time, while the 2019 model's 253 km/h top speed is 10 km/h faster than the outgoing SUV. This means it's the quickest Cayenne not wearing the "Turbo" badge off the line, beating the Cayenne GTS to 100km/h by 0.2 seconds. 
Standard Porsche Traction Management active all-wheel drive makes sure each wheel optimally grips pavement at takeoff, while a quick-shifting paddle-actuated eight-speed Tiptronic S automatic gearbox gives the Cayenne E-Hybrid the type of immediate sporting response and hands-on feel expected of a top-tier performance utility.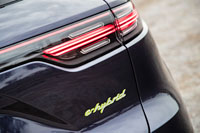 As important in this luxury class is smooth, linear power delivery, which has been achieved by sandwiching the electric motor between the internal combustion engine (ICE) and transmission, just like Porsche did with the much-lauded Panamera E-Hybrid. 
A state-of-the-art liquid-cooled 14.1-kWh lithium-ion battery pack, stored below the cargo floor in back, powers the electric motor. Despite being identically sized to the outgoing battery, the new pack provides approximately 30-percent more energy for up to 44 km of pure electric propulsion on a single charge, or so claims the NEDC European test cycle. Being that Natural Resources Canada's rating system is less optimistic we can expect an estimated range closer to 35 km. Either way, the new model shows significant improvement in EV capability, being that the outgoing Cayenne S E-Hybrid's 10.1-kWh battery only gave it 23 km of EV range.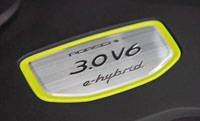 Also notable, the new Cayenne E-Hybrid can reach speeds of 135 km/h solely under EV power, so therefore "zero" emissions driving for short durations won't be a problem. 
According to Porsche, a fully drained battery will only need 2.3 hours with a 230-volt, 32 amp connection and optional 7.2 kW onboard charger, although the standard 3.6 kW charger will require 7.8 hours to fill from empty when plugged into a 230-volt/10-amp connection.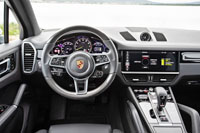 And what about fuel economy? Plug-in hybrids are notoriously difficult to quantify by the usual methods due to their ability to be driven without the need of gasoline at all, but nevertheless Porsche is touting an average of about 3.5 L/100km in combined city/highway driving. 
Design differences between the E-Hybrid and other Cayenne trims are minor, with the new PHEV featuring the same Acid Green badge outlines and brake calipers as the current model, while those bright green accents can be found under the hood surrounding the metal plaque atop the engine cover, and also continue inside the SUV, particularly on the E-Hybrid's tachometer needles and Sport Chrono dial. On the topic of instrumentation, unique battery pack charging and rate of depletion info can be found on the Cayenne E-Hybrid's gauge cluster and centre infotainment display.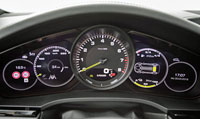 This brings up standard equipment, with the just-noted Sport Chrono package part of the base Cayenne E-Hybrid feature set that also includes six adjustable driving modes for maximizing efficiency, performance, comfort or moods in between.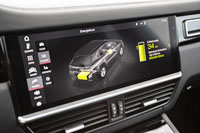 Other standard features include 19-inch alloy wheels, LED headlamps, LED daytime running lights, LED taillights, white or black exterior paint, Keyless Drive wireless ignition, leather upholstery, heatable eight-way power-adjustable front seats, power-folding heatable side mirrors, rain-sensing wipers, a heatable leather-wrapped multi-function steering wheel with paddle shifters, dual colour multi-information displays within the instrument cluster, dual-zone automatic climate control, front and rear parking sensors, a backup camera, Porsche Communication Management (PCM), Connect Plus with online navigation, Apple CarPlay, wireless internet access and more, while the standard list continues with a 10-speaker 150-watt audio system, satellite and HD radio, four USB charging ports, a powered liftgate, ultra-convenient 40/20/40-split rear seatbacks, and much more.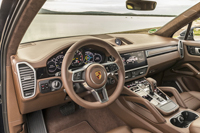 Porsche also includes standard Active Suspension Management (with an option for a three-chamber air suspension upgrade), Integrated Porsche 4D-Chassis Control (introduced on the new Panamera) that centrally networks all the suspension sensors after millisecond longitudinal, lateral and vertical acceleration analysis, regenerative braking, and Auxiliary Cabin Conditioning to help heat or cool the interior while recharging. 
Options include a multitude of 20-, 21- and 22-inch alloy wheels, PDLS "bending" headlights, more advanced LED Matrix headlamps with PDLS+, proximity-sensing keyless access, ambient lighting, 14- or 18-way powered front seats with memory and massage, ventilated front seats, heatable rear seats, auto-dimming mirrors, four-zone climate control, Bose surround sound audio, a panoramic sunroof, myriad interior material, colour and trim combinations, plenty of driver-assist technologies such as auto-dimming headlamps, dynamic cruise control, forward collision warning with autonomous emergency braking, lane change alert and assist, etcetera.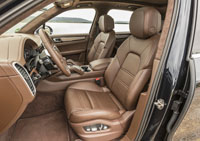 The Cayenne E-Hybrid also has the option of the first head-up display system incorporated into a Porsche, which projects full-colour readouts of the SUV's speed, engine revs and navigation information on the windshield ahead of the driver. 
Porsche InnoDrive is new as well, the available feature taking adaptive cruise control to the next level by combining real-time traffic info up to 2.9 km ahead and navigation map data, such as speed limits, to preselect gearing and optimize engine/motor power delivery. 
Cayenne E-Hybrid pricing will start at $91,700 before freight and fees, while initial deliveries are scheduled for spring of 2019.