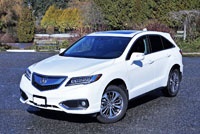 I want you to think about something for a moment. The RDX just passed six years since the current second-generation design went into production in March of 2012, and despite only a minor facelift in 2016, Acura Canada still managed to find more compact luxury SUV buyers in 2017 than all but one of its competitors. 
Now consider the only model to outsell the RDX' 8,101 units, Audi's Q5 with 10,271 down the road, was all-new for most of last year, so therefore sold 23.5 percent more examples than the year prior due to pent up demand; the third-place Mercedes-Benz GLC, at 8,057 units, was new just two years prior in 2015; the fourth-place Lexus NX, with 7,407 buyers, arrived the year before; the fifth-place BMW X3, at 5,730 units, entered its third generation partway through the year; and the other nine competitors didn't sell in high enough numbers to truly compete. So what does the RDX have that the others don't?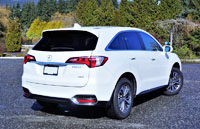 At $42,390 plus freight and fees it's not the cheapest in the segment, that honour held by Infiniti's QX50 that starts at $38,900 yet only found 1,812 customers during 2017, so price is clearly not the sole differentiator. Buick's new Envision is priced a bit lower too, at $40,195, and while it did fairly well for its first full year at 3,357 units, even if it combined sales with the Porsche Macan's 3,767 deliveries it would still come up short (see pricing for all 2018 Acura RDX trims at CarCostCanada.com). 
Obviously premium SUV buyers like the RDX' styling, its sharp, sporty lines and standard LED headlamps plenty distinctive, while that latter feature brings up another important point, value for money.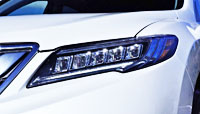 The RDX is one of few compact luxury SUVs with standard LED headlights, while the well-proven model comes standard with a powerful V6, a pricey option with its rivals if available at all. One could argue this pro as a con with regular unleaded hovering above the $1.50 per litre mark in some parts of the country, but so far rising pump prices haven't negatively affected SUV sales, so this may be an issue for its turbocharged four-cylinder 2019 RDX successor to address.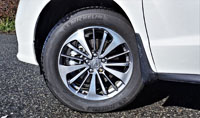 Yes, if you want a new RDX with a V6 you'd better act quickly. A six-cylinder may show up as an option sometime in the future, but so far such prognostication hasn't been up for discussion. For all we know the current 3.5-litre V6 with its smooth, linear 279 horsepower and 252 lb-ft of torque, not to mention its well-seasoned six-speed automatic transmission, will be relegated to Acura's history books when the new third-generation RDX arrives in Canadian dealerships later this year. There's no place for such luxuries in this brave new world where fuel-efficiency comes first and foremost, but this government-forced agenda obviously isn't an issue with a significant number of compact luxury SUV buyers that keep buying up the RDX in droves.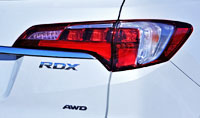 I'm not of the belief that small turbocharged engines are particularly better at minimizing fuel usage than larger six-cylinder powertrains when saddled with the burden of sizeable curb weights, the RDX tipping the scales at 1,781 to 1,797 kilos (3,926 to 3,962 lbs) depending on trim. The relaxed nature of the larger engine can actually save fuel in real world driving, especially when hills and highways are a factor. Even when comparing less-real Transport Canada five-cycle fuel economy ratings the 2018 RDX fares pretty well at a claimed 12.4 L/100km city, 8.7 highway and 10.7 combined next to the similarly popular Mercedes GLC's 11.1 city, 8.6 highway and 10.0 combined numbers.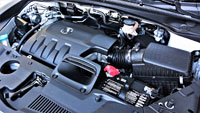 The German isn't the thriftiest or the thirstiest turbo-four in the class, representing a good middle ground that the RDX comes close to matching despite its larger displacement, sportier V6 exhaust note, and more premium feel, this partially due to its still innovative yet long-time use of Variable Cylinder Management (VCM), which automatically shuts down three of its six cylinders when under light loads like coasting. Now, imagine if Acura had chosen to mate this engine up with the more advanced nine-speed automatic found in the MDX, which also benefits from auto start/stop? No doubt it would come even closer to matching the efficiency of its turbocharged four-cylinder peers.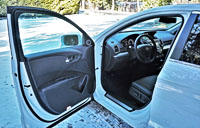 That won't happen, however, so like I said earlier, make sure to snap up a 2018 RDX if you prefer V6 performance and refinement, the latter aided by Active Control Engine Mounts (ACM), and while you're at it you'll benefit from an automatic $3,000 discount provided via "Customer Incentive Dollars," this bringing my RDX Elite tester's suggested retail price down from $47,390 to $44,390, plus freight and fees. If you'd rather get into something more basic, the reduced entry-level RDX price comes in at $39,390, or alternatively the mid-range RDX Tech can be had for $42,390.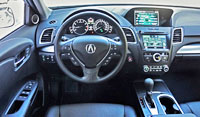 Yes, for less than $40k a base RDX comes with the aforementioned V6 and auto on/off Jewel Eye LED headlights, plus standard LED taillights, all-wheel drive, 18-inch alloys, proximity access, pushbutton ignition, ambient cabin lighting, a leather-wrapped multi-function steering wheel, heatable eight-way powered front seats with powered lumbar support, two-position driver's memory for the seat and side mirrors, a colour TFT multi-information display, a HomeLink garage door opener, an auto-dimming centre mirror, dual-zone automatic climate control, a 5.0-inch infotainment display, a rearview camera with guidelines, Bluetooth phone connectivity with audio streaming, SMS text message functionality, a 360-watt seven-speaker audio system, satellite radio, a powered moonroof, a powered tailgate, and more. That's superb value, even without the $3k discount. 

Those who prioritize safety over creature comforts will notice I haven't even delved into the subject yet, the RDX loaded with all of the segment's expected active and passive safety features as well as an impressive array of standard AcuraWatch driver-assist systems that would cost thousands more with some competitors, these including adaptive cruise control, forward collision warning, autonomous collision mitigation braking, lane departure warning, and lane keeping assist. This gives the Canadian-spec base model IIHS Top Safety Pick status (these systems are optional in the U.S.) and a best possible five stars from the NHTSA. Are you starting to understand why the RDX is so popular?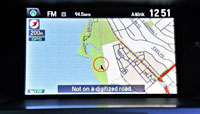 Mid-range Tech trim increases the RDX' safety net with blindspot monitoring and rear cross-traffic alert, as well as a plethora of convenience and luxury items like remote engine start, rain-sensing wipers, a larger 8.0-inch LED backlit display with navigation and voice recognition, dynamic guidelines for the backup camera, a separate On-Demand Multi-Use touchscreen display, advanced AcuraLink smartphone connectivity, Siri Eyes Free, a 10-speaker 410-watt ELS Studio audio upgrade, a more advanced GPS-linked, solar-sensing system for the climate control, leather upholstery, heatable second-row outboard seats, and more for a mere $3,000 added to the bottom line.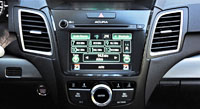 Lastly, my RDX Elite benefited from sportier looking 18-inch alloys, fog lamps, auto-dimming side mirrors, front and rear parking sensors, and ventilated front seats, all for only $2,000 extra. 
This is where I should remind you about the top-line RDX Elite model's $44,390 asking price (less discount), which despite its full load of features is still less expensive than most of its rivals' base prices. Seriously! The Q5 starts at $44,950, GLC at $45,900, Volvo XC60 also at $45,900, BMW X3 at $46,700, Jaguar F-Pace at $50,250, Porsche Macan at $54,100, and Range Rover Velar at $62,000. Now I'm not going to say that an RDX competes directly with that Range Rover or Porsche other than for size, but I'm sure you get my point, while some others in the class are priced a bit lower albeit, other than that previously noted Infiniti, not by much. Plus, this comparison doesn't factor in any competitor discounts.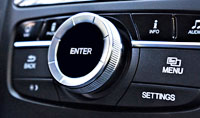 If the RDX were an uncompetitive rolling anachronism undeserving of your time and attention its supposed value proposition wouldn't be an issue, but it remains a good-looking SUV with a nicely finished interior and strong performance. Starting inside, a generous supply of leather-like padded soft-touch surfaces can be found in all the appropriate places, as can de rigueur fabric-wrapped roof pillars and high-quality, tight fitting, well-damped switchgear throughout. All of the aforementioned features work well, its navigation particularly accurate, while its seats are comfortable and supportive front to back, with rear seat roominess especially good.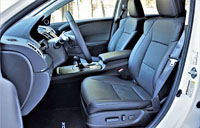 Likewise, the RDX can haul more cargo than most competitors thanks to 739 litres (26.1 cubic feet) of capacity behind its rear row and 2,178 litres (76.9 cubic feet) when its 60/40-split rear seatbacks are folded down, and that's one of the easiest procedures in the class due to standard cargo wall-mounted levers that drop each side automatically. It's not the flattest loading floor, with a fairly steep rise in the middle, but it's something most owners learn to live with.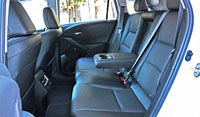 As for performance, the V6 provides more off the line jump than the majority of base challengers, and while its six-speed automatic might be down a couple of gears by modern-day standards, the torquey engine hardly needs as many shift points to optimize performance. In fact, most won't notice this shortcoming at all, as it swaps cogs almost unperceivably unless getting hard on the throttle, at which point it does so with nice positive engagements, enhanced by standard steering wheel-mounted paddle shifters for more hands-on command, plus Grade Logic Control that regulates throttle and braking on steep hills. This is joined by standard hill start assist, which locks the brakes so you won't roll backward before applying the throttle.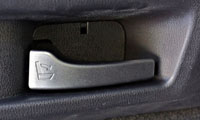 Pulling back on those paddle shifters is especially enjoyable when the road starts to wind, allowing more engine control for powering out of corners and then setting up the next turn. The RDX' well-engineered independent suspension helps most in this respect, mind you, thanks to a MacPherson strut front and multi-link rear setup that's kept in check via amplitude reactive dampers that minimize fore and aft jounce as well as transitional roll while maintaining a smooth, comfortable ride at all times. Plenty of sound deadening materials along with active sound control aid in refinement too, giving the RDX the kind of upscale experience premium buyers gravitate toward.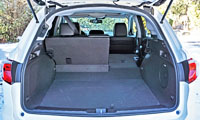 So now you know why the RDX still sells so well in spite of its age, and hopefully can appreciate that it remains an impressive luxury SUV despite its low price point. No doubt the upcoming 2019 RDX will be a wholly better compact luxury utility, but there's no reason to put off buying the current version if you need to pull the trigger now. The standard V6 is definitely a performance and refinement bonus with little if any negative hit to fuel economy, and the model's marketplace longevity has got to aid long-term reliability expectations. Topping it all off, the RDX' standard suite of advanced safety features can't be beat, making it a no-brainer purchase for smart luxury SUV shoppers. All added up, I've got to slot the 2018 RDX into my highly recommended category. Too bad there are so few of them left.