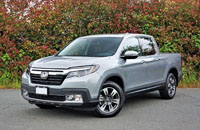 After winning the 2017 North American Truck of the Year with the second-generation Ridgeline, which was really a Honda pickup sandwich thanks to the Civic earning Car of the Year in 2016 and new Accord making it a hat trick for 2018, it appears as if the Japanese brand can't lose. 
Impressive as such awards are, much more important wins on the sales charts are harder to come by for such a relative newcomer to the pickup truck sector. Truck buyers are more loyal than in any other category, so pushing the Ridgeline up and over the 5,000-unit threshold in Canada won't come easy, its 4,632 deliveries in 2017 coming close to matching the model's best-ever 2006 tally of 4,988 units, but as we all know there are no cigars handed out for almost making it.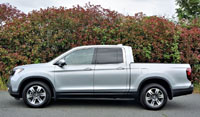 I predicted as much when reviewing the 2017 Ridgeline Black Edition. It was selling reasonably well during this honeymoon period, but I didn't expect it to exceed that previous calendar year high then, and I don't expect it to do so this year either. Actually, sales numbers have been on a downward trajectory since August of last year, with the 1,734 units sold during the final five months of 2017 representing a 31.4 percent downturn from the same period in 2016, which just happened to be the first five months of availability for the new truck. 
Do prospects look better for 2018? Three months into the current year, 882 total Canadian-market Ridgeline deliveries mean that year-over-year Q1 sales are down by 22.3 percent. So, if you're ok claiming less of a negative as a positive, then the new Ridgeline is a net win.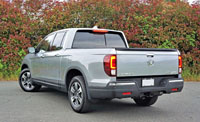 To be fair, even the mighty Toyota Tacoma saw fewer sales in 2017 than in 2016, albeit its 12,454 deliveries were only down by 1.3 percent, whereas General Motors' Chevrolet Colorado/GMC Canyon twins saw a year-over-year collective gain of 13.2 percent thanks to 14,320 sales, and Nissan's 13-year-old Frontier grew sales by 3.2 percent—really, the Frontier hasn't been updated since 2005, the same year the original Ridgeline arrived on the market. 
That's loyalty for you. Nissan has been building trucks since 1938, while the original Datsun Truck arrived on North American soil in 1958. Honda's first pickup, on the other hand, debuted in its domestic Japanese market in 1963, but it was never sold here and therefore the brand wasn't able to establish a faithful truck following until the Ridgeline.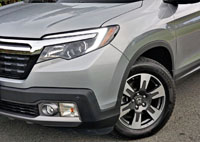 While we can't see into the future to find out whether the new Ridgeline will eventually build Honda Canada's truck market share beyond 5,000 units, no one should question whether or not the current model improves on the vehicle it replaces. Truly, this second-gen Ridgeline is better than the outgoing version in most respects, especially refinement. 
This said refinement probably doesn't matter as much to mid-size truck buyers as ruggedness, sales growth by the clearly forgotten and seemingly abandoned Frontier making this issue crystal clear, which really makes a person wonder why Honda is trying to purvey intelligently thought-out sophistication over rough and tough manliness, with the latter most often touting over-the-top, in-your-face macho styling, extreme performance, off-road capability, load hauling, towing specs, etcetera.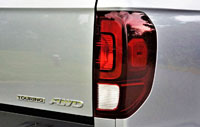 The Ridgeline is the alternative pickup truck, totally unlike anything else on the market. It starts with unibody construction formed off the back of the Japanese brand's Pilot SUV, and even pulls many of that model's styling elements into the mix, for a design that takes a softer and smoother approach to Honda's current creased and angled origami-inspired styling. This was purposeful, as Honda isn't trying to market to those wowed by the long-time bestselling Toyota Tacoma's new military-spec style TRD Pro 4×4, or the rejuvenated Chevy Colorado's latest ZR2 off-road replica racing truck.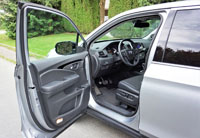 I must admit the two performance trucks appeal to the weekend warrior side of my personality, having been raised by an outdoorsy dad who oftentimes had something rugged in the garage, a favourite being our '70s era Toyota Land Cruiser FJ40. Yet at the same time we took 2WD pickup trucks (a '78 620 series Datsun Truck preceding our F-150), camperized vans, and even the family's '61 Pontiac Strato Chief wagon and go-anywhere '66 VW Beetle into areas that no sane motorist would dare to go (no offence dad), and came away mostly unscathed and a true believer in the power of "Come-A-Long" hand winches. In other words, just because a truck might ride lower to the ground and only offer all-wheel drive instead of part-time four-wheel drive with a bull low range doesn't mean you're forced to remain solely on paved roads and light-duty gravel surfaces.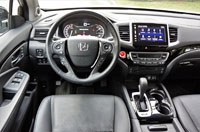 Honda proved this at the press introduction of the original Ridgeline, during which we scaled some fairly steep and untoward off-road terrain (but nothing that caused a pit in the stomach like a few hair-raising Jeep, Land Rover and Hummer launch programs). Opportunity to show how easy it was to load a Honda ATV via attachable ramps was part of that past event too, plus back-to-back 5,000-pound trailering sessions against the competition. The Ridgeline was better than its rivals at such tasks, and its other innovations left a gaggle of auto scribes mostly impressed. 
I didn't take part in this current Ridgeline's press event, but I'm guessing it's at least as capable of roughing it now as it was then, yet as noted earlier this new iteration is substantially more refined, with a more SUV-like cabin that's filled with soft-touch surfaces, fancier trims, top-tier electronics, and more, while it plays well to families due to the highest safety rating ever given to a pickup truck. It also has a much more utile box on its backside than its predecessor, which is even capable of accepting a regular off-the-rack canopy, while the Ridgeline maintains its innovative cargo bed trunk as well as its ultra-useful dual-purpose swing-out and drop-down tailgate. 
It was a bit surprising that Honda introduced the 2019 Ridgeline so early in the year, but being that they've now eliminated the outgoing model's slow selling base LX trim it makes sense. Sport trim becomes the new base for 2019, which concurrently increases the entry-level price by $3,500 to $40,790, the latter number also representing a $500 bump across all trim lines.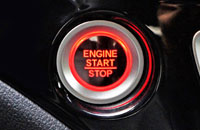 Of course, with Sport trim now standard the 2019 Ridgeline's standard features list increases, with previous base items like its standard 280 horsepower V6, AWD, fully independent suspension, 18-inch alloy wheels, LED taillights, remote start, proximity keyless access, pushbutton ignition, tilt and telescopic multifunction steering wheel, 7.0-inch colour TFT multi-information display, heatable front seats, backup camera with dynamic guidelines, 8.0-inch infotainment touchscreen, Android Auto and Apple CarPlay, SMS- and email-reading capability, Siri Eyes Free, Bluetooth phone and audio streaming, 225-watt seven-speaker stereo, adaptive cruise control, front collision warning with autonomous braking, lane departure alert with lane keeping assist, emergency responding telematics, and more now joined by a bevy of new base items.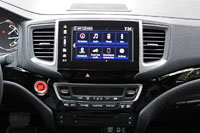 The new base features now include fog lamps, LED daytime running lights, LED turn signals integrated within the mirror housings, a powered moonroof, a power-sliding rear window, driver and front passenger seatback pockets, an exterior temperature gauge, a Homelink garage door opener, filtered tri-zone automatic climate control, Wi-Fi, a 10-way powered driver's seat with power lumbar support, and Honda's innovative LaneWatch blindspot system that projects a passenger's side rear view of the blindspot onto the infotainment display when applying the right-side turn signal.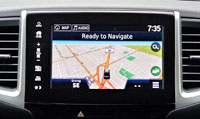 I wish Honda included LaneWatch in upper trims too, but other than base Sport trim it's only included in the second-run EX-L model before getting replaced by blindspot monitoring with rear cross-traffic alert in my Tester's Touring trim and the top-line Black Edition. These top trims remain unchanged for the 2019 model year, with some of the upgrades included with my Touring tester including additional chrome exterior trim, LED headlights with auto high beams, power-folding side mirrors with memory and reverse tilt down, an auto-dimming rearview mirror, rain-sensing wipers, a heatable steering wheel, driver's seat memory, leather upholstery, cooled front and heated rear seats, navigation, voice recognition, 540-watt eight-speaker Bose audio with superb sound quality, satellite and HD radio, an exclusive truck-bed audio system featuring six hidden "exciter" speakers totaling 60 watts of power (which you can play from outside your truck via Bluetooth from your smartphone or wearable), front and rear parking sensors, and more, with all of the active safety features adding up to a class-exclusive IIHS Top Safety Pick Plus rating.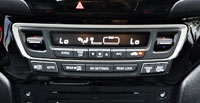 The Black Edition is all about styling, this model following a trend that's seen other manufacturers blacking out all the metal brightwork on their respective trucks and SUVs in order to provide a tougher, more rugged look, but I must say I like this Touring model with its tastefully applied chrome trim and subtle Lunar Silver metallic paintwork better, as it really helps the grille and body-cladding stand out more. This in mind, the Ridgeline's styling has grown on me since introduction. I still don't think it provides enough grit to lure in traditional truck buyers, but I could see some family folk who may not have previously considered purchasing a truck picking one up instead of an SUV, especially if they do a lot of home renovations, gardening work, need something to haul their ATV around or have a small business.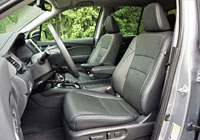 Standard safety features aside, the major Ridgeline drawing card is the interior, which is by far the nicest in the mid-size truck segment. Refinements include more soft-touch padded surfacing than any rival, including the entire dash top, extending all the way around the top portion of the centre stack and instrument cluster, plus each front door upper and all four door inserts/armrests. 
Tasteful splashes of satin-silver and chrome metal trim highlight key elements, as does a bit more piano black lacquer than I'd prefer, but only because it scratches easily and collects dust even easier. Instead, I'd like to see more of the faux matte wood on the lower centre console storage bin lid, as it's really quite attractive.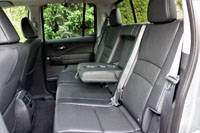 The steering wheel is leather-wrapped and quite sporty, featuring enough tilt and telescopic adjustment to ideally set up my long-legged, short-torso medium-build frame, while the leather-covered powered driver's seat positioned me perfectly, maintained my chosen settings via two-way memory, and then kept me suitably warm thanks to three-way heaters. Honda even provides three-way coolers to help with summertime heat, although no need for these during my wintery weeklong test.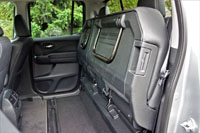 The bright, colourful, highly legible instrument cluster features two semi-circles, the left side for a tachometer and one on the right for temperature and fuel meters, with a large digital speedometer at the top-centre and a much larger colour multi-information display just below. The centre stack-mounted infotainment touchscreen is almost as artistically crafted as the updated version in the Civic, Accord, CR-V, and HRV, and includes a large display that's also bright and colourful, with extremely deep and rich contrast making its default blue hue particularly nice. It's an easy system to sort out, other than not having quick access knobs for audio volume and tuning. Instead, Honda uses digital sliding controls that can be a bit challenging to fiddle with while keeping eyes safely on the road ahead. I quickly overcame this shortcoming by using the steering wheel audio volume and tuning controller more than I usually do, which is probably the safest method anyway.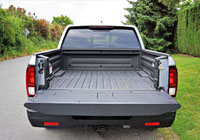 The Ridgeline's now standard tri-zone auto climate control interface is also easy to use, while all of the switchgear feels substantive and fits together nicely, similar to the rest of the buttons, knobs and toggles throughout the cabin. The HVAC panel sits right next to the ignition button, which is initially black yet glows red while the engine is running, this a bit of Honda tradition pulled up from the brand's legendary performance models. 
Special touches in mind, Honda also adds LED-reading lights to the overhead console, plus a handy felt-lined sunglasses holder that does double-duty as a conversation mirror.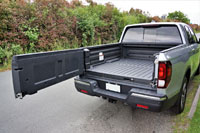 I don't think anyone will have trouble fitting inside the Ridgeline's cab, as the front seats are generously sized and their controls allow for a lot of adjustability. The rear seat provides slightly less room than I expected for knees and legs, but when the front seat was set for my five-foot-eight medium-build frame I nevertheless had about four inches remaining ahead of my knees and more than enough room for moving my feet around, plus I had around four inches remaining above my head and plenty of space from side-to-side. A very wide armrest folds down from the middle, fitted with dual cupholders and a tiny little tray, plus a larger cupholder and another bin are housed within each door panel. Even better, the aforementioned rear seat heaters offer three temperature settings, while a separate HVAC interface allows rear adjustment of the third climate zone. This is fairly high-end equipment for a mid-size pickup truck, but like I said earlier, the Ridgeline is finished to a much nicer level than most rivals.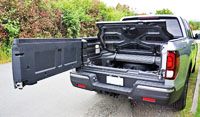 The 60/40-split rear seat squabs flip upward and out of the way when wanting to store cargo in a dry, secure space, although while this "Magic Seat" style feature is unique in the Fit's subcompact hatchback class and the HR-V's subcompact SUV segment, it's nothing new amongst pickup trucks. An almost completely flat floor below is beneficial, however, providing plenty of level space to stack boxes, suitcases, or anything else you'd like to keep out of the elements. 
The tailgate design is even more innovative, as it not only folds down in the conventional manner, but it swings out sideways too. Honda has set it up to do so from the passenger side, which is the safest way to load when parallel parked as it's closest to the curb, while this process also provides easier access to the Ridgeline's lockable trunk. By now I'm sure you've heard all about this unique feature, but I still find it special, even after all these years. It's very wide, deep, and sealed well to repel water and dirt, plus it tucks the spare tire and jack just below the front half of the cargo floor. I recommend pulling this gear out if you plan on hauling a full load of bark mulch, gravel, or anything else you might not want to be forced to shovel out before changing a flat on the side of the highway, but other than the rare mishap of a blown tire it should serve you well.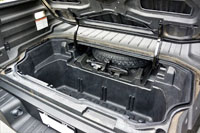 Other thoughtful details include a two-prong 120-volt household-style power outlet on the cargo wall, while I also appreciated the two lights Honda housed within both sidewalls. The bed comes standard with grippy surfacing to aid stability when wet, while stepping up to it was less of a stretch with the door open thanks to a centre step on the rear bumper. Still, I would have appreciated some retractable corners steps for when the tailgate is lowered, or something along the lines of GM's bumper-integrated CornerSteps.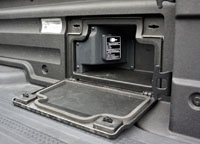 Unusual for a pickup truck, the Ridgeline was so much fun to drive I actually noticed its lack of a sport mode and paddle shifters. It's quick off the line, the 280 horsepower V6 producing 242 lb-ft of torque that feels like even more due to Honda's Intelligent Variable Torque Management (i-VTM4) AWD system, the latter aiding handling too, especially in inclement weather. And yes, the Ridgeline feels a lot more like an SUV in the corners than a truck, plus it's a lot easier to drive around town. Its ride is better too, especially over bumps or potholes at high speeds, this situation sometimes unsettling trucks with solid rear axles, potentially causing them to lose control. The Ridgeline, on the other hand, always felt in total control.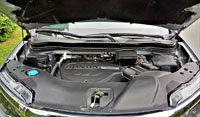 Its six-speed automatic transmission might seem a bit low on gears compared to the GM trucks' eight-speed unit, but it matches the Toyota's gearbox and one-ups Nissan's antiquated five-speed, while delivering reasonably quick and always smooth shifts, adding to Honda's ultimately refined pickup truck experience. 
In the end, the Ridgeline is the ideal choice for those needing the functionality of a pickup truck yet still wanting the drivability, comfort and refinement of an SUV, not to mention best-in-class safety and best claimed V6 fuel economy of 12.8 L/100km city, 9.5 highway and 11.3 combined. 
Truly, the Ridgeline is a best-of-both-worlds conveyance, and thanks to plenty of smart innovations it will continue to appeal to a smaller albeit more sophisticated light truck market.