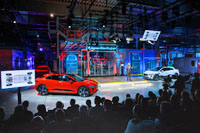 Jaguar fans that liked the I-Pace Concept and kept fingers crossed that the production version wouldn't stray too far from its inspirational design can breathe a collective sigh of relief now that the real deal has been revealed, because it's nearly identical to the prototype launched in Geneva a year ago.
Jaguar introduced the 2019 I-Pace EV to the world on Thursday, March 1 in Graz, Austria, at Magna Steyr's production facility where it will be built alongside the new E-Pace subcompact luxury SUV. The introduction, which was hosted by British comedian Jack Whitehall (Fresh Meat, Bad Education, panellist on the game show A League of Their Own, host of the 2018 Brit Awards) in a similar format to the BBC's Top Gear, took place in front of a live audience and simultaneously online, a video of which we've included in its entirety at the end of this story (plus loads of event photos within the gallery).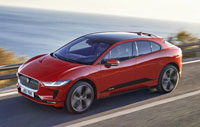 Still scheduled to go on sale during the second half of this year as reported here before, the new I-Pace is admittedly attractive, benefiting from trademark design cues currently in use by the just noted E-Pace, its larger F-Pace SUV sibling, as well as every other Jaguar within the iconic luxury brand's lineup, including the beautiful F-Type sports car. Production details that differ from the I-Pace Concept include slightly reworked front and rear fascias, larger side mirrors, remoulded side window surrounds, a slightly smaller maximum wheel size of 22 inches (the concept wore 23-inch rims), and other changes both outside and within.
At least as importantly, of all the EVs that have come before, the I-Pace will be one of only two fully electric crossovers available when it hits the market, and the sole compact luxury SUV to be sold without an internal combustion engine (ICE). It's in good company with respect to the former statistic, its slightly larger competitor being Tesla's Model X that sold 1,800 units in Canada last year (if their perfectly regular 150 per month totals are to be believed). In case you were wondering, SUV-based electric vehicles are rare amongst mainstream volume brands too, with Kia's near four-year old Soul EV finally being joined by sister brand Hyundai's all-new Kona Electric, but that's it.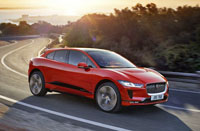 Considering the success of crossover SUVs in today's market and newfound challenge of selling traditional cars, the new I-Pace will have a clear advantage over competitive car-based EVs, such as BMW's i3 and Mercedes-Benz' B-Class Electric Drive (the latter not available in Canada). Still, it will soon be forced to face off against SUV EV rivals from Audi and Mercedes that are on the way, so it had better make haste while it can.
Make haste it should. We reported on the I-Pace drivetrain in a previous story, but Jaguar provided some more exact details with its March 1 announcement. For starters, range increases from the previous maximum estimate of 355 km (220 miles) to 386 km (240 miles), which will allow most users multiple days without the need to charge, as well as the ability to head out of town on short trips. The new number is also strategic, as it stretches 5 km (3 miles) farther down the road than the base Tesla Model X 75D.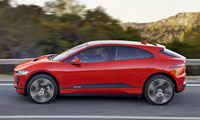 Providing you're easy on the throttle, maximize use of the regenerative braking system when coasting downhill, and spend as little time as possible at highway speeds (we recommend leaving during rush hour), such range would allow someone living in Toronto to drive all the way to Blue Mountain and back again with enough battery storage left over for a few side jaunts, while a wine tasting tour to Niagara on the Lake and back shouldn't require any extra charging at all. A trip to Muskoka, on the other hand, will require a top up in Barrie or somewhere else along the way.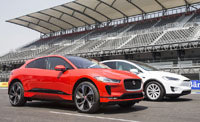 If you're reading this from the West Coast, Vancouver to Whistler takes less time to travel than Toronto to Blue Mountain (and traffic is often so backed up you'll have no problem keeping speeds down), so it should be no problem to go there, tour around a bit, and then come back in the I-Pace, while wine tasting in Kelowna is almost reachable from a single charge, theoretically at least (you'll probably need to top up in Merritt or at best West Kelowna).
The I-Pace uses a 90-kWh liquid-cooled battery that's housed in an aluminum casing within the floor's structure, and requires just 40 minutes to fill from a fully drained state to 80-percent capacity when hooked up to a 100-kW DC quick charger. On a regular 240-volt Level 2 home charger you'll need about 10 hours to achieve the same results, or slightly less than 13 hours (12.9) to fully top it up. Still, considering the range available, a single night of charging, or alternatively multiple nights during off-peak hours makes the I-Pace easy to live with.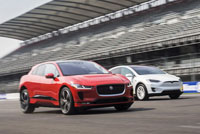 If access to a charger isn't an issue, you might appreciate I-Pace performance more than its range. The British brand calls its newest creation an "all-electric performance SUV," thanks in part to its balance of power. It uses an electric motor at each axle for standard all-wheel drive, the combination good for 394 horsepower and 512 pound-feet of torque, which means it can sprint from standstill to 100 km/h in 4.8 seconds. This said, eco-enthusiasts looking for I-Pace Concept performance might be a bit disappointed.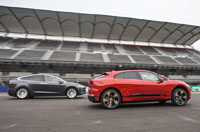 The new numbers make it the quickest of all Jaguar's "Pace" models nonetheless, the fastest new E-Pace R-Dynamic good for 6.4 seconds from zero to 100km/h, and the F-Pace S capable of the same feat in 5.5 seconds. In fact, you'll need to step up to the 550 horsepower F-Type R Coupe in order to beat the new I-Pace off the line, although with 0.7 seconds to spare (or a full second in SVR trim) the iconic sports car doesn't have to worry about losing its title just yet.
Likewise for top-speed bragging rights, the I-Pace maxing out at 200 km/h (124 mph), which is 30 km/h (18.6 mph) down on the slowest E-Pace, let alone the 322 km/h (201 mph) terminal velocity of the F-Type SVR Coupe. Still, unless we're talking Tesla Model X, 200 km/h is mighty fast for any EV.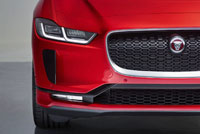 The Model X can manage 210 km/h (130 mph) in base 75D trim, by the way, but the I-Pace beats it from standstill to 100km/h by half a second. What's more, the I-Pace is 0.2 seconds quicker than the mid-range Model X 100D, but keep in mind that few production cars can match the Model X P100D that can sprint from zero to 100km/h in just 3.2 seconds. Oh well, you can't win 'em all.
Like the F-Type and most other models in the Jaguar lineup, the I-Pace utilizes the automaker's expertise in lightweight engineering, its monocoque body shell comprised mostly of aluminum. This said it rides on a totally unique EV architecture, the aforementioned battery actually part of the floor's structure, which allows for much greater flexibility in designing the cabin.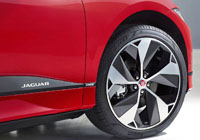 "The I-Pace's electric powertrain offered us unprecedented design freedom," said JLR head of design Ian Callum. "Starting with a clean sheet enabled the dramatic cab-forward profile, unique proportions, and exceptional interior space—yet it is unmistakably a Jaguar. We wanted to design the world's most desirable EV, and I'm confident we've met that challenge."
First of all, the I-Pace starts out considerably longer than the E-Pace and slightly shorter than the F-Pace, slotting between Jaguar's two conventionally powered SUVs in outward dimensions. By the numbers it's 287 millimetres (11.3 inches) longer than the E-Pace and 49 mm (2.0 inches) shorter than the F-Pace, the latter of which is already a large compact SUV, but the I-Pace' wheelbase is 309 mm (12.2 inches) and 116 mm (4.6 inches) longer respectively, for much greater front and rear legroom than either. What's more, the I-Pace Concept's roof is 84 mm (3.3 inches) lower than the E-Pace's and nearly 86 mm (3.4 inches) down on the F-Pace, resulting in a sleeker, sportier profile. Added to this is much greater width for a sportier stance and greater side-to-side spaciousness, the I-Pace measuring 155 mm (6.1 inches) wider than the E-Pace and 69 mm (2.7 inches) more so than the F-Pace.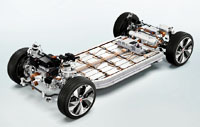 The unique layout allows for a cab-forward design featuring a windshield that reaches far over the front wheels, as well as a shorter more steeply raked hood, plus shorter front and rear overhangs, with each wheel pushed out as far to its corner as possible, resulting in much greater interior volume and a strong, athletic stance.
Having much of its weight down low, thus reducing its centre of gravity, plus endowed with the advantages of the lower roof height, increased wheelbase and the more substantive track that comes from the greater width mentioned a moment ago, handling should be another I-Pace strongpoint. The standard chassis appears to use unequal-length control arms and a stabilizer bar up front, plus an Integral Link setup with a stabilizer bar in the rear, while it all floats upon a standard Active Air Suspension featuring auto-leveling as well as the ability to reduce the I-Pace' drag by automatically lowering a half inch at highway speeds, which should combine for an exceptionally good ride quality and handling compromise. Additionally, Jaguar says the I-Pace achieves ideal 50:50 weight distribution, so we should prepare ourselves for a particularly well-balanced EV.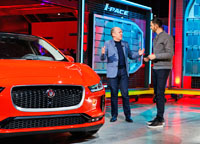 Jaguar's driver-configurable continuously variable Adaptive Dynamics system is optional, which analyzes vertical wheel positions, vehicle acceleration, steering inputs, plus throttle and braking actuation before it automatically adjusts the suspension damping settings depending on your personal drive mode choice (Dynamic being the sportiest setting), while Adaptive Surface Response is also available, this system harvesting info from myriad sensors in order to calculate approximate adhesion levels on low-grip surfaces, such as ice, before you even apply steering input, and then after making your turn it minimizes understeer and oversteer levels by controlling throttle and braking inputs.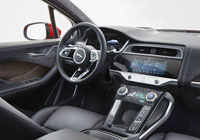 Speaking of those binders, two levels of regenerative braking are part of the I-Pace's standard package, with either its high or low settings providing different degrees of "engine braking" when lifting off the throttle. It's in the nature of EVs to slow down when lifting off the accelerator pedal, but providing firmer automatic powertrain braking makes using the brake pedal less necessary, easing everyday driving and saving on brake maintenance plus otherwise expensive repair costs.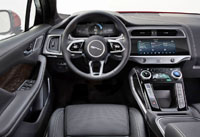 As anyone familiar with modern-day Jaguars will appreciate, the I-Pace will combine contemporary design with rich traditional materials, not to mention state-of-the-art digital interfaces. The overall interior design is very similar to the I-Pace Concept, featuring available contrast stitched padded leather over most surfaces that aren't finished in standard metals or hardwoods. To be specific, Jaguar will include its best Windsor leather as standard unless opting for a sport interior that features a premium textile in Dapple Grey. The four leather-covered cabin motifs will include Ebony (black), Light Oyster (light grey), Mars Red (crimson), and Siena Tan (caramel/saddle), while light beige and black headliners will be available in woven cloth or Suedecloth. Even the steering wheel rim will be available in Suedecloth or traditional leather, while decorative inlays, which highlight key areas on the instrument panel and doors, include Gloss Charcoal Ash veneer, a piano black lacquer Gloss Black, a patterned Monogram Aluminum, and Aluminum Weave Carbon Fibre.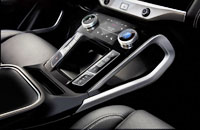 Like with other Jaguar models a head-up display system will be optional, but take note that a fully configurable 12.3-inch primary gauge cluster will be standard fare, as will two infotainment touchscreen displays that Jaguar dubs InControl Touch Pro Duo, the main top screen measuring 10 inches diagonally and a 5.5-inch secondary display, used primarily for the climate controls, sitting lower on the sloped centre console. All displays feature voice activation via Amazon's Alexa, which should promote the use of hands-free interaction.
Speaking of the latest tech, the I-Pace' climate control system makes use of an artificial intelligence (AI) system that senses the number of occupants on board before adjusting the temperature, while the AI system is also capable of calculating the I-Pace' remaining range based on climate control usage, weather conditions, topography, driving style, and traffic conditions.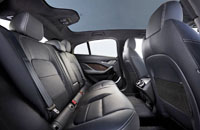 The HVAC controls sit atop a centre console that slants up toward the main display upon two flying buttress-style supports that house controls for the gear selector and driving mode switchgear, this at least partially paying homage to a design theme used by Jaguar in its F-Type sports car and new E-Pace utility, although the overall look of the new climate control interface, which incorporates large dials that appear as if they're floating on top of a digital background, is more reminiscent of the new Range Rover Velar.
Interestingly, a total of 12.2 litres (0.43 cubic feet) of storage space can be found under the centre armrest, its impressive size due to the absence of a transmission tunnel, whereas the rear seating area incorporates trays for tablets and laptops, not unlike what Jaguar offers in its top-line XJ.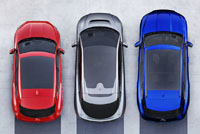 A large panoramic sunroof will shed light over both rows of occupants, while rear passengers will have the option of another two automatic climate control zones for a total of four. Rear passengers will also be able to enjoy Jaguar's "Click and Go" front seatback attachment system, which will allow features such as display screens to be mounted quickly and easily, while plenty of cargo area add-ons will help enhance load space functionality.
That cargo area measures 656 litres (23.1 cubic feet), incidentally, which makes it considerably larger than the E-Pace's 577-litre (20.4 cubic-foot) rearmost compartment and similar to the F-Pace's 685 kilos (1,510 lbs) of usable luggage space when the rear seats are upright. Jaguar hasn't included a photo of the cargo area, but it's likely finished nicely with high-grade carpets, chromed tie-down hooks, and split-folding rear seatbacks, hopefully in the most useful 40/20/40 configuration, or at least with a centre pass-through.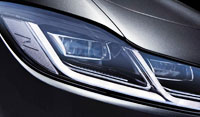 Jaguar Canada is currently touting S, SE, and HSE trims on its website (yes, you can configure everything but pricing already), but so far there's no sign of a First Edition. Jaguar normally offers special First Edition trim in a new model's initial year, and has already announced it will do so in the U.S., but we'll need to wait and see if a First Edition gets added to the Canadian offering.
Of course, the I-Pace will also qualify for any provincial rebates, which are currently set to a maximum of $14,000 in Ontario, $8,000 in Quebec (which also offers a $4,000 rebate for purchasing a pre-owned EV), and $5,000 in BC, although West Coast buyers should be aware that new rules don't allow for rebates for vehicles costing more than $77,000, and it's likely the new I-Pace will exceed this number.
While you can place an order immediately, we won't know exact pricing until closer to launch, but take note the automaker's U.S. division has already confirmed it's targeting an MSRP below $100,000 USD ($128,940 CAD at the time of writing). Jaguar will probably undercut the larger 2018 Tesla Model X that starts at $111,950 in Canada, goes up to $135, 250 for the mid-range 100D, and tops off at $199,800 for the most powerful P100D, but we can't expect something this stylish, luxurious, well made, high-tech, performance-oriented and prestigious to be fighting it out with the $45k Chevy Bolts of the world.
Jaguar has promised that half of its vehicles will incorporate some sort of electrified drivetrain by 2025, so it's quite possible plug-in models will eventually appear both above and below the new I-Pace.
While you're waiting for the new I-Pace to arrive, make sure to check out this entertaining video introducing the new 2019 I-Pace at its Graz, Austria production facility (1:00:04):

Or if you don't have an hour to dedicate to a video right now, check out this shorter 12-minute video on its features and benefits (12:21):

Or how about an even shorter 4-minute video showing the new I-Pace going head-to-head with the Tesla Model X SUV? (3:47):