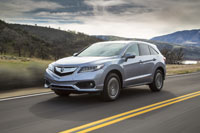 Acura, Honda's luxury division, topped 20,000 sales in Canada for the third consecutive calendar year in 2017, a solid effort that was given an image boost by the all-new NSX Sport Hybrid supercar and a real shot in the arm by the refreshed 2017 MDX mid-size SUV, both having arrived partway through the previous year, while an upgraded 2018 TLX sedan that went on sale halfway through 2017 pushed the premium brand over the top.
Acura's 20,299 2017 deliveries beat last year's 20,227-unit total, although in a refreshingly honest Honda Canada Inc. (HCI) press release the brand's parent company called this modest gain "relatively flat sales versus the previous year." HCI was clearly proud of its combined Acura and Honda brand sales, however, with its 197,251 unit total showing an annual increase of six percent over the same 12 months in 2016, which resulted in an all-time annual sales record for the fourth consecutive year.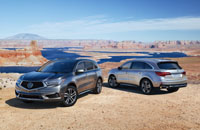 In a comparatively small way next to the 50,443 Honda CR-V deliveries in 2017, HCI's total was nevertheless helped along by Acura's top-selling RDX compact SUV that achieved its best-ever sales of 8,101 units despite being near the end of its current lifecycle. This marks six years of consecutive sales growth for the RDX, a vehicle that also managed an impressive second in sales volume out of 17 competitive nameplates, only beaten by Audi's redesigned Q5 that broke five figures at 10,271 units.
"Acura's RDX luxury SUV served as the brand's success story last year, driving sales to surpass the coveted 20,000-unit mark for the third consecutive year, despite being in its final product cycle year," said Jean Marc Leclerc, Senior Vice President of Sales and Marketing at Honda Canada Inc. "Representing the most extensive Acura redesign in more than a decade, the all-new RDX will launch later this year, signaling the beginning of a new era for Acura products inspired by Precision Crafted Performance."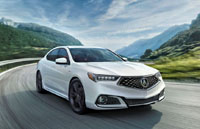 The RDX follows a value packed strategy that benefits all Acura models, with other strong sellers including the just noted MDX that's up from 5,425 sales in 2016 to 5,838 deliveries in 2017. The MDX is the most popular dedicated three-row SUV in Canada, while at 4,205 unit sales in 2017, also improving on the previous year's total, the renewed TLX sport-luxury sedan is the most popular non-German car in the highly competitive D-segment, by a long shot.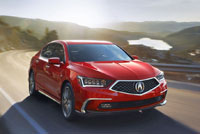 As for Acura's entry-level entrant, at just 2,047 deliveries for 2017, down from 2,459 in 2016, 2,551 in 2015, 2,752 in 2014, and a high of 3,192 in 2013, it's hardly the slowest selling C-segment luxury car. That would be Lexus' long-in-tooth CT at 367 units, while BMW's 2 Series also suffered losses with sales coming in at just 1,929 units. Mercedes saw CLA deliveries sag too, albeit at 3,764 units it's still number two in the segment, while B-Class sales grew to 2,369 units and Audi finished on top with 3,997 A3 sales. Still, Acura dealers (and fans) can hardly wait to get their mitts on the completely redesigned 2020 ILX to be based on Honda's evermore-popular Civic, which was once again the best-selling car in Canada thanks to 66,935 buyers in 2017.
So what can we expect from Acura in 2018? A fully redesigned 2019 RDX won't be the only boost to sales this year, albeit despite receiving an attractive refresh for 2018 the brand's impressive yet slow-as-molasses-selling RLX Sport Hybrid flagship sedan will need a miracle to see it break three figures after finding just 59 buyers in 2017, although a full year with the new TLX should help the Japanese luxury brand grow its sales further.