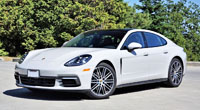 We've all experienced sequels that weren't as good as the original. And I'm not referring to 1985's New Coke, the unofficial name for reformulated (i.e. sweeter) Coca-Cola. No, I'm talking about 1980's Star Wars: The Empire Strikes Back which was arguably better than the original Star Wars: A New Hope from 1997, 1986's Aliens that most would agree trumped 1979's nearly as brilliant Alien, and the second-generation Panamera that I certainly like a lot more than 2010's Porsche four-door coupe of the same name. Come to think of it, if we'd seen the shapely new Panamera in one of those epic Sci-Fi films we probably wouldn't have thought twice unless it didn't fly. It remains one of the most futuristic sport sedans on the planet, this side of the same brand's Mission E electric (which really should be in the just released Star Wars: The Last Jedi).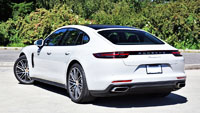 Back to the planet earth, the new Panamera is longer, wider, and lower than the model it replaces, which was already a long, wide and low car. It builds on the original Panamera's flowing organic shape, yet thoroughly modernizes every gently folding curve. Now it fits more fully within the Porsche family, a handsome big brother in place of that oddball uncle that seems to plague every family (you know the disheveled one that awkwardly invites himself to family get-togethers and then finishes off the punch bowl before taking over from the DJ and belting out "You've lost that loving feeling" off key?). Its graceful new nose is now a more generously proportioned mixture of 718 and 911, while its side profile more clearly pulls cues from the latter in its most popular coupe body style, and its shapely derriere continues the positive pattern.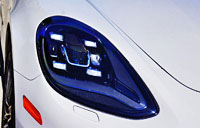 Put the Panamera beside Porsche's best-selling car and the latter gets completely dwarfed, the new model measuring 5,049 millimetres (198.9 inches) in overall length with a 2,950-mm (116.1-inch) wheelbase, 1,937 mm (76.2 inches) wide not including mirrors, and 1,423 mm (56.0 inches) tall, which makes it 550 mm (21.6 inches) longer than the longest 911 ever, with a 500-mm (19.7-inch) longer wheelbase, 129 mm (5.1 inches) more width, and strangely enough exactly 129 mm (5.1 inches) of additional height, which helps it maintain the nice proportions noted a moment ago.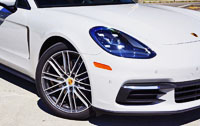 Oddly enough, most of that mass disappears when sliding into the ideally formed driver's seat. Rather than what one might expect from a 1,850-kilo (4,078-lb) super sedan, Porsche's four-door provides an intimate sports car presence that surrounds its driver with all necessary controls organized into a familiar layout, part outgoing Panamera and part 2017 911, albeit refreshed and modernized with state-of-the-art primary and infotainment displays plus a perfectly minimalist approach to touch-sensitive switchgear.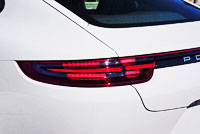 What a difference a model year makes. Remember the myriad buttons, rockers, toggles and knobs that made up the previous Panamera? A plethora of pushers were applied to each side of the flowing centre stack, enough to make Nakamichi Dragon fans feel like they'd slipped rearward into '80s audio nirvana, but those days are gone now that Porsche has adopted a Bauhaus-like approach to interior design, the new console simplified and much the better for it. There's one rotating dial on the entire stack, plus a cylindrical scrolling volume controller done out in beautiful knurled metal no less, four knurled metal rockers to each side, and smartphone-like black glass everywhere else, this providing the backdrop for all the touch switchgear. It's beautiful in its uncluttered cleanliness, and when taken in with its shapely gear lever at centre a real treat for the senses.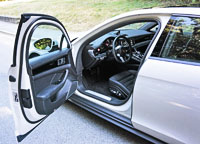 This in mind, the overhead console is still filled with analogue buttons, but they're nicely laid out and finished in black gloss to mimic the glass below. Additionally, knurled rocker switches are used for the dual-pane sunroof, these also matching those on the lower console.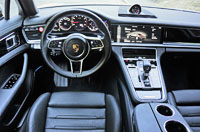 Porsche's trademark clock sits atop the dash, this one a standard face instead of the more complex dial that comes with the Sport Chrono package, albeit fully modernized as if crafted by the separate Porsche Design Group division (the 1972 Porsche Design P'6510 was actually the world's first black chronograph, the 1978 Valjoux cal.7750-powered IWC by Porsche Design chronograph Ref.3700 the first made from titanium, and its most recent titanium-cased ETA Valjoux 7750 calibre-powered 2015 Chronotimer series not achieving any horological firsts yet still a wonderful design, each Porsche Design watch a serious mechanical timepiece priced in the thousands for true collectors, unlike most car-branded watches that aren't worth the mere hundreds asked).
Quality of workmanship and materials is superb, as one would expect of today's Porsche. Truly, I had trouble finding any hard plastic inside at all, only able to locate some around the steering column and lower doorsills. Everything else is high-grade soft composite or leather, other than some beautifully finished piano black lacquered hardwood and authentic aluminum inlays.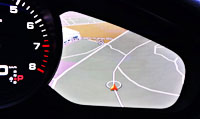 The infotainment touchscreen is as good as anything in the luxury class as well. It's ultra-wide at 12.3 inches, plus comes complete with a new generation navigation system boasting crystal clear mapping and highly accurate routing that no longer forces perplexed front occupants to pull over and check their smartphone's Google map app for directions (the previous system was laughably bad at finding its way), while a large bright backup camera with dynamic guidelines includes a secondary display showing an animated overhead view with front and rear parking sensor warnings. Apple CarPlay and Android Auto smartphone integration is included too (Porsche got smart and added the much more popular Google system after saying Android didn't fit with their target market-China no doubt disagreed), plus audio and car settings such as satellite radio and driver selectable modes. It's now a very complete system that should even delight diehard tech heads.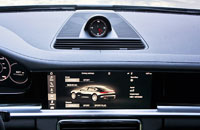 Likewise for the gauge cluster, which combines Porsche's classic five-dial layout with a centre-mounted analogue tachometer flanked by colour TFT screens to each side, the rightmost one a multi-info display capable of showing a variety of functions including full navigation mapping.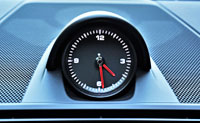 The steering wheel switchgear is well crafted and ultra-minimalist, just the way I like it, while the spokes are elegantly thin and the optimally shaped leather-wrapped rim ideally fat. Porsche has been producing sport steering wheels longer than most carmakers and its expertise shines through each and every time, whereas the Panamera column's rake and reach adjustability is equally ideal, which along with the multi-adjustable driver's seat allowed me to position myself for the best possible driving position, maximizing comfort as well as control, which isn't always the case.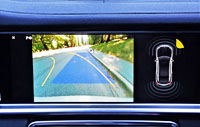 Remember those last two key words when contemplating the new Panamera: comfort and control. The Cayenne is the only Porsche in the same league when it comes to comfort, its mid-size dimensions, roomy accommodations, long suspension travel, and general heft a good mixture for cosseting driver and passengers. It's probably a bit more agreeable all around than the Panamera, but Porsche's four-door coupe nevertheless hits high on the luxury quotient yet is by far the more daringly decadent sibling, with a decided edge toward performance if only because it's a lot lower to the ground.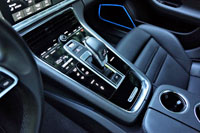 I'd even go so far as to claim the new Panamera the world's sportiest sport sedan, at least amongst the regular premium sector. Start climbing into the $250k arena and the Aston Martin Rapide S factors in, and to be fair, Audi's RS7, BMW's M6 Gran Coupe, and Mercedes' top-tier CLS AMG do a good job of wooing well-heeled performance zealots too. Like the Aston, however, the Panamera joins the Rapide in exotic territory when optioned out in 550 horsepower Turbo trim, and unlike any of the above it can now be had in an extended Executive length as well as in a fabulous wagon-like Sport Turismo body. Think of it as an elongated Ferrari GTC4Lusso with better rear seat access and more cargo room, plus of course a much more approachable price point.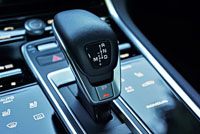 That's the beauty of the Panamera. Despite being one of the most exotic four-door coupes in its already rarified class, its $97,300 entry price is surprisingly reasonable. Even when equipped with all-wheel drive like my tester, the Panamera 4 starts at just $102,500. Certainly you can up performance and features to the point that $200k whisks past in a heartbeat, the Turbo S E-Hybrid Executive starting at $221,700 before pulling from a lengthy list of options that can easily have it topping $300k (Rapide hierarchy indeed), which makes the more affordable models like this Panamera 4 seem all the more enticing.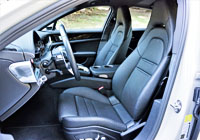 While the base powertrain can't dream of keeping up with the 426 horsepower E-Hybrid or aforementioned Turbo, 5.7 seconds to 100km/h from a 330 horsepower V6 with 331 lb-ft of torque is hardly lacking. For sure, a respective 4.6 seconds and 3.8 seconds (or 3.6 seconds with launch control) to perform the same feat deserves our full respect, but my all-wheel drive tester was even quicker than the base rear-drive model at 5.5 seconds to 100km/h, while if upgraded with launch control that comes as part of the Sport Chrono package it'll sprint to 100km/h in just 5.3 seconds. There are plenty of two-seat sports cars that can't match that number, and we're still only talking about the base engine. It's a new direct-injection and turbocharged 3.0-litre V6, by the way, sourced from Audi albeit massaged considerably after Porsche gets its hands on it. The entire Panamera substructure is pulled from Volkswagen group's deep parts bin, but 2018 Porsche Panamera 4 to be clear there isn't a single VW- or even Audi-badged product that utilizes it, the MSB platform architecture only shared with Bentley's fully redesigned second-gen Continental so far, and that model won't arrive until sometime next year.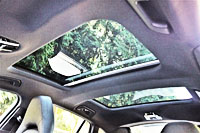 Its rigid monocoque construction is a mix of ultra-high and high-strength steels, aluminum (for the roof and trunk lid), and composites, whereas the undercarriage is either a traditional steel coil setup or an available air suspension, the latter improved with a new three-chamber design for greater comfort and responsiveness. Additionally, available four-wheel steering aids low- and high-speed handling, while an adaptive suspension, active anti-roll bars, plus a torque-vectoring differential are also optional. Lastly, top-tier Turbo models get a new rear spoiler that both raises and stretches out horizontally for extra downforce. The base model, my Panamera 4 tester, and a 4S model I drove more recently include a simpler spoiler that merely raises at 90 km/h (56 mph). Honestly, I wouldn't have noticed whether a wider spoiler, a regular one or none at all was added to my tester's rear end at the slightly higher than posted speeds I averaged when on the highway, but instead appreciated its general lack of wind buffeting and overall suppressed road noise, the car's slippery shape, resulting in a Cd of 0.28, which allowed just enough combined engine and exhaust note to seep through front firewall and rear bulkhead during spirited romps on the throttle, yet remained appropriately hushed most of the time, ideal for enjoying its impressive audio system.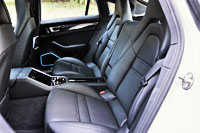 Engine revs became the audible highlight when four-lane straights and high-speed sweepers twisted into two-lane entertainment, mind you, the new 3.0-litre's plentiful torque available much earlier in the power band and over a broader spectrum, providing punchier response from standstill starts to highway passing manoeuvres. This much more tractable engine is now paired with an improved dual-clutch automated PDK transmission incorporating eight forward speeds instead of seven, the combination totally transforming base Panameras, for a much more enjoyable car to drive in every respect. For such duties I set the driving mode selector to Sport Plus, although Sport mode would've done a good enough job of firming up the suspension. These two modes make a dramatic difference from default Normal mode, which offers a plusher more comfortable ride, although the latter was never wallowing and the former never harsh, Porsche finding an ideal balance of gentrified assertiveness in all settings. Additionally, you can set separate Normal, Sport and Individual modes for the engine/transmission, which is ideal for backcountry roads that can oftentimes combine fun, tight serpentine stretches with untoward broken tarmac where a softer suspension setting can actually provide greater tire contact and therefore better high-speed traction all around.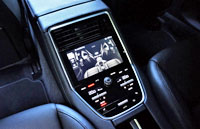 Making a good thing better, the new powertrain results in improved fuel-efficiency too. The previous base Panamera with its 3.6-litre V6 was good for a claimed 13.1 L/100km city, 8.7 highway and 11.1 combined five-cycle fuel economy rating, whereas the new more powerful version trounces the outgoing one thanks to 11.3 L/100km in the city, 8.6 on the highway and 10.1 combined. Fuel economy probably matters a great deal more to Porsche and its need to appease governmental regulators than to its Panamera customer base, these fortunate few no doubt more interested in the car's bevy of standard and available features. My tester was very well equipped, even including massaging front seats with a very therapeutic stretch mode, plus the usual shiatsu, etcetera, while those seats were inherently comfortable, fully supportive and beautifully designed.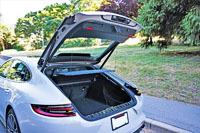 The rear seating area is much roomier too, allowing up to eight inches ahead of my knees and plenty of space for my feet when the driver's seat was set for my admittedly less than average five-foot-eight medium-build frame, plus at least five inches for my shoulders, another five to six for my hips, and four inches above my head. And this wasn't the extended wheelbase Executive model. A fairly wide leather-clad armrest folds down from centre to increase comfort, its top opening up to a shallow velvet-lined storage compartment, but that wasn't the good part. Just below, the centre front console continues rearward into a rear console (there's no middle seat) that's just as featured filled as the one ahead, not to mention beautifully finished with its own high-resolution graphic touchscreen display and array of touch-sensitive and knurled metal controls. Rear seat features include audio/media controls with a volume knob, navigation functions, individual auto climate settings, three-way heatable seats, control of the sunroof shade overhead, the powered rear sunshade (the side window sunshades are powered via a dual-mode window switch), and more, leaving rear passengers feeling like they have a say, while just behind a set of piano black lacquered doors open up to three USB ports, two that charge and one connecting to the system, plus dual cupholders.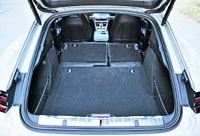 The impressive stereo noted earlier, a 710-watt 14-speaker Bose surround system that comes standard, sounds fabulous and looks great, and I'm not just talking about the graphic interface used to control it. More so, front and rear speakers light up with a subtle blue LED ambient glow around their circumferences. Likewise, available ambient lights shine overhead, one being the tiniest of spot lamps and an additional two softly radiating like smouldering embers. Along with the much more accommodating cabin comes an enlarged cargo area, with a gain of 50 litres (1.8 cubic feet) behind the rear seatbacks. This said I was surprised they weren't divided in the most convenient 40/20/40 configuration used by the majority of European brands, but rather had a conventional 60/40 split. Still, when lowered they increase cargo capacity from 493 litres (17.4 cubic feet) to a maximum of 1,303 litres (46.0 cubic feet), while the stretched Executive model grows gear-toting space to 1,481 litres (52.3 cubic feet).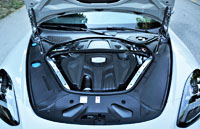 And what about that new Sport Turismo model? It offers 20 litres (0.7 cubic feet) more space behind more utile 40/20/40-split rear seatbacks before adding 50 litres (1.8 cubic feet) when those rear seats are lowered for a new grand total of 1,387 litres (49 cubic feet), the latter number only a four-percent gain over the Panamera sedan, although its larger hatch provides a 142-mm (5.6-inch) lower lift-over height to help with heavy loads. Both new models are significantly more practical than the single Panamera body style they replace, plus the cross-member that holds the hard shell cargo cover in place is a lot easier to remove yet no less substantive in quality. That last line could be used to sum up the entire car, the second-generation Panamera a lot easier to live with yet no less substantive. In fact, it delivers a great deal more substance in every respect, and looks a helluvalot more attractive doing so.