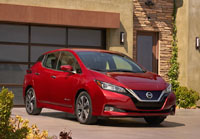 Toyota's Prius may be the world's most notable hybrid and Tesla's Model 3 currently hottest on the news cycle, but with nearly 300,000 units delivered, Nissan's Leaf is easily the world's bestselling electric car.
This is especially important considering most global jurisdictions are now eschewing internal combustion engines, especially diesels, and embracing electric vehicles. To be clear, EV adoption remains miniscule at far less than a single percent of global production, and the Leaf hasn't been able to hold onto the top EV sales position in North American markets, but it can honestly claim first mass production status as part of its legacy, and enjoys a multitude of Leaf loyalists to draw upon when the completely redesigned model launches worldwide next year.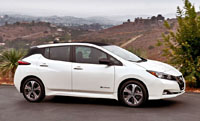 The 2018 Nissan Leaf says goodbye to the original car's funky styling and instead adopts a more mainstream approach that should appeal to a larger portion of the market. This tact only makes sense being that EVs appear to be entering a new phase of acceptability, even if their upcoming popularity is being forced upon many consumers through government mandate. China and some other markets aside, we the people vote such governments into power, so depending on ones point of view we can either take credit or accept blame for the new green agenda, and there are certainly worse ways to spend taxpayer money than on electric car rebates, a comprehensive supercharging infrastructure, massive hydroelectric dams, fields of solar panels, new wind and tidal farms, etcetera to create the required power.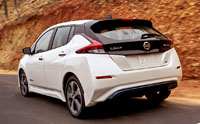 Most should like the 2018 Leaf's sporty hatchback lines, with highlights being a frontal design incorporating Nissan's now trademark V-motion grille, a floating rear D-pillar inspired by the brand's Maxima flagship and Murano mid-size SUV (which bears a resemblance to a similar design used for BMW's i3), and unique taillights that look like they could've been pulled from a slightly softened next-generation Juke (which will never be). Where the outgoing Leaf was upright, roundish and somewhat unusual in shape, the new model appears long, low, lean and much more in keeping with Nissan's overall brand identity. The new car's profile is not only aesthetically appealing, but no doubt its 0.28-coefficient of drag gave Nissan's aerodynamicists reason to smile too.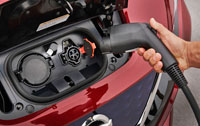 The original Leaf made news for its 160-kilometre range when introduced in 2010, and while the outgoing 2017 model is now capable of 172 kilometres from a single charge, even that improved number has been overshadowed by newer entries like Chevy's Bolt that can achieve 383 kilometres between charges, and the Tesla Model 3, which, depending on trim, will reportedly allow for 350 to 540 kilometres of ultimate range when it arrives here sometime next year.
What about the new 2018 Leaf? The U.S. EPA is estimating the equivalent of 241 kilometers of range, which isn't as headline grabbing as the original for its time or its most formidable peers now, but with an MSRP of $35,998 plus freight and fees the Leaf makes up for that with much lower pricing than both the $43,195 Bolt and $45k-plus Tesla 3.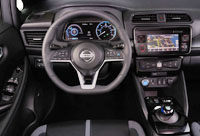 The Leaf also provides more useable passenger and cargo space than either, the former remaining "essentially unchanged" and therefore comfortable for "five people", stated Nissan in a press release, and the latter measuring 668 litres (23.6 cubic feet).
The Leaf's toughest competitor may be Volkswagen's new $35,995 e-Golf, although its 201-kilometre range is less appealing unless compared to BMW's $50,965 i3 that can only manage 183 kilometres per charge, or for that matter Ford's $31,498 Focus Electric with just 172 kilometres of total range at its disposal, or Kia's $35,395 Soul EV that can only muster 150 kilometres. At least the blue oval badged hatchback delivers good pragmatic value and the red and white oval crossover (or in the case black) offers fun-loving styling and even more practicality, but sales of the blue and white roundel badged i Series cars have driven off the proverbial cliff in recent years. Speaking of living life on the edge, there's always the $27,998 Mitsubishi i-MiEV with a range of 160 kilometres.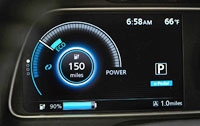 At least we need to give Mitsubishi credit for having the courage to publish its i-MiEV sales numbers, these resulting in 61 down Canadian roads as of August 31, 2017 and 86 last year, whereas Ford, Kia and Volkswagen hide their EV deliveries behind total Focus, Soul and Golf nameplate volume respectively. I'm sure if their electrics were outselling the Bolt or Leaf we'd hear about it, so for now we will report the Bolt as first amongst pure electrics with 1,065 deliveries during the same eight months of 2017, and the Leaf a very close second with 909. Contemplate for a moment, the Bolt is a brand new car introduced for the 2017 model year, and in comparison today's Leaf has only been mildly updated over its seven-year lifecycle. It's easy to guess which car may soon assume the lead.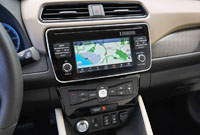 In the 2018 Leaf's corner is a new 40-kWh lithium-ion (Li-ion) battery, which is a gain of 10 kWh over the outgoing version, but thanks to 67-percent greater density it occupies the same physical space within a vehicle that's about the same size as the outgoing model. Also notable, despite benefiting from 25 percent more capacity the battery only takes 10 minutes longer to replenish from "alert" mode to 80-percent when hooked up to a quick charger, the total process now requiring 40 minutes. Those charging from home or another conventional 120-volt socket will need 16 hours to replenish from totally empty to completely full, whereas a 240-volt Level2 charger requires eight hours. Of note, Nissan Canada will provide a Level 1/Level 2 (120v/240v) charging cable as standard equipment.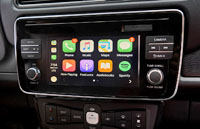 Motive power comes from a new 110-kW AC synchronous motor making 147 horsepower from 3,283 to 9,795 rpm and 236 lb-ft of torque from zero to 3,283 rpm. That's a gain of 107 horsepower and 187 lb-ft of torque over the old motor, by the way, so the new Leaf, which at 1,557 to 1,591 kilograms (3,433 to 3,508 lbs) depending on trim is actually lighter than the 1,624-kg (3,580-lb) Bolt and 1,610- to 1,723-kg (3,550- to 3,800-lb) Model 3, should scoot along quickly.
As good as all this sounds, Nissan has already announced a more potent 60-kWh Leaf for next year, but hasn't estimated its range and also isn't saying whether it will be an option, a la Tesla, or the new standard power unit.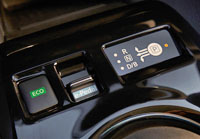 Right from day one the new Leaf will include a standard "e-Pedal" that provides both traditional acceleration and automatic braking. In other words, you'll be able to ease into the pedal (or put your foot to the floor) to get going and then simply let go to slow down and eventually come to a stop, the system said to be good for 90-percent of driving requirements, with the traditional brakes only needed for the other 10 percent. That won't only reduce driver effort, but it should minimize brake wear as well. If you'd rather apply more personal control you can defeat the e-Pedal by pressing a button.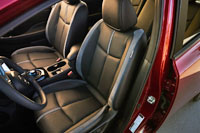 Nissan's ProPilot Assist single-lane driving assistance technology will make its North American debut in the new Leaf too, the system offering a higher level of semi-autonomous driving than previously available. Along with dynamic cruise control at speeds ranging from 29 and 100 km/h, ProPilot Assist will automatically steer and even centre the car within its lane, while it will also automatically brake all the way down to a full stop when prompted by forward traffic. Additionally, it holds the car in place without requiring the driver to press the brake pedal when stopped, and then restarts with the flow of traffic, as long as first prompted by the driver via a switch or lightly pressing the throttle. Nissan has purposely incorporated such driver involvement for safety's sake, but the technology for full autonomous driving is embedded within.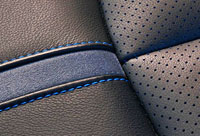 Additional advanced safety systems available with the new Leaf will include Automatic Emergency Braking, Blind Spot Warning, Rear Cross Traffic Alert, Lane Departure Warning, Intelligent Lane Intervention, and an Intelligent Around View Monitor with moving object detection.
Like most other Nissan products, the 2018 Leaf will be available in three trim levels including S, SV and SL, all of which are said to feature higher-grade cabins with better materials quality than the outgoing model. In the same aforementioned press release the brand promised its "signature vibrant blue stitching" for the seats, door trim, armrests and steering wheel, the latter wrapped in "genuine leather", plus more blue used for the illuminated ignition button and shift knob finisher, while matte chrome along with matte and glossy black surfacing treatments will be added elsewhere.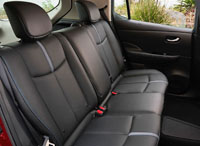 Instead of tradition analogue gauges the 2018 Leaf will get a 7.0-inch colour TFT primary cluster overtop the steering wheel, while Nissan will replace the outgoing model's 5.0-inch infotainment display and dated graphics with a bright, colourful, contrast-rich centre dash-mounted 7.0-inch touchscreen across the line. Apple CarPlay and Android Auto smartphone connectivity will be on the menu, albeit only when the system is upgraded to also include navigation.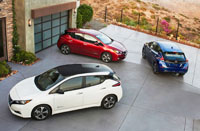 Nissan has not announced the availability of the unique Leaf-to-Home power system available in other markets, however, which reportedly lets you use the car's stored energy to power your home, cabin, trailer, or most anything else. Leaf-to-Home would be an ideal backup battery for an emergency outage, but nonetheless it likely isn't part of the Leaf's Canadian specification.
The new 2018 Nissan Leaf went on sale in Japan on October 2, and is forecast to arrive in Europe and North American markets in early 2018. It will be sold into more than 60 global markets when fully available, which should bode well for maintaining its leading EV sales status for the foreseeable future.