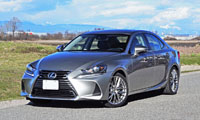 Sometimes, in a moment of mind wandering reverie brought about by writing yet another car review, I realize I've been doing this auto journo gig for a long time. In fact, I drove the original IS 300 soon after its 1998 launch, and was on the press launch for the second-generation 2006 model in Toronto, where we put it through its paces on a makeshift autocross course at the old Downsview Airport, owned by the Liberal party's unofficial crown corporation Bombardier, incidentally. That was a breakthrough car for Lexus, but other than the sensational 416 horsepower IS F I tested in the spring of 2008, that second-gen car doesn't come close to measuring up to this third-generation model.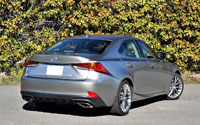 This latest IS was introduced in 2013 as a 2014 model, and thanks to dramatic styling and dynamic performance has garnered more fans than ever before. This year marks the current third-gen's mid-cycle update, which includes subtly reworked styling from front to rear. Following a pattern already set out by its siblings, the front grille grows in size, especially in F Sport trim, as do new larger air intakes integrated into a totally reworked lower fascia. These details are even more pronounced in F Sport trim thanks to a glossy black grille surround and side vent strakes that match the grille and vent inserts ideally.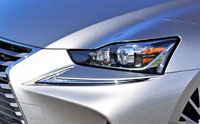 The checkmark LED driving lights remain unchanged, but the headlamps above truly catch the eye as they get a totally new design with an upgraded inner assembly, whereas the LED taillights are identically shaped yet receive new lenses and innards. A reworked lower fascia incorporates a new matte black diffuser style bumper cap and new angular tailpipes, this latter upgrade winning my wholehearted approval. This said I'm not about to say that Lexus' new bigger and bolder design departure necessarily translates into better, but some changes are particularly nice, especially inside where new "hairline" instrument panel trim and a gorgeous analogue clock reside.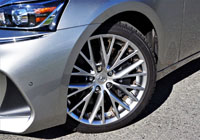 My tester's F Sport package is the Series 2 version, which is optional on lesser IS models and comes standard with the $53,350 IS 350. It boasts the previously noted styling enhancements as well as unique 18-inch alloys on 225/40 front and 255/35 rear tires, an adaptive variable suspension, an LFA supercar-inspired fully configurable colour TFT primary gauge cluster, a heatable three-spoke F Sport perforated leather-wrapped multifunction steering wheel, an F Sport shift knob, scuff plates, F Sport performance seats, heat and ventilation for those front seats, a black headliner, auto-dimming side mirrors, a massive 10.3-inch infotainment touchscreen with navigation, a single in-dash DVD, remote control, satellite radio, USB and aux ports, Siri-Eyes-Free, a powered sunroof, blindspot monitoring with rear cross-traffic alert, and more.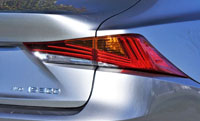 Other features pulled up from lesser trims include aluminum sport pedals, an auto-dimming rearview mirror, filtered dual-zone auto climate control, a reverse camera with active guidelines, eight-way powered front seats, rear seat heater ducts, all the usual active and passive safety features, and more.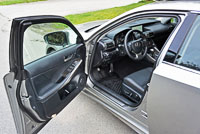 Of note, standard with all IS trims for 2017 are LED headlamps with automatic high beams, rain-sensing wipers, dynamic radar cruise control, and other Lexus Safety Sense+ features such as a pre-collision system and lane departure alert with autonomous steering assist, which would all come together to earn a best-possible IIHS Top Safety Pick Plus rating if it weren't for a merely "Acceptable" rating for its small overlap front crash test and another "A" for its headlights. It scores best-possible "Good" marks in every other category, and a "Superior" rating in the area of Crash Avoidance and Mitigation under front crash prevention. Being that most other Lexus models earn top IIHS marks, they'll want to modify whatever needs fixing in order to make this car qualify.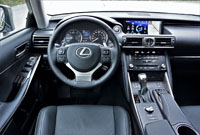 Not safety related, unless trying to find your way, sorting out the optimal driving position, or getting the sun off the necks of rear passengers, my Atomic Silver painted tester included the reasonably priced $1,300 upgrade to the F Sport 3 package that added a 15-speaker Mark Levinson audio upgrade and a powered rear window sunshade.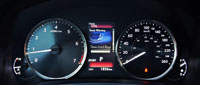 All of this impressive kit comes in a cabin that should mostly appeal to premium buyers, with some details better finished than its German peers and others not quite measuring. The nice parts are the soft synthetic dash top and even plusher padded leatherette with real contrast stitching over the primary instrument hood, plus the soft touch door uppers front and back, the pliable composite filling in the space above the comfortable contrast-stitched armrests too, with the same upscale treatment flowing down the sides of the centre stack. The less optimal parts are the hard shell plastic lower door panels, rigid lower instrument panel, and worst of all, the hard plastic glove box lid. Then again, if you look above the waistline it's all top tier stuff. The fully configurable TFT instrument cluster is superb, while the steering wheel is nicely shaped, leather-wrapped, and contrast-stitched, with high-quality switchgear on each spoke and sporty paddles in behind. The centre stack gets a stunning widescreen display in deeply contrasted colour and crisp resolution, while the graphics are improved over years past. It's filled with navigation that works very well, a clear backup camera with moving guidelines albeit no 360 bird's eye view, but the beautiful analogue clock mentioned a moment ago sits just below, and very high quality switchgear for the HVAC system and radio fill space underneath, the latter being the Mark Levinson audio upgrade that delivers astounding sound. The HVAC system's dual touch-sensitive temperature sliders work well, while three-way heated and ventilated front seats are always appreciated, not to mention the heatable steering wheel. Lexus remote touch interface gets nice leatherette contrast-stitched padding like the armrest, but it's the old style joystick design that wears my patience down when I forget there are new buttons to each side for making final selections, but it's still not as good as Lexus' newer trackpad system or as useful as the rotating dial selectors the Germans use. Then again why not a touchscreen? These work wonders in Toyota's many models and are starting to show up more in the premium sector due to tablet-style tap, swipe and even pinch gesture controls we're all completely familiar with from smartphone use. Maybe this choice has more to do with Lexus less adaptable (read aging) ES buyers, or possibly it's an American thing. I can't say, but it no longer meets the mark. On that note I'm always fascinated by how different the Canadian market is from our friends to the south. We speak the same language (accents and colloquialisms aside), watch most of the same TV shows and films (albeit skewed more towards all things hockey), and listen to much of the same music (despite the CRTC) on the same brands of TVs, tablets and phones, buy most of our clothes from the same popular branded stores, and eat at many of the same fast food restaurants (although you can't get poutine or a McLobster at McDonalds' U.S. locations), yet we still have unique national traits that show up in the types of things we purchase. Canadians tend to like hatchbacks, wagons and minivans more than Americans, and when we opt for four-door sedans we lean more towards smaller sport models than larger luxurious ones. Take Lexus, for instance. In the U.S. the mid-size front-wheel drive ES has long been one of the most popular luxury sedans in existence, more than doubling IS sales in 2012 and selling tens of thousands more every other year. Here in Canada, however, the IS is Lexus's four-door sedan sales leader, albeit not at such a wide spread. Last year Lexus Canada sold 3,033 IS series sedans compared to 2,153 ES models, whereas the year prior it found 3,401 customers for the IS compared to 2,305 for the ES. The IS' best year was 2014 when it sold 3,945 units, while you'll need to go way back to 2007 to find the ES' best sales results of 4,251 deliveries. While I like the ES 350 and its ES 300h hybrid counterpart, my feelings are more lukewarm than anything approaching fiery hot. It's an excellent car from a mid-size family sedan perspective, but exactly how much better it is than any of the large mainstream volume-branded flagship models such as Toyota's own Avalon, Nissan's Maxima, Chrysler's 300, Chevy's Impala, Buick's LaCrosse, and Kia's Cadenza is difficult to surmise. The IS, however, has nothing from the lower class to compare it to. Perhaps Kia's upcoming Stinger will measure up, but for the time being we can only draw comparison to D-segment sport-luxury car leaders like BMW's 3 Series, Mercedes' C-Class, Audi's A4, Acura's TLX, Infiniti's Q50, Cadillac's ATS, Volvo's S60, Jaguar's XE, Alfa Romeo's new Giulia, and Genesis' upcoming G70. In this way it's a true premium product, unlike the ES that only really competes with Lincoln's MKZ and Buick's Regal or LaCrosse in the near-premium sector. As for where the IS stacks up against those German, Japanese, American, Swedish, British, Italian and South Korean competitors, Lexus can feel pretty good with its fifth place on the sales chart amongst 11 direct rivals (I included the Buick Regal due to its size). The only non-German car to prove more popular is the TLX, while the Q50 remains just behind nipping at its rear tires. I don't necessarily want you to read performance into that last comment, as the Q50 is now the get-up-and-go leader amongst Japanese entries when kitted out in top trim. That would be the 400 horsepower Q50 Red Sport 400 that crushes the top-line 290 horsepower TLX as well as this top-tier 306 horsepower IS 350, especially now that the aforementioned V8-powered IS F is no longer part of Lexus' "F" performance branded lineup. Amongst the Germans, you'll need to move up to the 354 horsepower S4 to get near the Q50's highest level of boost, as the top-line A4's 252 horsepower four won't light a fire under any serious stoplight warrior, whereas BMW's 340i now makes a heady 320 (but it feels like so much more), while Mercedes' C 43 AMG sizzles with 362 horsepower. To keep you from bothering me with emails, the quickest non-Quadrifoglio Giulia produces 276 horsepower, the fastest non-Polestar S60 puts out 302, the speediest non-V ATS manages 335, the sportiest G70 produces 365, and the hottest XE maxes out at 380; I'm not even going to go into the M3 and V8-powered AMG. So, to make a short story long, the IS 350 doesn't pull in its buyers on performance alone. In fact, while 306 horsepower and 277 lb-ft of torque is nothing to be shy about, nor for that matter is this engine's 51 hp and 41 lb-ft improvement over the already enjoyable IS 300, its six-speed automatic is no more advanced than the ES 350's identically cogged autobox. Where it deviates is in its aforementioned smaller size and rear-wheel biased standard all-wheel drive layout. To get the most out of the drivetrain, look down at the nice metal dial resting just behind the traditional gear lever and rotate it all the way to the right, from Eco, past Sport, to Sport+ mode. A simple press downward selects normal mode, for later. You can choose to turn the traction and stability control off too, but that's only recommended if you're skilled at performance driving. So set, my IS 350 AWD F Sport responded to throttle input by appropriately lighting up pavement at takeoff, the smaller than expected rubber grippy enough thanks to the all-wheel drivetrain, and the engine plenty capable of putting distance between the car's stylish tail end and stoplight dawdlers. A throaty exhaust note adds to the feeling of speed, the actual numbers being 5.9 seconds from standstill to 100km/h and a 210-km/h terminal velocity, whereas those previously noted paddles make the most of the six-speed autobox. and those previously noted paddles make the most of the six-speed autobox. It's actually a fairly sporty transmission, at least compared to the Acura TLX' new nine-speed that can truly be defined as a slushbox, but its three fewer forward gears hamper fuel economy with the IS 350 AWD's claimed rating a rather ho-hum 12.6 L/100km city, 9.2 highway and 11.0 combined compared to that similarly potent V6-powered AWD competitor's 11.2 city, 7.5 highway, and 9.6 combined estimate. I'd have to test both back-to-back on the same track or semi-deserted back road to figure out how these two cars compare dynamically, although it should be noted the IS has improved a lot over the years. It's a heavier beast than the original IS 300 I tested nearly 20 years ago, but it's certainly surefooted when pushed, even if the pavement below is less than ideal from age or weather. Larger diameter tires might further improve matters, but the 18s at each corner provided ample stick along with a more comfortable ride than anything lower in profile, plus they're cheaper to replace. Still, I think buyers anteing up to a top line model like the IS 350 AWD F Sport want bigger rims and rubber, if not just for aesthetics. That nicer ride was appreciated on the highway and around town, both being areas this Lexus excels. Truly, it's a comfortable car, even in the back seat that incidentally offers up very good lower back support and ample room all-round. Practically speaking, the IS can't compare to an ES for rear passenger or trunk space, the latter 124 litres (4.4 cubic feet) smaller at just 306 litres (10.8 cubic feet), but it should be good enough for your needs most of the time, i.e. when you're not picking up your parents from the airport or heading out on a road trip. Even then it should suffice, just not as well as a larger car, of course. Its benefits over the ES and other big front drivers are style and performance, and by the aforementioned sales numbers that's a compromise Canadian Lexus buyers are willing to accommodate, with most needing more size opting for the NX or RX SUVs. In Lexus' corner is reliability, the brand still number one on J.D. Power's 2017 Vehicle Dependability Study, although take note the IS doesn't rate in its Compact Premium Car category, with the ES (how they define it as compact I can't guess) in first, followed by the Mercedes-Benz C-Class in second and Acura ILX in third. While Lexus is likely proud of these results all the same, it won't want to show prospective clients the same third party analytical firm's 2017 Initial Quality Study where it's now positioned below average, albeit still ahead of Mercedes-Benz, Acura, Cadillac, Infiniti, Audi, Land Rover, Volvo and Jaguar. The IQS is more about owner complaints than true reliability, however, which can be caused as much by frustrated phone calls to sort out niggling infotainment systems as trips to the service counter. This said the IS should be considered a reliable car, but it could've done better in this particular study. That pretty well sums up the entire car. The IS 350 AWD F Sport could be better in many respects, but it's still a very good sport sedan that's deserving of your attention. It's not the car Lexus needs to dethrone the top three Germans, but more importantly it plays well into the Japanese brand's core strengths of comfort and dependability, while providing plenty of over-the-top style for those who enjoy turning heads. Review by Trevor Hofmann Photos by Karen Tuggay