What can I say about Lexus ES' that hasn't already been said countless times before, other than it's a front-wheel drive, mid-size, premium-branded anomaly that's managed to weather regular storms of negative driving dynamics criticism and come out shining as a top seller in its field?
Of course, there really isn't much else directly in its field to compare it to other than Lincoln's MKZ or the front-drive Acura RLX that's no longer available in Canada. Alternatively we could look down market into mainstream volume brands in order to face it off against its own platform-sharing Toyota Avalon or others like Buick's LaCrosse, Chevrolet's Impala, Chrysler's 300, Dodge's Charger, Ford's Taurus, Kia's Cadenza, or Nissan's Maxima.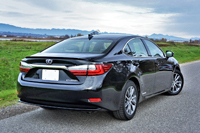 The major differentiator in this class is this electrified 300h that brought Toyota's storied Hybrid Synergy Drive to the mid-size luxury class in 2012 (a year after the MKZ Hybrid), but even this is now old news in the premium sector thanks to much more advanced plug-in hybrids from BMW, Mercedes-Benz, Infiniti and the like. And after all is said and done, most luxury buyers will look for their hybrid (or non-hybrid) fix in the SUV segment where Lexus' own NX 300h utilizes the identical drivetrain in a more popular and more utile body style.
To get a clearer understanding of all this, let's take a look at sales. Unfortunately Lexus doesn't report hybrid numbers separately, other than the dedicated CT 200h, but lumps them in with their conventionally powered equivalents, so we're left to guess that hybrids sell at similar percentages of total sales from model to model. Lexus sold 2,153 ES models in Canada last year, a far cry from the 4,251 purveyed in 2007 yet better than the 1,892 delivered in 2011. The NX hasn't been around that long, but its sales have steadily grown from 6,127 in 2015 to 6,295 last year. What's more, after five months of 2017 the NX has found 2,766 new owners, so it looks like it's on schedule for another record year, whereas the ES' has only managed to lure in 775 buyers, which could result in a new low. Then again, compared to the 432 MKZs sold over the same five months, the ES is all roses.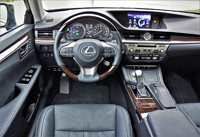 As for which vehicle matters more in the market, the numbers speak for themselves. To be clear, these sales totals in no way reflect which model is better or worse, but rather have everything to do with a near universal shunning of four-door sedans and adoption of crossover SUVs, other than a few exceptions like BMW's 3 Series and Mercedes' C-, E- and S-Classes in the premium sector and Honda's Civic, Toyota's Corolla, and Hyundai's Elantra amongst mainstream brands.
The sad reality is this 2017 ES is the best ever, and while halfway through the second year of its sixth-generation facelift, it's still worthy of much higher sales than it's getting, that is if there was anyone under 70 interested. We'll likely never know if its traditionally conservative clientele has been rubbed the wrong way by the model's adoption of Lexus' avant-garde styling or if its drop in popularity is just a sign of the times, but a quick rundown of those "competitors" mentioned earlier shows a similar downward trajectory for the Taurus, Avalon and Cadenza, plus the MKZ mentioned earlier, although sales of Charger are surging (it had one of its best months ever in May) and 300 strong, while the Impala, LaCrosse and Maxima are on track to make small gains as well.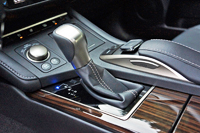 As far as mid-size front-wheel drive sedans go, I find the ES 300h attractive from front to back. Its spindle grille, Nike swoosh driving lights and chromed apostrophe-squiggle fog lamp bezels are big bonuses in my opinion, giving the car a more daring façade than its inner personality deserves, while its rear end design, with its subtle deck lid spoiler overtop gracefully understated LED taillights and lovely lower body diffuser/undertray, is as pretty as its backside has ever been.
Inside, the ES 300h combines high-grade furnishings with low-rung hard shell plastics, some top-tier switchgear with others pulled up from the Toyota parts bin, some old-school glossy albeit real woodgrain trim next to nice looking metallic surfaces albeit often hollow and plasticky, and one decent electronic interface with another that shouldn't show its face in the premium class, making my comparison to the many mainstream volume-branded players earlier quite fair. The ES raises its game over these in some respects, but falls below some of them in others.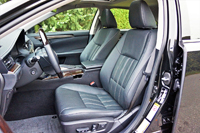 Under the "What's new for 2017" column, all ES 300h trims get standard rain-sensing wipers, a rearview camera, and Lexus Safety System Plus, the latter package adding auto high beams, dynamic cruise control with emergency autonomous braking, lane departure warning, and lane keeping assist. You'll need to spend more for blindspot monitoring with rear cross-traffic alert, but this is hardly uncommon in any class.
I'll go into more detail in my upcoming road test review, in which I'll also dispel myths about comfort-focused, melted butter driving dynamics, or not, and praise its fuel economy—maybe (of course I'll nee to compare it to the MKZ Hybrid). You'll have to come back to find out, but either way Lexus won't be selling anywhere near as many of its ES 300h models as it will the NX 300h, so I might as well skip this one and go straight to writing my review of the hybridized SUV, right? I suppose not. Instead I'll get both finished as soon as possible. Stay tuned…