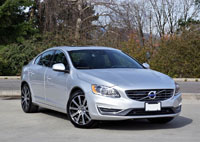 Volvo has been very busy remaking its entire brand over the past few years. It started with a focus on powertrains, its various five-cylinders and V6s gradually replaced by a lineup of efficient direct-injection turbocharged four-cylinders. Pricier trims went a step further by integrating both turbocharging and supercharging into the same 2.0-litre four, while the all-new award-winning XC90 SUV even has a plug-in hybrid version of the latter.
That XC90 ushered in the second phase of Volvo's metamorphosis, a wholesale brand-wide design that included an entirely new level of opulent luxury and future-tech feature sets. The XC90 was quickly followed by an entirely new mid-size luxury sedan dubbed S90 (replacing the S80), this model including a wagon variant named V90 (replacing the V70), plus an immediately more popular raised crossover model that—in Volvo tradition—goes by the name of V90 Cross Country (replacing the V70 Cross Country/XC70).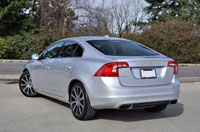 While all of this is thoroughly exciting to anyone working for Volvo or supportive of the storied Swedish marque, the new 2018 XC60, which looks like a smaller interpretation of the XC90, will certainly become Volvo's new sales leader when it goes on sale later this year.
This leaves the D-segment S60, currently in our garage, as well as its V60 and V60 Cross Country siblings, which I've reviewed previously, as the lone Volvo line yet to go under the surgeon's knife, plus of course an entire line of subcompact cars and SUVs that have yet to surface.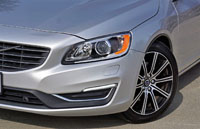 While not as new in styling or features as the updated models mentioned, the S60 is still very worthy of attention, especially those who tend to hold onto their cars longer and therefore wouldn't suffer from as much depreciation when the updated model arrives next year on a new modular chassis architecture that Volvo will use exclusively (the current S60 reaches back seven years to when Ford sold the brand to China's Geely, while the Volvo V3/Ford EUCD chassis it rides upon is 11 years old—coming into use with the S80—and has been shared with many Ford and Land Rover models ever since).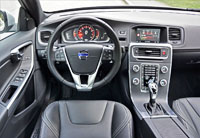 The design is clean, uncluttered and especially aerodynamic, and I must admit still looks smart if not the newest kid on the block. Unfortunately it sells into a premium sector that thrives on latest and greatest, hence why newer Volvo designs have mostly seen big boosts in sales (especially the XC90) and why this one has seen its once strong market share slowly and steadily erode from a high of 3,227 units in 2002 to an initial bump of 1,519 in 2011 and then a slightly higher blip to 1,525 in 2012, both after the redesigned version hit the road, to just 657 examples last year. There's a silver lining in all of this dreariness, however; the previous low before this second-gen car arrived in 2010 was 208 deliveries, meaning they've got a lot more to build upon this time around.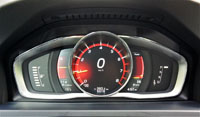 While it's fair to say the exterior sheetmetal is still plenty attractive, the cabin is very high in quality and designed with one part minimalism and another button overkill, but being a fan of classic high-end audio equipment this works well for me. The majority of buttons are clustered atop the floating centre stack, still a lovely design element, and they're positioned to make a lot of sense once acclimatized, especially the HVAC interface that's basically a body pictograph (you don't even need to speak Swedish to figure it out—or English).
Above that is a fully featured infotainment system with good graphics and nice contrast for good depth of colour, and while not as impressive as the best-in-class tablet-style touchscreen interface found in the XC90 and S90/V90 series, it's quite serviceable and includes a backup camera with active guidelines as well as navigation in my top-tier T6 AWD tester.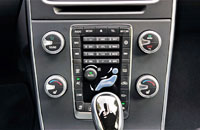 Even more impressive is the S60's fully configurable primary gauge cluster. Volvo was early to adopt a feature that's now becoming more prevalent in competitors' higher trims, and they did a very good job on this one, plus its resolution quality is extremely good.
No matter the trim level the S60 delivers an upscale environment with superb attention to detail, very high quality padded soft synthetic surface treatments, tastefully applied satin-finished and brushed metals, and some of the best seats in the car industry.
I'll leave my road test analysis to my upcoming review, and won't comment too much further on the S60's other attributes or detractors, but only add that my tester was equipped with the upgraded turbocharged and supercharged 2.0-litre four-cylinder with 302 horsepower and 295 lb-ft of torque, plus AWD fed through an eight-speed automatic transmission with manual mode and paddle shifters.
That's a cutting edge drivetrain considering its conservative styling, and one I'll soon tell you all about. Come join me back here in a couple of weeks for the full review…