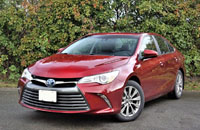 Remember when the Camry was the poster child for conservatively shaped mobile wallflowers? Its soul mission seemed to be: provide roomy, comfortable, reliable transportation to people who purposely want to attract as little attention as possible.
Camry owners can't fly under the radar anymore. The only four-door sedan with a more conspicuous grille is the slightly larger Toyota Avalon (although not for long as the 2018 Camry will boast the ultimate dog catcher) that shares much of the Camry's componentry, but the mainstream family sedan's flashy new attitude certainly hasn't eroded sales.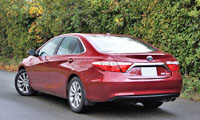 Last year the Camry remained number one in its class in both the U.S. and Canada, and by a considerable margin. Certainly sales in the mid-size family sedan segment have been slowing in recent years, the Camry falling victim to crossover SUV growth that includes the ever more popular Toyota Highlander, a mid-size SUV that also shares underpinnings with this bestselling sedan, but the Camry is still king of cars… no scratch that… king of family vehicles (including trucks not sold for commercial purposes).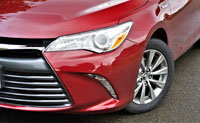 Toyota sold 404,301 Camrys in Canada and the U.S. last year, compared to just 204,343 Highlanders, and 2016 was a particularly poor year for the four-door sedan. By comparison, Camry sales for calendar year 2015 totaled 446,160 in the two jurisdictions, while Highlanders only accounted for 169,327 units. 2014? A few more Camrys at 446,851 units compared to considerably less Highlanders at 155,876.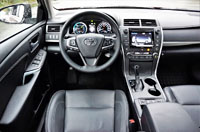 That's not quite the high of 2007 which witnessed 501,326 Camrys leave Toyota's Georgetown, Kentucky production facility, a year that saw just 132,930 Highlanders roll off the assembly line in Kurate-gun, Japan (production has since moved to Princeton, Indiana, other than the Highlander Hybrid that's now built in Miyawaka City, Japan), which shows what we all now know, the current upward trend is in favour of SUVs instead of mid-size sedans, but whether or not the two vehicle types' sales numbers will eventually even out is anyone's guess.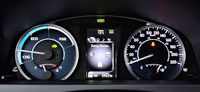 While the Camry was nearly twice as popular as the Highlander in North America's two northernmost countries last year, this isn't at all the case in Canada. In fact, Camry just barely edged out Highlander with 15,683 deliveries compared to 12,964. And 2016 was the Highlander's best year ever, whereas Camry rode its biggest wave in 2007 with more than twice as many sales at 28,218 units.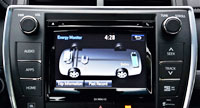 Compacts are much stronger here than in the U.S. (at the close of Q1, 2017, the Camry was the fifth most popular vehicle in the States and 28th in Canada), where the Corolla led Toyota Canada's four-door sedan sales with 45,626 units last year (currently fifth most popular in Canada and seventh in the U.S.), and the RAV4 led the entire compact SUV segment as well as every other Toyota model with 49,103 deliveries (currently tenth in Canada and eighth in the U.S.).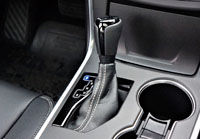 So why should Toyota Canada bother giving me a Camry Hybrid to drive and tell you all about? Of course, 15,000-plus Camry sales is nothing to sneeze at, and the Hybrid adds the positive element of greening society, something that Toyota's been trying to do since introducing its Prius in 2000, and the first Camry Hybrid in March of 2006 for the 2007 model year.
I was on that launch program, part of which included side-by-side drag races against conventionally powered four-cylinder Camrys down an airport runway on Toronto Island (not during spring floodwaters, mind you). The Camry Hybrids came out ahead as you might expect, the exercise helping to dispel a common belief that HEVs were boring to drive.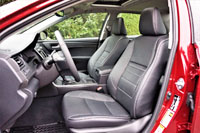 At the time I noted the 2007 Camry "HV" (the abbreviation then used by Toyota for Hybrid Vehicle, since globally standardized to HEV) sprinted to 100km/h in under nine seconds thanks to 187 net horsepower; provided city and highway mileage of 5.7 L/100km (remember that our old two-cycle rating system was haplessly inaccurate); and had a starting price of $31,900; so other than the styling, a much more refined interior with more features, and a starting price of (are you sitting down?) $29,770, some $2.1k less than a decade ago, not much has changed.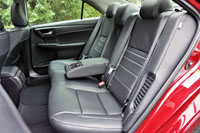 Granted, performance has improved thanks to an updated 2.5-litre Atkinson Cycle four-cylinder internal combustion engine (ICE) that, when combined with the same Hybrid Synergy Drive technology that incorporates an identical 105-kW rating for its permanent magnet electric motor and nickel-metal hydride (NiMH) battery combination, is rated at 200 net horsepower now, an increase of 13 horsepower since inception.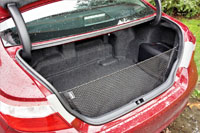 While older tech than Lithium-ion (Li-ion), NiMH batteries have served Toyota well over the years; powering some Prius taxi cabs more than a million kilometers before needing replacement. Despite the power upgrade and a change by Transport Canada to a new more realistic five-cycle testing method, the 2017 Camry Hybrid's fuel economy is actually better than the 2007 model in the city at 5.6 L/100km, and not much worse on the highway (on paper) at 6.2 L/100km (I'm sure it's improved for real; its combined rating is 5.9 L/100km, incidentally), while the car itself is miles more impressive.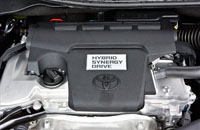 I'm not just talking about its styling (I'm more of a "fan" of the current generation's pre-facelift 2012–2015 model anyway), but more so of the attention to detail Toyota spent on interior design and quality, plus the way it drives. As you'll know by now, I won't discuss either point here in this abbreviated "Garage" review, but will be sure to fill you in on the experiential details in my upcoming road test.
For now, enjoy the photos and prepare for the good, the bad and the ugly of this popular electrified four-door (ok, there really is no bad and ugly about the Camry Hybrid, but it's hard to pass up an opportunity to mention one of my favourite Westerns and the best Clint movie).
As for what will happen to you if you don't take advantage of the great fuel economy and advantageous pricing of the 2017 Camry Hybrid, as Blondie once said, "If you do that, you'll always be poor… just like the crazy rat that you are."