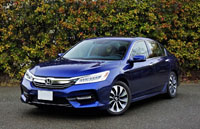 When you go to Honda's retail website and click on "Hybrids" you're presented with the 2017 Honda Accord Hybrid. That's it. For the first automaker to ever produce a modern-day hybrid for consumer sale, not to mention a company that's created two different versions of that dedicated Insight compact hatchback (1999–2006 and 2009–2014), a long-running Civic Hybrid compact sedan (2002–2015), another dedicated CR-Z hybrid sports model (2010–2016), it's strange to see just one electrified model in the current lineup.
Click on the "Hybrid" pull-down menu at Toyota Canada's site and you'll find six completely different HEVs, including three that wear Prius badges (subcompact, compact and near full-size), two SUVs, and the Camry Hybrid that does battle with this Accord Hybrid, while Toyota's U.S. division offers two more including the Prius Prime plug-in and the full-size Avalon Hybrid, not to mention a Camry/Accord-sized hydrogen fuel-cell vehicle dubbed Mirai.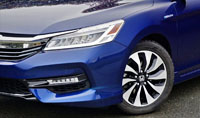 Then skip over to Toyota's luxury division, Lexus, and you'll find six more, including the entry-level CT 200h dedicated hybrid, the ES 300h, the GS 450h, the NX 300h, the RX 450h, and new LC 500h (the LS 600h appears to be temporarily discontinued… who knew?).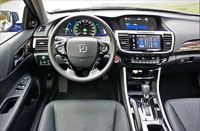 In the U.S. the Accord Hybrid is joined by the old CR-Z (killed off here last year), the 100-percent electric Fit EV (never offered here), and the hydrogen fuel cell-powered Clarity mid-size sedan (what a 10-times larger market allows), whereas Acura is showing off its fabulous new NSX Sport Hybrid, the excellent albeit long-in-tooth RLX Sport Hybrid, and the brand new MDX Sport Hybrid on both sides of the 49th parallel. Yes, things are looking a lot better for electrification at Acura than Honda.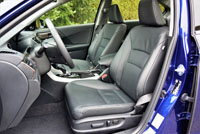 The 2017 model shown on this page is actually the second Accord Hybrid, the first introduced in 2005 and sold only through 2007, which sported (literally) a powerful 3.5-litre V6 combined with extra electrical boost that provided 255 net horsepower and 232 net lb-ft of torque for a 6.7-second sprint to 100km/h. It was a fun car to drive, but the market, which wanted fuel-efficiency first and foremost in this class, wasn't interested and therefore it was killed after just two model years. Truly, if Honda had dropped this power unit into the Acura TL of the time it might've been a hit, or at least it might still be around a la Lexus GS 450h.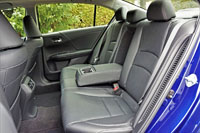 After introducing a particularly good 2014 Accord Hybrid (I named it "one of the best hybrids yet") and toying with an even more enticing Accord Plug-in Hybrid (not available in Canada), both reviewed by yours truly three years ago, Honda seems more tuned in to the market these days, especially because this new-generation Accord Hybrid has been focused more on saving at the pump than leaving its competitors behind at the stoplight (although, as you'll soon find out, it still does that quite handily).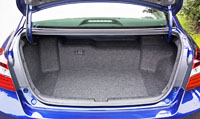 At $31,300 the Accord Hybrid is priced $1,500 and change higher than the Camry Hybrid, which might affect the decision of some, but to my mind it's a moot point because the Accord, on the whole, is a much more enticing prospect.
I'll soon share with you exactly why in a future road test review, but 12 additional horsepower certainly doesn't hurt. The Accord Hybrid's 500-cc smaller 2.0-litre four-cylinder makes just 143 horsepower, but the 181 horsepower electric motor connected to it increases total output to 212 net horsepower resulting in more oomph off the line, while its 4.9 L/100km city, 5.1 highway and 5.0 combined claimed fuel economy is much better than the Camry Hybrid's 5.6 city, 6.2 highway and 5.9 combined rating as well.
Check back soon for my complete review, as there's a lot more to the Accord's performance advantage to contemplate, while there's also much more to consider regarding the car in general, such as styling, interior materials quality, fit and finish, features, roominess and overall liveability, and the list goes on…