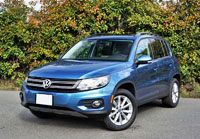 Volkswagen will soon replace its Tiguan compact SUV with a newer and larger version, which should help it pull in buyers looking for more size and functionality.
The current model, which has only received a mid-cycle update since 2007, is smaller than most compacts, and therefore sells in much fewer numbers than more popular compacts like Honda's CR-V, Toyota's RAV4, Nissan's Rogue, etcetera. The Hyundai Tucson and Kia Sportage suffer from a similar scenario, as they're sized closer to large subcompact SUVs like Mitsubishi's RVR, Toyota's new C-HR, and Nissan's upcoming Qashqai.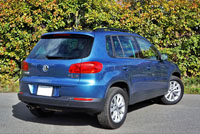 The actual sales numbers might be deflating if VW wasn't in the process of launching a new 2018 Tiguan, with the current model's 2017 year-to-date sales of 2,562 units ranking 12th out of 16 models selling into the mainstream compact SUV segment; the bottom feeders are made up of niche brands and models like Mitsubishi's Outlander and Subaru's Crosstrek respectively, plus has-beens like Jeep's Patriot and Compass (yes, surprisingly these two Dodge Caliber-based "classics" are still for sale, the latter even being redesigned for 2018). The Tiguan fared slightly better last year, its 11,229 total sales placing 11th overall after all 12 months of 2016 came to a close.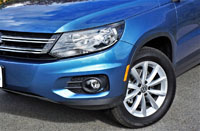 Does its poor ranking make it a bad choice in the compact SUV class? Not at all. In fact, if you were to compare its sales amongst subcompact SUVs, its 2017 YTD number would put it third out of nine competitors, while its 2016 calendar year sales would find it second overall. Of course, if we did this we'd need to toss the two Korean compact SUVs into the mix, but even knocking that fantasy sales chart standing down a couple of notches would be a good showing for the little VW.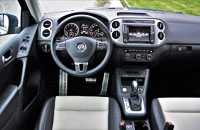 Yes, that's quite an intro for a "Garage" update, but I find sales details compelling (they're the only real indicators of how much we consumers like a given vehicle, or not), and as I often say, the one thing the game show "Who Wants to Be a Millionaire" taught us was just how often the audience is correct (makes me still believe in the power of democracy despite recent events). So based on that bit of science, is the Tiguan your best bet amongst compact SUVs?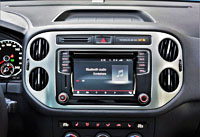 I'll attempt to answer that question in an upcoming review (and it will no doubt come down to available discounts), but until then I'll give you a short rundown on the car at hand. First off, all 2017 Tiguans come with VW's peppy 2.0-litre TSI gasoline-powered four-cylinder, producing 200 horsepower and 207 lb-ft of torque. A six-speed automatic with Tiptronic manual mode puts the power down to the front wheels, while as-tested 4Motion all-wheel drive is optional.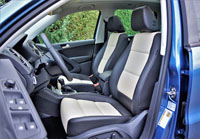 In a nice change of events, VW provided a more basic trim level for we journos to drive this time around, which normally happens when any automaker is trying to promote a special edition model (normally our weekly rides are fully loaded up with loot so we enjoy the best possible experience). Therefore, our tester was the second-rung (out of four) Wolfsburg Edition, which takes a base Trendline and adds 4Motion AWD, an eight-way powered driver's seat with powered lumbar support, their (new last year) 6.33-inch Composition Media infotainment touchscreen with a proximity-sensing display (cool), App-Connect with Android Auto, Apple CarPlay and MirrorLink phone connectivity, an SD card slot, and eight-speaker audio, while supposedly "Wolfsburg Edition" badges were stuck onto the outside B pillars, but I can't find these at all.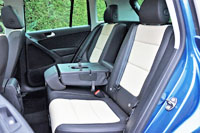 I defer to VW's associated paperwork (they hand out when picking up each car), and yes it says "Tiguan Wolfsburg Edition 4MOTION" right there in black on white. A quick trip over to the VW.ca website shows that indeed the Wolfsburg Edition is the only trim available with my tester's unique two-tone black and beige leatherette upholstery (a no-cost option that someone at VW's PR department checked—black being the alternative), its infotainment system isn't available with navigation (not included in my loaner), and its only paid option is a $1,450 panoramic sunroof (check). So this $31,648 SUV is indeed a completely loaded 2017 Tiguan Wolfsburg Edition 4Motion in standard Pacific Blue paint (new for this year), sans "Wolfsburg Edition" badging. It must have been an early build.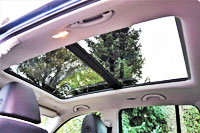 Anyway, you may want to know that Reflex Silver is new to the Tiguan paint palette this year and available with the Wolfsburg Edition too, while other possible Wolfsburg colours include Deep Black Pearl, Pure White, and Night Blue Metallic (a darker hue than our tester), while yet more 2017 Tiguan additions (can you believe they still updated this eight-year old model for its final partial year before getting replaced?) are relegated to pricier Comfortline and Highline trims.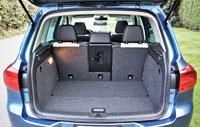 For now we'll leave the commentary there, and instead revisit this special Tiguan soon as a full road test review. That means I'll let you know how it drives, if it's interior is still up to snuff after all these years, how well the relatively new infotainment system works, is that eight-speaker audio system any good, if there's enough room in back, how useful the storage area is, etcetera. Stay tuned…