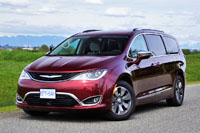 In the mainstream volume auto sector only Daimler's Smart brand has fewer models than FCA's Chrysler. Chrysler has three. And next year it'll be down to two. Just how FCA allowed this to happen is anyone's guess outside of Auburn Hills, but at least the two models that will carry the Pentastar flag into 2018 are very good at what they do.
Case in point, the 300 luxury sedan is the perennial Canadian bestseller in both the mainstream full-size luxury sedan class and the mid-size luxury class. They're obviously doing something right. The Pacifica currently in our garage hasn't been so fortunate thus far, and this new plug-in Pacifica Hybrid even less so, but to Chrysler's credit sales have been rising after a new entry-level model was recently introduced and prices concurrently came down.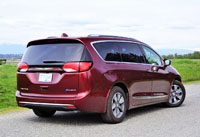 Even more importantly it's the best minivan in its segment, at least in this auto journo's opinion. I'll tell you exactly why in an upcoming review, plus give you a few reasons why I believe it's not selling as well as it could. In the meantime, here are a few details about the model we've been living with this week:
Our $56,495 Pacifica Hybrid Platinum includes most everything offered in base $52,495 Hybrid Premium trim, such as a 7.0-inch full-colour configurable in-cluster multi-info display, tri-zone auto climate control, 8.4-inch touchscreen infotainment, a 360-degree parking camera, heatable front seats, satellite radio, dynamic cruise control with low speed follow plus stop and go functionality, forward collision warning with autonomous braking, blindspot monitoring with rear cross-traffic alert, lane departure warning with active lane keep assist, and much more.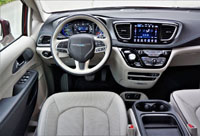 On top of these items the Platinum adds more chrome exterior trim, unique 18-inch alloy wheels, proximity-sensing hands-free dual power sliding doors and liftgate, pushbutton ignition, a more upscale interior with contrast stitching in key areas, a two-tone heated leather and genuine metal trimmed steering wheel, navigation with mapping, perforated Nappa leather upholstery with ventilation up front, rear entertainment with dual flip-up 10-inch touchscreens, and the list goes on.
Both Pacifica Hybrid trims get a 32A socket on the left front fender for recharging its 16-kWh lithium-ion battery, which allows about 50 kilometers of EV driving after which it automatically transforms into a regular gasoline-electric hybrid with the majority of its fuel savings in town as well as a reasonable advantage on the highway. It's safe to say its estimated 2.6 Le/100km combined city/highway fuel economy (when factoring in EV driving) is best in class, as is its total possible range of 911 km, which makes it the ideal choice for family road trips (we took a load of friends to a local tulip festival and will have their backseat feedback included in the review).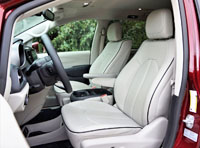 It takes about two hours to recharge the battery with a Level 2 240-volt charger, these available for your home from your FCA dealer or via aftermarket sources, or you can find them (for free most of the time) in front of shopping malls, government buildings, hotels, some retail stores like Walmart and Ikea, or curbside in most urban centres. Alternatively you can plug it into a regular 120-volt socket at home or work, at which point you'll need about eight hours to top it up from empty.
A big charge indicator on top of the dash lets you know that all systems are working by showing one to five blue lights, these large and bright enough to be seen from a distance. Once unplugged these disappear so as not to distract while driving. This is the best charge indicator I've used, so kudos to Chrysler for getting this right.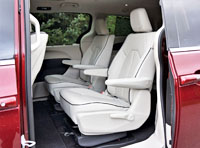 That's about all I'm going to say about living with the Pacifica Hybrid for now, leaving the most important details for a full review scheduled later this month (including the positives and negatives of Chrysler's innovative electrically variable transmission that utilizes twin electric motors for turning the drive wheels).
I'll let you know now that choosing the Hybrid over the conventionally powered Pacifica brings significant drawbacks, so it's not a decision to be taken lightly. I'll point out each of these later, along with the various features missing from this pricier Hybrid Platinum that were included in my previous gasoline-only powered Pacifica Limited, some of which made the conventionally powered van look and feel a lot more premium.
In the meantime let's give Chrysler a big cheer for diving right into the deep end by not only introducing the world's first hybrid minivan, but also making it a plug-in right off the bat. That takes a lot of courage, especially for such a niche brand. Come back soon for more…