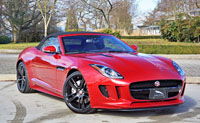 Life is good behind the wheel of Jaguar's F-Type Convertible. Few premium brands offer anything close to Jaguar's rich sporting and luxury heritage and no modern car better embodies the spirit of a model that has long been considered the world's most beautiful cars ever and one of its era's best performing, Jaguar's own '61-'75 E-Type.
The big news for 2017 is the range-topping F-Type SVR that pushes 575 horsepower and 516 lb-ft of torque to each of its four wheels. The 550 horsepower all-wheel drive R is carried forward as well, plus the 380 horsepower S in rear- and all-wheel drive, and 340 horsepower base model, also offered in RWD and AWD.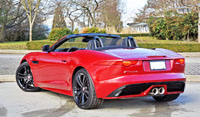 Likewise, you can get every one of these trims as a two-door Coupe or a Convertible, the former featuring a graceful sloped rear roofline ending in a practical liftback, and the latter incorporating a high-quality fabric top ahead of a regular trunk.
The car on loan is the open-top body style with the base engine and just a few upgrades that we'll soon divulge in an upcoming review. While it doesn't sprint to 100km/h in a mere 3.7 seconds and top out at 195 mph (314 km/h) like the new SVR Convertible, the base roadster boasts an energetic 3.0-litre supercharged V6 capable of 5.7 seconds from standstill to 100km/h and a top speed of 260 km/h (161 mph), which is more than enough for raising the heartbeat.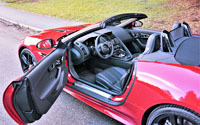 Come back soon to get our insights on interior quality, overall refinement, Jaguar's electronic interfaces and other features, the retractable roof's ease of use, and of course how its driving dynamics measure up to competitors, while we'll also share some thoughts about its place in the market and whether you should consider it over a Porsche 911 Cabriolet or one of its other rivals.
Stay tuned…