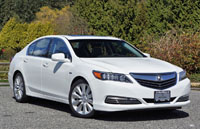 Say hi to the Acura RLX. It's actually been around since 2013, but slow sales make it a rare sight on Canadian roads so you may not have seen many.
The RLX is Acura's flagship sedan, but it's no larger than Mercedes-Benz' E-Class sedan, which is the most popular luxury model in the mid-size premium segment. By comparison Merc sells about 28 Es to every single RLX, but Acura isn't the only brand that gets beaten up by the three-pointed star in this category.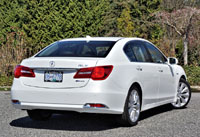 Mercedes sells almost a third more Es than BMW purveys 5s, while it outpaces Audi's A6 by approximately 3.5 to 1, Jaguar's XF by about 5.5 to 1, Lexus' GS by more than 7 to 1, Infiniti's Q70 by 19 to 1, and so on. The only car in the segment to outsell it is Chrysler's 300 that ironically is based on a much older E-Class architecture, and to be fair the near premium 300 is priced much lower and therefore isn't really targeting the same luxury audience.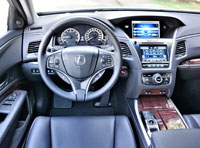 So it's an uphill battle for the RLX and many of its peers, but that didn't stop Acura from investing thousands of Bordens (my Canadian twist on Benjamins, although I probably should have called them Fukuzawas being that we're talking yen) into this innovative car.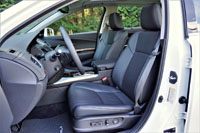 I say innovative because it's the only car in its class available solely as a hybrid, and a performance-oriented hybrid at that. Acura claims net output of 377 horsepower and 341 lb-ft of torque via a 3.5-litre V6 and a rear-wheel mounted dual electric motor/lithium-ion battery combination, with the internal combustion engine (ICE) powering the front wheels until rear-wheel traction is needed, which prompts intervention of the electrified AWD. A seven-speed dual-clutch automated transmission provides quick shifting duties enhanced by steering wheel paddles no less, heightening the RLX' sporty nature, but I best leave it there or you'll have no reason to return for the full review.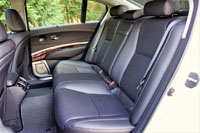 We'll be covering the top-line Elite model, so everything Acura has to offer is included. Whether you're seriously interested in purchasing or simply curious, I recommend coming back to take a look as the RLX has long been the mule used for developing much of the sophisticated powertrain technology now harnessed by the fabulous new NSX supercar.
For the time being, enjoy a small assortment of gallery photos that we'll expand upon when the review arrives…