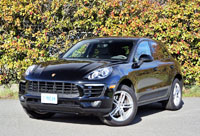 It's too early to tell exactly why Porsche's Macan has improved its sales so dramatically from its first full calendar year of 2015 when it sold 2,121 units to the close of 2016 when its final tally was an impressive 2,800, but the model's ability to target an entirely new audience of entry-level luxury buyers as the 2017 model year began last fall likely had something to do with it.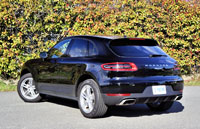 Enter the all-new 2017 Porsche Macan. No, I'm talking about the 2016 Macan S, which drove all four wheels through a 3.0-litre twin-turbocharged V6 with 340 horsepower and 339 lb-ft of torque, conjoined to a seven-speed dual-clutch automated gearbox. That reasonably priced $59,200 model continues forward into 2017 as one the compact luxury SUV segment's fastest vehicles. Rather, the model that likely boosted sales at the close of last year is the new base four-cylinder Macan that starts at just $52,700.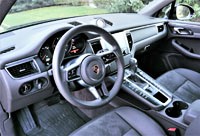 Yes, it's for real. A Porsche you can potentially purchase for less than $50k if you negotiate a discount, and while powered by a seemingly mainstream VW-sourced 252-horsepower 2.0-litre turbocharged and direct-injected four-cylinder with 273 lb-ft of torque it still pulls off a relatively quick 6.7-second sprint to 100km/h (or 6.5 with the as-tested Sport Chrono Package) before attaining a top track speed of 229 km/h. The new engine is actually based on Audi's latest 2017 A4 2.0 TFSI powerplant, but anyone denying Volkswagen roots is either ill informed or more likely working from a Porsche-financed marketing/PR department.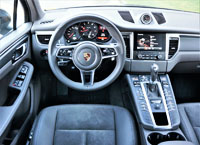 I'm going to quote fuel economy numbers of 11.6 L/100km city and 9.3 highway only because they matter to Porsche, as I can't see many Porsche buyers caring all that much about saving money at the pump, or at least that's not likely the reason they sprang for the base Macan. This is a dollars and cents option (or what I like to call a dollars and "sense" option), a way for someone considering an Audi Q5, or a similarly powered compact luxury SUV, to spring for a Porsche.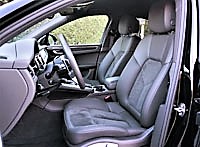 Speaking of competitors (and now we can truly name these brands as Porsche rivals), the Macan managed to pass right on by Lincoln's more affordably priced MKC and Infiniti's (granted long-in-tooth) QX50 on the sales chart last year, the latter likely to claw its way back after its long awaited replacement debuts this coming fall. Still, the achievement is significant for an SUV that costs considerably more.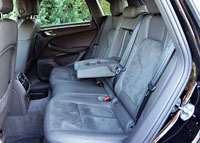 You get a lot for the extra coin, mind you, starting with one of the best balanced chassis in the compact SUV sector, no matter the trim level chosen, as well as arguably attractive Porsche styling (I think the Macan is Porsche's most alluring SUV and one of the more attractive in its segment), and an extremely well made interior filled with soft-touch surfaces, high quality trims, and state-of-the-art digital interfaces.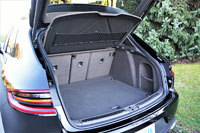 The primary gauge cluster remains a mostly analog affair, which is probably a good thing for Porsche purists (they pout a lot when Porsche messes with things like… anything), but the PCM infotainment touchscreen is larger at seven inches and includes features like proximity sensing (digital buttons pop up when your fingers get near), tablet style multi-touch gestures, and Apple CarPlay (sorry Android users, Porsche doesn't believe you're interested in its vehicles despite the fact you dominate pricey smartphone sales).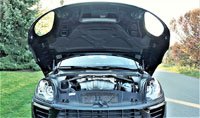 Personally, I think Porsche will rethink this choice by next year, especially if it wants to make more headway in emerging markets like China that are leading global smartphone purchasing (Huawei, Oppo, and BBK are some of the fastest growing brands). According to American IT research and advisory firm Gartner.com, as of the fourth quarter of 2016 99.6 percent of all smartphone sales were Android and iPhone, but of the 432 million smartphones sold in the last quarter, 352 million ran Android (81.7 percent) and 77 million ran iOS (17.9 percent).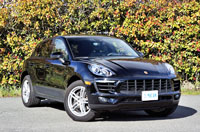 On the positive the new PCM infotainment system is a marked improvement over the outgoing system that was riddled with problems, especially its navigation system that was downright comical, while Porsche also provides new placement for its powered USB port so its easier to plug in your smartphone (even if you're still using a Windows phone or Blackberry), while Wi-Fi can now be had via on-board internet. Lastly, the new system allows for remote mobile device-to-vehicle connectivity via a downloadable app.
Another 2017 bonus is completely revised rear-seat entertainment including a set of monitors attached to the backside of the front headrests, multiple HDMI and USB ports, and an SD card reader, while music and video can be streamed into the system via Wi-Fi.
Our 2017 Macan tester included the Sport Chrono Package and a set of larger rims, but little else, which is a good thing as it lets us tell you all about a mostly base model. Make sure you come back to read all about it and peruse through our massive photo gallery…