Energi is Ford-speak for plug-in hybrid or PHEV, and this important future-looking model continues with the 2017 Fusion's mid-cycle makeover.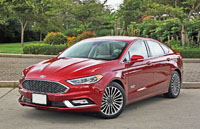 The changes to the entire Fusion line are subtle but effective, the grille now appearing less Aston Martin-like and therefore more acceptable to those of us who'd rather not see a favourite sports car brand plagiarized, the headlamp clusters scalloped slightly on their lower edges, a new more horizontal lower fascia providing a cleaner yet sportier look, redesigned taillights that now feature a chromed strikethrough stretching across the trailing edge of the deck lid to visually connect the two, and other small details modernizing the popular mid-size sedan.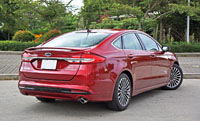 Also new for 2017 is top-tier Platinum trim level that sits above the previous-best Titanium model. That's what we drove in our recent weeklong test, a $44,588 near-luxury sedan that adds a unique Sport grille, stunning diamond-quilted perforated leather upholstery, a leather-adorned dash and armrests, tasteful woodgrain trim, a heatable steering wheel, ventilated front seats, navigation, rain-sensing wipers, a universal garage door opener, a powered glass sunroof, and a number of active convenience and safety features such as adaptive cruise control with stop-and-go, autonomous pre-collision assist with pedestrian detection, blindspot warning, lane keeping assist, enhanced semi-autonomous park assist, and more.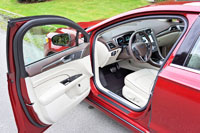 Only Hyundai's Sonata joins the Fusion Energi in offering plug-in hybrid technology to the popular mid-size sedan segment, this allowing owners to recharge a larger battery capable of driving longer distances on 100-percent electric power, not to mention at higher speeds than conventional hybrids can do in EV mode. While the Fusion Energi is only good for about 30 kilometers of pure EV propulsion before its 2.0-litre four-cylinder gasoline engine joins in for assistance and regular hybrid usage ensues, a full charge can be achieved in just 2.5 hours which makes it possible for commuters to recharge at work or those who use their cars throughout the day, for business or running personal errands, to recharge their cars at shopping malls or other facilities that offer fast charging stations.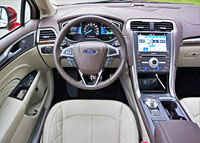 The 2.0-litre engine makes a mere 141 horsepower and 129 lb-ft of torque alone, but when combined with its electrical assistant raises output to 188 horsepower. Ford doesn't provide total torque as it's a difficult figure to estimate, but strong performance off the line has caused auto experts to estimate it between 180 and 190 lb-ft.
The Fusion Energi drives the front wheels via a continuously variable transmission (CVT), par for the course amongst hybrid drivetrains, while fuel economy is estimated to be 5.8 L/100km in the city and 6.5 on the highway when in regular hybrid mode, or 2.7 Le/100km when factoring in regular usage of its EV mode.
Stay tuned for a full road test review of this impressive new 2017 Fusion, not only covering its plug-in characteristics and unique driving dynamics, but also detailing its upscale Platinum trim…