The A3 E-tron marks the return of the previous five-door Sportback body style, making Audi's most fuel-efficient model also one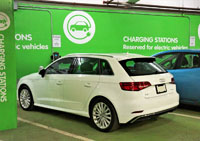 of the most practical in its compact lineup.
Canadians have long loved hatchbacks, even in the premium sector, and now that most of our large urban centers have increased the availability of quick charging stations our inner-city car buyers are adapting to the cleaner more eco-friendly way of life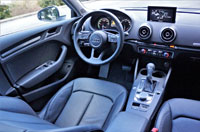 of plug-in hybrid electric mobility. This makes Audi's A3 E-tron Sportback an ideal combination of do-all pragmatism and extreme thrift, many of these charging stations not charging a penny to plug-in, while home charging is also much less expensive than filling up with unleaded.
The all-new Audi A3 e-tron Sportback, seen here "filling up" for free at a local shopping mall, is currently in our garage and therefore will soon be featured as the topic of a full review. Could this be the plug-in hybrid you've been waiting for? Check back to find out.