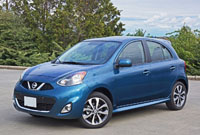 This may be the cheapest car in Canada but it certainly doesn't look like it, and it absolutely doesn't drive like it. The $9,988 Micra comes standard with style as well as a fun-loving attitude that sets it apart from compacts costing thousands more. I tested base S trim with its sole five-speed manual transmission last year and absolutely loved it, so this time around I was truly looking forward to spending a week in the top-line SR, but would it be as good with a four-speed automatic?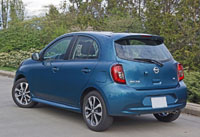 In a word, no, but it's still plenty enjoyable. Fortunately Nissan doesn't "reward" Micra buyers who want more features by forcing a standard autobox into the mix like it does with the Versa Note, so you're free to increase your daily dose of good times while leaving a cool $1,000 in your wallet if you want, or if you'd rather let the autobox do the shifting on your behalf during jam-packed commutes you can equip the mid-grade SV and this SR with a four-speed auto. There's no manual mode or paddle shifters so don't go thinking you can play Xavier Coupal at the track, but of course the current Micra Cup championship leader takes care of his own cog swapping.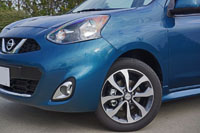 Micra what? You heard me right. If you think I'm pulling your proverbial leg about the Micra being a blast to drive, try to bend your brain around the fact that this little cheapo ride is the shining star of its own spec racing series and, together with Mr. Coupal, Stefan Rzadzinski, Jacques Bélanger, Kevin King, Valérie Limoges and another 17 drivers you've never heard of, fights it out on some of Canada's best racetracks (check out MicraCup.com, and yes, that last driver is a woman, currently fifth in the championship; there are two other ladies that duke it out with the guys as well).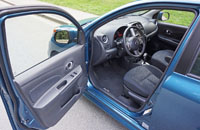 The car I recently spent a week in was way too nice to body-slam around Ontario's Calabogie or Quebec's Mont Tremblant racing circuits, its pristine outer panels finished in a beautiful blue-green hue, dubbed Caspian Sea, that adds a whopping $135 extra to the bill (there's not a lot of surface area to cover), but it would've looked just as good in its other two metallics or three no-cost white, black or red alternatives. There aren't any extra options after stepping up to the SR, leaving an accessories catalog to flip through if personalizing your ride is high on your priority list (the contrast colour mirror caps, door handles, body mouldings and wheel caps look pretty sweet).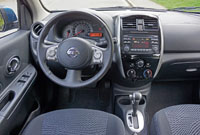 As it is my Micra was loaded, which means chrome is tastefully splashed onto the grille and lower engine vent while chrome adorned front fogs also get added, bodyside mouldings push out the rockers and a rooftop spoiler extends the rear profile, plus a hot looking set of 16-inch machine-finished alloys with black painted pockets round out each corner. All that for $15,988 plus freight and dealer fees, $16,988 with the automatic or $17,123 as tested with metallic paint. But hold on a minute. You actually get a lot more with the SR than exterior upgrades, the cabin improved with a leather-wrapped steering wheel and shift knob, the seats covered in great looking upholstery boasting black woven bolsters with contrast blue stitching plus nice crisscross-patterned centre panels that get duplicated on the door inserts, while the features menu continues to grow with a 4.3-inch colour infotainment touchscreen integrating a rearview camera and an iPod interface connectible via a USB port.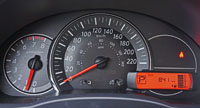 All of this gets built on mid-grade SV trim that includes body-colour door handles, power locks with remote entry, power windows, cruise control, illuminated steering wheel controls, Bluetooth hands-free, air conditioning, a six-way manual driver's seat (instead of four), and a rear cargo cover, while some base S model highlights that get grandfathered up to the SV and SR include chrome interior door handles, variable intermittent wipers, a rear wiper, tilt steering (with no telescoping capability), a trip computer, AM/FM/CD/MP3/WMA audio with speed sensitive volume, radio data system and an aux jack, carpeted floor mats, rear cupholders on the backside of the front console, and 60/40 split-folding rear seatbacks that expands an already sizable 408-litre (14.4 cubic-foot) cargo compartment to 819 litres (28.9 cubic feet).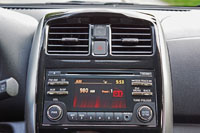 I'm not sure which trim adds the metallic surface treatment to the steering wheel spokes, the same down each side of the centre stack and around the shifter, or the glossy metallic black centre stack interface panel, but it all blings things up effectively so I was glad for the nice detailing. Don't expect to find any premium soft touch plastics as you'll be disappointed, but the plastics used are mostly matte-finish instead of shiny and appear as if they'll stand up to abuse.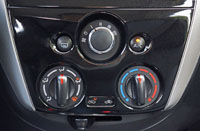 I can't quote you NHTSA or IIHS crash test ratings or any other U.S.-sourced safety details because the Micra isn't sold south of the 49th, Donald and Hillary wannabes still stuck with the Versa Sedan yawn-fest Nissan Canada smartly replaced with the Micra last year (can you imagine a racing series in that thing?). Nevertheless the Micra's standard safety kit includes the usual passive and active elements including zone body construction, pipe-style steel side-door guard beams, a full assortment of airbags, traction control and stability control, although the ABS-enhanced brakes are discs up front and drums in the rear.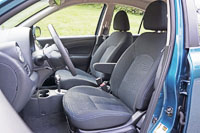 You hardly need four-wheel discs to produce short stops in a 1,091-kilo (2,405-lb) subcompact mind you, and this number refers to the porky pig in this city car's family. The base manual weighs just 1,044 kg (2,302 lbs), both sprite enough to make the standard DOHC, 16-valve, 1.6-litre four-cylinder feel like a road rocket despite only boosted by 109 horsepower and a 107 lb-ft of torque. Like I said in the beginning this car is a blast to drive, even the automatic transmission hardly dampening my enthusiasm thanks to four real forward gears that shifted with nice positive increments. Likewise the handling is sharp with surprisingly little lean even when pressing through tight corners at a quicker than recommended pace, and just as shocking the Micra's ride quality is quite compliant, even over rougher pavement.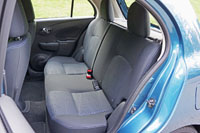 The upright driving position is comfortable with excellent visibility all-round, while there's more than enough room for all but extremely large folks, and I'm not talking tall as its roofline towered above my admittedly medium five-foot-eight frame. The rear seats were equally comfortable albeit abbreviated as far as leg and foot room go, which is par for the course in this sub-subcompact class. Although let me be clear, the Micra is considerably larger than the two-seat Smart ForTwo and now discontinued three-and-a-half-seat Scion iQ. It's sized more along the lines of the Fiat 500 yet more comfortable in back (the 500's fashionable rear headrests are totally impractical), while once again this wee little Nihongo is a lot more affordable than the sassy Italian.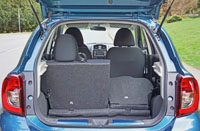 The Micra is wonderfully inexpensive to live with after initial purchase too, my week full of enthusiastic driving only needing a $20 bill to fill the 41-litre tank, and that's at $1.20 per litre. I worked the numbers and found my average mileage was just 7.7 L/100km, which is pretty close to the 8.6 city and 6.6 highway Nissan claims after five-cycle tests. I'm sure I could eke out a much stingier result, but where would the fun be in that? Listen, you can buy a boring little commuter car that'll shuttle you off to work and back each day and wile you away for the occasional weekend, or you can spend considerably less on a brilliant little runabout that'll put a smile on your face whenever you climb behind the wheel. That's the Micra difference. I can't help but recommend it. ©(Copyright Canadian Auto Press)