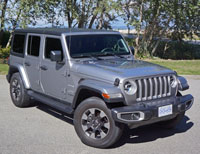 You'd be forgiven for not noticing, but Jeep completely overhauled its Wrangler two years ago for the 2018 model year. The 2019 model shown here was carried forward mostly unchanged, which is par for the course with redesigned models, while it'll mostly do likewise for the upcoming 2020 model year. I'll cover the key changes in this review, plus give you my road and trail driving impressions, and on that last note you'll want to peruse the gallery above for one of the most comprehensive photo sessions I've ever published.
Some Jeep fans are as old and storied as this iconic model, and while I wasn't around in the early '40s to witness the famed Willys MB (plus the Bantam BRC 40 and Ford GP examples) in action during WWII and subsequent wars, I went 4x4ing in one as a child with my dad at the wheel and can never forget the experience. Also forever etched in my memory is a blue-decaled black 5.0-litre (304 cu-in) V8-powered CJ5 Renegade that I spent one fabulous summer with, complete with loud headers, even louder aftermarket Alpine stereo speakers hanging from the roll bar, and its soft top permanently removed. Suffice to say I've become a fan of this now legendary SUV, so I pay attention to all the little changes undertaken with each new model year.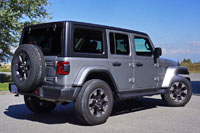 If you're new to the Wrangler, and such would be understandable being that the quintessential off-roader lures in new fans with each passing year, you may not have noticed its complete ground-up redesign noted a moment ago, but diehard Jeep advocates can easily point out all of the updates. Visual changes from the 2007–2017 JK body style to the new 2018–present JL include a bolder, broader front grille, new available LED reflector headlamps, an off-road ATV-inspired front bumper (that looks much like the front bumper on the 2016 Wrangler 75th Anniversary Edition I reviewed back in the day) with available LED fog lamps, a more shapely hood (albeit not filled with the Anniversary Edition's cool power dome and black vents or the Rubicon's similarly vented hood design), redesigned front fenders with integrated wraparound turn signals/markers, heavily sculpted front body panels with side vents (these making up for the more conservative hood), new integrated side steps, new rear fender flares, new more creatively shaped wraparound taillights with available LED technology, a new tailgate, and a new rear bumper (that's not as sweet looking as the one on the aforementioned 75th Anniversary Edition, but more shapely than the hunk of metal and plastic used for the previous Sahara).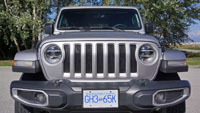 While you might need to put the new JL next to the old JK to see the subtler differences, such as the updated tailgate, we can surmise that most every panel is new thanks to both regular wheelbase two-door and long-wheelbase four-door models being longer than their predecessors. Specifically, the 2019 Unlimited you're looking at is 89 mm (3.5 inches) longer than the JK version overall, with a 61-mm (2.4-inch) longer wheelbase. All in all, the new Wrangler manages to look classic and contemporary at the same time, and most importantly it looks mighty good, so job well done to the Jeep design team.
Inside, it's a much more refined SUV, with doors that slam shut with a thud, and soft touch materials used above the waste-line for the most part. The dash top and instrument panel even get some contrast-stitched leatherette that looks pretty rich, this matching the leather-wrapped steering wheel rim, the leatherette shifter boot and armrests, and the leather surfaced seats. The switchgear is impressive throughout the cabin, particularly the rugged looking audio volume and dual-zone automatic HVAC knobs on the centre stack, while the general quality of most materials and the way everything fits together has improved.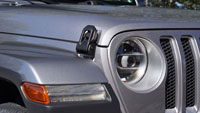 As wholly complete as all of these changes sound, the Wrangler's primary instrument cluster may have received the interior's most comprehensive rethink, and while it might have been easier and less expensive to simply substitute its predecessor's nearly two-dimensionally flat four-gauge layout with an even flatter fully digital display, and thus take the new Wrangler to new levels of modernity in similar fashion to how Mercedes transformed its similarly classic G-wagon from antiquated bushwhacker to digital overlord with its most recent redesign, Jeep created a complex combination of individually hooded primary dials surrounding a massive colour multi-information display (MID).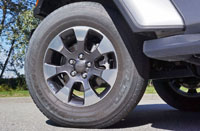 First factoring in that I'm the type of person who simultaneously wears a Seiko SKX007 on my left wrist and the smaller of the two Samsung Gear S3 smart watches on my right, Schwarzkopf style, in order to garner the best of both analogue and digital worlds (not that the SKX is the best, but the GS SBGA031 is too large and a Rolex Sub too pricey), I really like the new Wrangler gauge cluster's attractive analogue design and appreciate the depth of functions found in the MID, not to mention the cool background graphics that sometimes show an image of the classic WWII GP mentioned earlier, while the tachometer and speedometer dials looks fabulous in their bright orange on black and white motif. I know that fully digital displays are all the rage right now, just like smart watches, but I believe we'll eventually be paying more for an upgrade to analogue gauges in some high-end models, just like those of us with a weakness for horology are being asked to pay outrageous sums for high-quality mechanical watches. On that note, Jeep's new primary instrument cluster balances analogue and digital very well.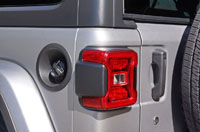 Those familiar with Chrysler group products (and by that I mean Chrysler, Dodge, Ram and Jeep vehicles that have often shared similar infotainment touchscreens) will already be well versed in the Wrangler's infotainment touchscreen, which hasn't changed all that much in function, despite growing in size and modified in shape. The previous 6.5-inch version was more rectangular and laid out horizontally, and featured a row of four buttons down each side, plus a volume/power knob to the left and USB/aux ports (under a pop-off cover) to the right, whereas the new 8.0-inch touchscreen is larger and squarer, with the only quick-access analogue switchgear found in a cluster of dials and buttons just below, mostly for controlling the aforementioned HVAC system. The rightmost dial is for scrolling/browsing and selecting infotainment content, but I found it easier to simply use the touchscreen for such functions, only using the row of external controls for the heated seats and steering wheel (although these could be found within the touchscreen as well), adjusting interior temperatures (ditto), and audio volume.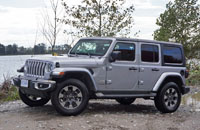 The larger display provides a much-improved reverse camera with dynamic guidelines, the ability to hook up Android Auto (or Apple CarPlay) to use Google Assistant or any number of other functions, plus all the other features most infotainment systems do so well these days, such as highly accurate route guidance/navigation via a nicely laid out digital mapping system, phone setup and control, audio band and station selection, including satellite and wireless device streaming, plus plenty of apps that come preloaded or more which can be downloaded. The screen's resolution is good, but I wouldn't call it high-definition like most premium brands and some new mainstream SUVs, such as Chevy's new Blazer, now provide, but let's not get me started on that missed opportunity (albeit relative sales hit) to bring something to market capable of going head-to-head with the Wrangler and upcoming Ford Bronco.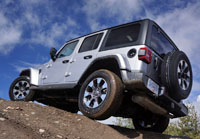 That Blazer in mind, the Wrangler's ride quality has improved so dramatically that it's become a high point, something I would've never previously expected from this model. Don't get me wrong, as the JK that I tested during its initial 2005 Lake Tahoe/Rubicon Trail international launch program made massive ride and handling strides over the 1997–2006 TJ, while that comparatively rudimentary appliance was revolutionary when stacked up against the 1987–1995 YJ, and so on down the myriad line of CJs, but this new JL is so much better than any of its predecessors that I'd actually consider owning one again, something I wouldn't have said about the JK. The fact is, I'm getting older and wouldn't be willing to get beat up by my daily ride. This new Wrangler is an entirely new level of comfort over its predecessors, and its suspension compliancy is matched by thoroughly improved handling sees this long-wheelbase Unlimited tracking better at high speed and easier to manoeuvre in the city and around parking lots. All round, it's a much better SUV to live with day to day.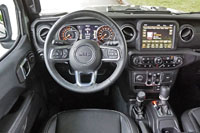 This includes better rear seats with more sculpted outboard positions, plus increased legroom due to its longer wheelbase. This second row is still capable of fitting three abreast, but it's better if just left to two thanks to a unique folding centre armrest that houses two big rubber cupholders and a personal device holder within the headrest portion, plus a wide padded area for forearms behind.
All said this big armrest was a missed opportunity for a centre pass-through that would have made the cargo compartment much more accommodating for long loads like skis when rear passengers are aboard. The way its 60/40-split rear seatbacks are laid out causes the need to lower the narrowest section when fitting skis, poles and/or snowboards inside, and force one of your rear occupants into the middle position. It's doable, but not ideal, which can also be said for the swinging rear door that's still hinged on the wrong side for North American (and most global) markets.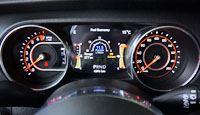 Due to the need to hang a full-size spare on its backside, the side-swinging door is an awkward setup at best, especially when realizing the simple act of flipping up the rear window for quick access requires the door to be opened first, but the top hatch comes as part of the removable roof and is therefore necessary, and the need to potentially walk out into traffic when loading gear into the cargo compartment from curbside pays respect to tradition, Jeep having always hinged its rear door on the passenger's side. I've complained many times and Jeep isn't about to change, so I merely point it out to Wrangler newcomers as a possible problem.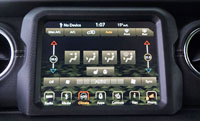 On the positive, the long-wheelbase Unlimited model's dedicated cargo space is up by 18 litres (0.6 cubic feet) to 898 litres (31.7 cu ft), while 70 litres (2.5 cu ft) have been added to its maximum capacity, now capable of swallowing up 2,050 litres (72.4 cu ft) of gear when both seatbacks lowered. This said they don't lay as flat, but are easier to fold down and no longer gobble up rolling fruits, vegetables or sports equipment. The previous rear seats automatically popped their headrests upward and left their mechanicals exposed when folded, whereas the new ones leave the headrests in place and cover the frames and hinges with a folding carpeted panel. Such refinements are nothing new for the majority of crossover SUVs, but it's a major breakthrough for the Wrangler that's long stuffed in rear seats as more of an afterthought, the first Unlimited being a 250-mm (10-inch) extended two-door 2004½ TJ (LJ) with a fairly rudimentary rear bench seat. The thicker rear seat cushions cause a slight bump halfway into the load floor, but it's a compromise most (especially rear seat passengers) should be happy to accept.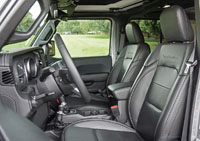 The 2019 Wrangler's 3.6-litre Pentastar V6, eight-speed automatic transmission and part-time four-wheel drive system is a no-compromise combination, however, unless I were to try and compare it to my old CJ5's V8, and even then I'm guessing its exhaust note would be the only clear winner in a drag race. The modern engine's tailpipes emit a sonorous tone too, albeit much more refined than the monster truck mayhem bellowing from past memory, the smooth operating six producing 285 horsepower and 260 lb-ft of torque for quick acceleration, while the eight-speed auto's shifts are quick yet never jarring.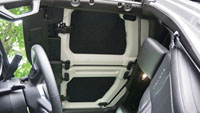 Of note, a six-speed manual is standard, with the eight-speed auto adding $1,595 to the 2019 Wrangler Unlimited Sport S' $40,745 (plus freight and fees) base price, with this Unlimited Sahara starting at $44,745 and the top-line Unlimited Rubicon getting a $47,745 retail price (a base two-door Wrangler S can be had for $33,695). You can also pay $2,590 for a 2.0-litre turbocharged four-cylinder with electric assist that comes standard with the eight-speed auto, this more fuel-efficient alternative providing a bit less thrust at 270 horsepower, but more twist at 295 lb-ft of torque. I have yet to test this new engine so can't comment, but have driven the six-speed manual and, while a very good gearbox, prefer life in this class of vehicle with an automatic, especially one as refined and quick-shifting as this eight-speed (check out all 2018, 2019 and 2020 Jeep Wrangler prices, including trims, packages and individual options, plus manufacturer rebates and dealer invoice pricing at CarCostCanada, where you can now save up to $3,500 in additional incentives on a 2020, or $4,000 on a 2019).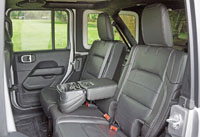 The autobox gives the 3.6 better economy too, with a rating of 12.9 L/100km in the city, 10.2 on the highway and 11.7 combined compared to 13.8 city, 10.1 highway and 12.2 combined for the manual, while the four-cylinder option leads the pack with a claimed rating of 10.9, 10.0 and 10.5 respectively. As for the upcoming 2020 model year, Jeep will soon answer my many requests by providing its 3.0-litre V6 turbo-diesel as part of its Wrangler lineup. The engine makes 260 horsepower and a substantial 442 pound-feet of torque, while fuel economy should even be thriftier than the current 2.0-litre turbo's results. The only complaints will come from 4×4 purists, because the diesel will only be available with this long-wheelbase Unlimited model, the more off-road capable regular-wheelbase Wrangler to remain gasoline-powered only.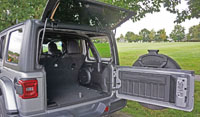 Saving the best for last, the Wrangler is the quintessential 4×4, with few rivals even trying to measure up. In fact, pickup trucks aside, the Wrangler is the only serious compact off-roader available from a mainstream volume brand, and will remain so until the Bronco arrives. Chevy and GMC stopped building their small pickup-based Blazer and Jimmy in 2005, but that little SUV never quite matched up to the Wrangler's 4×4 capability, while Toyota's FJ Cruiser said sayonara from our market in 2014. Likewise, Nissan's Xterra was gone from our shores in 2015, leaving the venerable Wrangler to scoop up those 4×4 buyers it didn't already have.
Of course, I took my Wrangler Unlimited Sahara tester to a local off-road playground I utilize regularly, and it performed flawlessly. All the mud and standing water was a cakewalk for this capable ute, reminding me that the even more robust Rubicon is probably overkill for most peoples' needs (although it looks awesome). Once on dirt I slid the secondary low gear lever into its 4H (four-high) Part Time position, the first 4H position meant more for slippery pavement or gravel, which allowed me to cruise over the less challenging trails.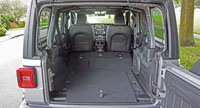 When mucking through thick mud and deep water I engaged 4L (four-low), at which point its secondary set of gears provided all the crawling traction needed to safely, securely pull me out of most any situation. I've tested the JK over much more harrowing terrain, the aforementioned Rubicon Trail being one of many off-road encounters, and it always proved a reliable companion. I can only imagine how much more enjoyable Cadillac Hill would be with the new model's improved suspension, but alas this will need to wait for a future drive, hopefully powered by the upcoming turbo-diesel.
No doubt that future Wrangler will be the best ever created, but it'll need to be very special to beat this current model. If you haven't driven a Wrangler in a long time, possible due to memories of harsh suspensions and hostile surroundings, I highly recommend some time well spent in this new model. Even if you tested the old JK a year or two ago and found it a bit too rough around its edges, don't let that experience discourage you from giving the new JL a chance.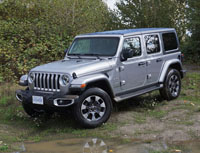 Lastly, here's some sound business reasoning for choosing a Wrangler over any other vehicle currently available. According to ALG, the world's best-known 4×4 has the highest residual value in Canada's entire automotive sector, with the four-door Unlimited only losing 30-percent of its value over three years, and the two-door version's value dropping by just 31.5-percent over the same period. On top of this, the Wrangler won the Canadian Black Book's 2019 Best Retained Value Awards in the Compact SUV category for the 9th year in a row, while this year it achieved a new retained value record of 91 percent (Jeep also achieved the best retained value position with the Renegade in the Sub-Compact Crossover category).
This means the Wrangler doesn't only have to be about what you want, but can also justifiably represent what you need. In other words, the Jeep Wrangler is quite possibly the most intelligent automotive choice available today.