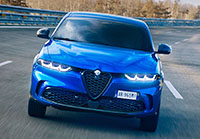 Alfa Romeo will bring the all-new Tonale subcompact luxury crossover SUV to market later this year, providing a much more affordable entry-level gateway for the premium Italian brand.
The Tonale looks like a modernized version of the Alfa Romeo Stelvio, albeit shrunken down to fit its more economical subcompact luxury crossover role. It builds on the Stelvio's sleek lines with sharper cut LED headlamp clusters, a similarly shaped version of Alfa's trademark deep "V" grille at centre, an aggressive yet clean lower front fascia, plenty of muscular bulges across the hood and fenders, protruding side skirts, and bright tri-element LED taillights at back, with a de rigueur centre light strip stretching across the middle.
Traditional Alfa Romeo styling helps tie glorious past to practical present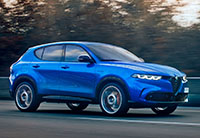 It gets a tidy little rooftop spoiler up above and blackened diffuser-style lower rear bumper too, not to mention a sexy set of classic circular cut-out Alfa Romeo rims shod in low-profile performance rubber to each side, these likely designed for a top-line trim, thus few onlookers will be turned off by its overall styling.
No doubt, if the Tonale is anything like the Stelvio, the smaller SUV's interior will be made from top-notch materials, with its infotainment system a high-grade bit of kit too, whereas the dash and front seats certainly look well-designed, so it appears to be a recipe for success, right? Not so fast, amico.
Alfa promises the subcompact luxury crossover category's best performance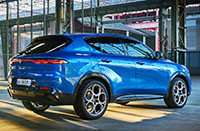 Before delving into a business case for a new model like the Tonale, its performance might cause some to quite literally stir in their seats. Two power units were introduced at the SUV's debut, starting with a 2.0-litre turbocharged four-cylinder as part of the Tonale Q4 AWD, which puts a best-in-class 256 horsepower and 295 lb-ft of torque down to pavement through a state-of-the-art nine-speed automatic transmission actuated by optional fixed aluminum shift paddles (fixed paddles are optimal for performance driving), plus it features fuel-saving engine stop-start technology that helps meet super-ultra-low-emissions 30 (SULEV 30) standards.
Secondly, the Tonale PHEV Q4 AWD incorporates a much smaller 1.3-litre turbocharged four-cylinder engine and a six-speed automatic transmission with a plug-in hybrid drive system featuring a 15.5-kWh lithium-ion battery and a 90-kW e-motor, resulting in another best-in-class horsepower rating of 272, not to mention a pure-electric range of more than 48 kilometres.
The Tonale will provide the subcompact class' best handling bar none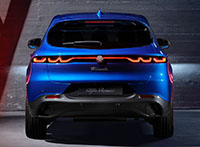 Alfa Romeo optimizes the driving experience for both power units with their D.N.A. drive mode system that provides the options of "Dynamic" (or "Dual power" with the PHEV), "Natural," and "Advanced Efficiency" selections. Unlike most in this class, DNA is a fully integrated driving application that optimizes both "manoeuvring and performance," said Stellantis, Alfa Romeo's parent company, in a press release, or in other words, the Tonale's drive mode system won't only enhance engine performance, but also adjust the suspension for best-in-class handling.
To assist with the latter, Alfa offers an available "Dual Stage Valve" active suspension system with electronically controlled damping, with the comfort setting providing a softer, more compliant ride, and the sportier mode stiffening the ride for "ultimate cornering ability and better body control under spirited driving conditions." Such upgraded Tonale models even offer an ESC Off drive mode for treading a bit farther down the unbeaten path.
Steering and braking should be sports car-like
No matter the Sprint or Veloce trim level chosen (two will be offered at launch), all Tonales benefit from "sports car-like impeccable dynamic behaviour, proven by the best weight distribution and the most direct steering in its segment (13.6:1 ratio)," while base models ride on a fully independent MacPherson strut suspension system featuring Frequency Selective Damping (FSD) shock absorbers. Additionally, stopping performance is optimized by a Brembo-made segment-exclusive Integrated Brake System (IBS), which boasts fixed calipers clamping down on four-piston self-ventilated discs up front and full rotors at the rear.
Stopping power and emergency handling will be automatically assisted by Level 2 autonomous driving capability too, but don't worry, Alfa Romeo promises the Tonale's comprehensive advanced safety and convenience features won't negatively interfere with the Tonale's driving experience. Key features include Intelligent Adaptive Cruise Control (IACC), Lane Centering (LC) and Traffic Jam Assist (TJA), Automatic Emergency Braking, Driver Attention Assist, Blind Spot Detection, Rear Cross Path Detection, and a high-resolution, 360-degree parking camera featuring dynamic gridlines.
Business case for the new Alfa Romeo Tonale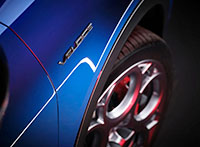 The Tonale's impressive performance will no doubt give it an edge over competitors when consumers weigh its pros and cons, as will its long list of safety, convenience, and luxury features, plus the SUV's obvious good looks, but it will first need to get on Canadians' radar, which will need an innovative and/or costly marketing campaign if the Italian brand doesn't want to experience the same lacklustre results as other lesser-known manufacturers have weathered in this entry-level segment.
Despite most analysts' initial take that this subcompact luxury crossover SUV segment would become the new gateway for premium automakers to pull in upwardly mobile buyers from the ranks of mainstream volume brands, such hasn't always been the case. Not including the upcoming Tonale, there are current only 12 models in contention, while a 13th, Infiniti's QX30, gave up on the segment in 2019 after just three model years of production.
In comparison to the larger compact luxury SUV segment, where there's well over 20 rivals when factoring in varying body styles, not to mention the mid-size luxury SUV category that includes even more challengers, luxury brands are mostly staying away from the subcompact SUV class. This could potentially help the Tonale get noticed, albeit by a much smaller buying base.
Subcompact luxury SUV sales are lower than those in the larger compact segment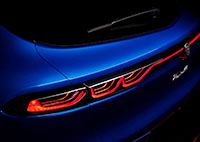 When factoring in potential sales numbers, it kind of makes sense why luxury manufacturers have opted out of this segment, or at least it does when looking at the yearly results early adopters have experienced. Last year, the subcompact luxury SUV sales leader was Buick (positioned as an entry-level luxury brand) with 8,861 deliveries of its Encore and slightly larger Encore GX, followed by Audi with 7,667 Q3 sales. It should be noted, the German brand had the most single-model sales (and is considered a true luxury brand), so therefore can be considered the number one seller in this category, depending on the way you slice it up. The Q3 also had its best sales tally ever, plus it was up 28.9 percent from 2020.
Before looking at the rest of the subcompact luxury SUV segment's sales, consider that Audi's Q5 sold 9,968 units across Canada in 2021, and that wasn't a particularly good calendar year compared to 2018 when the compact luxury SUV found 11,952 buyers. Both numbers made it tops in its class, with the next-best-selling Acura RDX finding 7,976 takers last year, BMW pulling in 7,506 buyers for its X3 (and another 1,564 for its X4 resulting in 9,070 units overall), Lexus with 7,283 for its NX, Mercedes with 6,887 for its GLC, Volvo's XC60 at 3,397, Infiniti's QX50 at 2,158, Jaguar's F-Pace at 1,428, Land Rover's Range Rover Velar at 1,255, Land Rover's Discover Sport at 707, etcetera. Keep these numbers in mind when seeing these brands' subcompact sales numbers below, with only Buick's Envision doing worse than its two Encore models, at 4,292 units.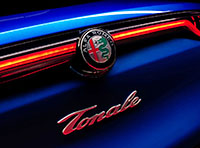 The "domestic" American (and Chinese) brand's smaller Encore sold just 1,902 units in 2021 for eighth place in the subcompact class, which was a drop of 71.4 percent after 6,650 units sold last year, not to mention a shocking 82.1 percent fewer unit-sales than achieved at its 2018 height of 10,637 deliveries, despite a redesign last year. The Encore GX has clearly taken over the tri-shield brand limelight, with 6,959 deliveries last year, for 37.9 percent year-over-year (YoY) growth. Altogether, the two models gave Buick a total of 8,861 deliveries in this category last year, more than doubling the sales results of its compact luxury SUV offering.
Volvo and Lexus are growing their subcompact luxury SUV market share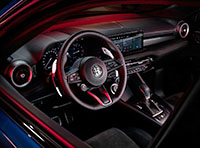 Third-place Volvo grew its XC40 sales by 46.2 percent to 3,296 units last year, while the fourth-place Lexus UX found almost as many buyers at 3,284 unit-sales, increasing its numbers by 30.3 percent, and showing there's still opportunity in this segment, despite long-time competitors like BMW's fifth-place X1 growing YoY sales of 2,602 units by 9.1 percent, but actually seeing this tally tumble by 57.5 percent since its 2017 high.
Mercedes-Benz could be considered third-most successful in this category, due to 5,190 GLA and GLB deliveries last year, which is a YoY gain of 46.8 percent, although model-to-model the two-years-young GLB-Class came in sixth with 2,773 unit-sales thanks to 56.2 percent growth, and the long-running GLA-Class seventh with 2,417 deliveries and 37.4 percent increase in YoY sales, although that number represents a 45.1-percent downgrade from its high of 4,400 units in 2016.
Most luxury brands are struggling in the less profitable subcompact SUV class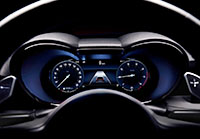 While calendar year 2021 was one of the slowest years for the ninth-place Mini Countryman, with just 1,541 units down Canadian roads, sales only fell by 5.9 percent, while overall it's been a pretty steady seller, only ever reaching a maximum of 2,479 deliveries in 2018, but no doubt the BMW-owned subsidiary would love to increase this number by the 37.8-percent it's fallen from since then.
Land Rover's Range Rover Evoque didn't fare as well as the Countryman last year, placing 10th in the segment due to 1,177 deliveries that resulted in a 16.5-percent downturn from last year's sales, and a 32.1-percent drop since its 1,734-unit high in 2017, but it sold better than BMW's 11th-place X2 that only found 903 buyers through all of 2021. Still, that number grew after a particularly bad 2020, but this said its sales have fallen 51.3 percent since its first-year high of 1,856 units. The X2 contributes to BMW's fourth-place brand results of 3,505 units (plus 10.4 percent YoY), however, not to mention BMW Group sales (including Mini) of 5,046 units (down 37.5 percent YoY), which easily surpassed Mercedes' total in 2020.
Infiniti's QX30 and Jaguar's E-Pace should cause Alfa and its Tonale to pause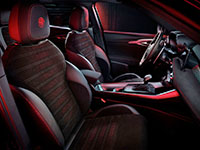 If Infiniti abandoning the QX30 wasn't enough to scare Alfa Romeo out of this segment (let alone Mini tossing the short-lived Paceman to the curb back in 2014), Jaguar's abysmal E-Pace results should give cause for pause. The beleaguered British brand sold just 98 units last year, after a mere 265 in 2020, representing a serious downward slide from an already unworkable position, and that's after an initial first-year high of just 572 unit-sales, the latter number showing a shocking 82.8-percent drop in popularity since arriving on the scene in 2018. It's a good looking, well-made, fun-to-drive little SUV too, but, like Alfa Romeo, Jaguar's Canadian branding isn't as strong as it used to be.
So how does the Tonale fit into the grand scheme of subcompact luxury SUVs? One can easily argue that Infiniti was in a better place when the QX30 was introduced in 2016, than Alfa Romeo is now, from a market-strength and overall sales-volume position, and for all purposes it still is, yet the automaker could only push out 997 QX30s at the model's height in 2017, that number quickly falling off to 357 units in 2018, and 93 in 2019. Some might argue that the QX30 was merely a Mercedes-Benz GLA rebadging exercise, but to be fair, Infiniti was involved in the project right from the start, much like how Toyota took five intensive years to co-develop the Supra with BMW (it shares its underpinnings with the Z4), and the arguably good-looking QX30 didn't immediately resemble its kissin' cousin from Mercedes.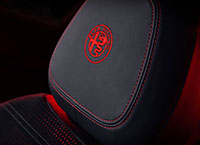 Certainly, the Tonale is more Alfa Romeo-centric than the quickly forgotten Infiniti, or at least Stellantis-centric, being that it shares the FCA SCCS Small Wide 4×4 LWB (long-wheelbase) platform architecture with Jeep's Compass and Commander/Meridian (the Tonale is made in Naples, Italy, at Alfa's most advanced plant, with the latter two respectively produced in Brazil and India for various global markets), these being lengthened versions of the Jeep Renegade and Fiat 500X' underpinnings. Still, Jeep and Fiat aren't direct competitors in the premium sector, so the situation is akin to Alfa Romeo competitor Audi using the Volkswagen Group MQB A2 platform for the Q3, which it also shares with VW's Tiguan (and Tayron, plus the European SEAT Tarraco and Škoda Kodiaq), or BMW sharing the X1's UKL2 platform with Mini's Countryman, etc.
A quick overview of how Alfa Romeo fits into Stellantis' brand strategy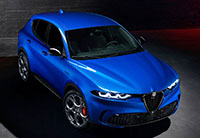 Stellantis, the new name for FCA Automobiles and Groupe PSA since joining forces in January of 2021, has a number of low-selling, marginal brands. Despite rich histories, Italy's storied Lancia marque has been relegated to purveying one subcompact hatchback in European markets, Chrysler only has two versions of the same minivan plus the 300 full-size sedan that still bears the 2021 model year designation in Canada (which means it's not selling well), Dodge has just three models north of the 49th, and Alfa Romeo, the subject of this news story, will soon have three models thanks to the advent of this new Tonale subcompact crossover SUV, which is slated to arrive here in early 2023.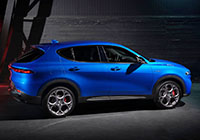 We've got to give the automaker's CEO Carlos Tavares, and the rest of his executive team, big points for courage, being that they promised each brand the chance to pull itself up and out of the automotive profitability doldrums, but Lancia's CEO Luca Napolitano, Chrysler's CEO Christine Feuell, Dodge's CEO Timothy Kuniskis, and Alfa Romeo's CEO Jean-Philippe Imparato certainly have their work cut out for them. It's not like DS Automobiles' CEO Béatrice Foucher will have a cakewalk either, but at least it has four models in the premium sector, while Maserati's Davide Grasso has the largest lineup of new models the near-exotic brand has ever had to work with, including the sharp looking new Grecale subcompact SUV based on the same underpinnings as Alfa Romeo's Giulia and Stelvio (plus Jeep's new Grand Cherokee). Jeep aside, none of Stellantis' brands have strength in the majority of global markets, which brings us back to Alfa Romeo and its new Tonale.
Wooing customers will be the Tonale's greatest challenge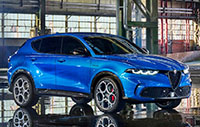 No one questions whether the Tonale will be a moderate hit in Italy, where Alfa Romeo still has legions of faithful, adoring fans, while it should also do reasonably well on the rest of the European continent, providing the EU can hold the economies of its various member states together (or doesn't alternatively tear them apart, depending on your political point of view), but here in North America, and specifically in the relatively small market of Canada, the brand is relegated near the bottom of the luxury heap when it comes to consumer awareness. Hence the need for creative marketing that catches the collective imagination of a narrowly-focused performance-luxury subcompact SUV market, because loads of cash for blanket marketing won't be available.
In the end, Alfa Romeo believes it can win in a market segment that plenty of others have failed at, are currently failing in, or simply (and possibly wisely) have not chosen to partake in. There's a slim possibility they can do well with the Tonale, even growing the brand, and any gasoline/ion-blooded auto enthusiast will want them to do just that, but can a tiny contingent of Canadian quadrifoglio zealots be enough to make an entry-level model like the Tonale successful, especially considering many of such buyers already own a Giulia or Stelvio? Only time will tell.
Until the new 2023 Alfa Romeo Tonale arrives early next year, be sure to check our complete photo gallery above, plus the long list of videos that follow:
Alfa Romeo Tonale | Launch Webconference | "La Metamorfosi "Begins (23:05):

New Alfa Romeo Tonale | Reveal | Alejandro Mesonero Romanos (3:58):

New Alfa Romeo Tonale | Design | Alessandro Maccolini (7:31):

New Alfa Romeo Tonale | Technology | Silvia Cravero (6:06):

New Alfa Romeo Tonale | Propulsion Systems | Maria Grazia Lisbona (9:14):

New Alfa Romeo Tonale | Driving Dynamics | Domenico Bagnasco (5:34):

New Alfa Romeo Tonale | Product | Daniel Tiago Guzzafame (5:05):

New Alfa Romeo Tonale | Manufacturing Quality | Marisa Giannini (4:00):

Story credits: Trevor Hofmann
Photo credits: Alfa Romeo