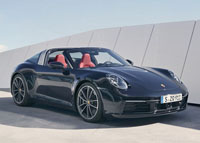 With the redesigned 992-generation Porsche 911 Coupe and Cabriolet body styles now widely available, and plenty of trims such as Carrera, Carrera S, Carrera 4, Carrera 4S, and Turbo S already on offer, it was only a matter of time before a fresh new Targa appeared.
While originally sporting a silver roll hoop and large, curved rear window (although the first 1967 model, first introduced at the 1965 Frankfurt Motor Show, had a removable rear window made from plastic that was replaced with fixed glass in 1968), its roof has gone through a variety of changes. The roll bar wasn't always wrapped in silver stainless steel as on the first generation, and the initial removable roof panel morphed into a power-sliding glass roof that tucked under the rear window on 1996–1998 993 models, this resulting in new sweptback C-pillars and similarly angular rear quarter windows.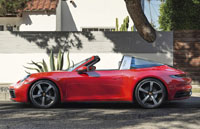 Porsche revived that Targa design for the 2006–2012 997 version of this model, while adding hatchback access to the rear glass, but abandoned it for the 2016–2019 991.2 Targa which received a power-operated retractable hardtop-style roof mechanism that lifts the entire rear deck lid before hiding the roof panel below. This also allowed for a return to the original silver roll hoop Targa design, all of which carries forward into the all-new 2021 911 Targa. Lowering or raising the sophisticated roof takes a mere 19 seconds, incidentally, meaning that it's easily accomplished while waiting for a red light.
Below the beltline the new Targa benefits from most of the new 992-generation Carrera Coupe and Convertible design cues, which means its hood and lower front fascia say goodbye to the outgoing 911's combination of mostly body-colour oval shapes and hello to a nearly straight-cut, horizontal slit separating the former from the bodywork below, plus a broad, black rectangle on the latter becomes the first visual clue to its 992 designation that oncoming Porschephiles will take notice of.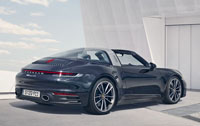 Such gives the entire car a wider, more assertive stance, while the more angular hood now integrates classically tapered creases at each side of its indented centre, much like the original 911's hood, albeit without a vented end. As for Porsche's ovoid multi-element four-point LED headlamp clusters, they appear very similar to the outgoing model.
Thanks to the same three vertical slats on the new Targa's B pillars, which also wear the classic scripted "targa" nameplate, the old and new cars' profiles look almost identical at first glance. Closer inspection shows front and rear fascias that wrap farther around the side bodywork, slightly more upright headlamps, taillights that extend forward similarly to the rear bumper vents, modified front side marker lights, new chiseled wheel cutouts, fresh mirror caps, more sharply angled flush-mounted door handles that extend outward when touched (replacing the old model's more classic rounded door pulls), and a much smoother rear deck lid, resulting a modern take on classic 911 Targa styling.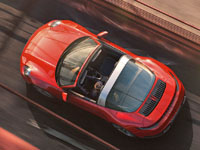 Those taillights come into clearer view when seen from behind, with the new model building on the old 991's narrow dagger-like LED-infused lenses and even slimmer body-wide light strip by extending the latter farther outward to each side, and then grafting in some 718-sourced 3D-like graphics at centre, these above seemingly open vent slats below, while chiseling out even more linear lines for the outer lamps. 
Like the Carrera, the Targa's diffuser-infused lower rear bumper is bigger, bolder and blacker than before, plus it feeds exhaust tips from within rather than forcing them to exit underneath, while hidden beneath the new 911's gently flowing rear deck lid, just above the aforementioned light strip and below a row of glossy black engine vent strakes, is a much wider and larger active spoiler featuring multiple positions for varying levels of rear downforce.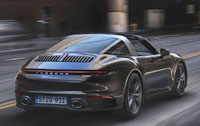 Excluding the bumpers, all 911 Targa body panels are now made from lightweight aluminum, while the front fenders were significantly lightened and the underlying body structure more than halves its steel content from 63 to 30 percent, with the 70 percent remaining now fully constructed from aluminum. All this dieting helps to improve structural rigidity, handling, fuel efficiency, and more.
New 19-inch front and 20-inch rear wheels come standard with the Targa 4, the former on 235/40 ZR-rated rubber and the latter on a wider set of 295/35 ZRs, while the Targa 4S receives staggered 20s and 21s wrapped in 245/35 ZRs and 305/30 ZRs respectively.
Like the Carreras and Turbos that launched earlier, the new Targa boasts an interior inspired by 911 models from the '60s, '70s, '80s and even the '90s, particularly the wide, horizontal dash design to the right of the traditionally arcing instrument hood, the former even incorporating a narrow shelf mimicking the lower edge of the original dashboard.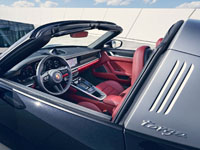 The gauge cluster follows Porsche's classic layout, or at least this mostly digital design appears to. As it is, there's only one mechanical dial at centre, the tachometer as always, with the four surrounding instruments integrated within two large TFT/LCD displays that can also show route guidance, audio, trip, and cruise information, etcetera. Specifically, the right-side display is for multi-information use as with the outgoing 991, while the left side includes a conventional looking speedometer in default mode or alternatively a number of new advanced driver assistive systems such as adaptive cruise control, blind spot warning, lane keeping assist, and more.
The aforementioned horizontal dash design houses a 3.9-inch larger 10.9-inch high-definition Porsche Communication Management (PCM) infotainment touchscreen with much greater depth of colour than its predecessor, as well as updated graphics, enhanced performance, and more functions from fewer physical buttons, plus most everything else already included with more recently redesigned Porsche models.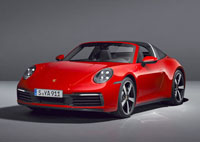 As far as trims go, the outgoing 911 Targa was available as a 4 and 4S throughout its tenure, plus as a Targa 4 GTS from 2017–2019, so it comes as no surprise that Porsche would choose to introduce the new 2021 Targa in 4 and 4S trims as well. While a more potent version will no doubt be on the way soon, for now the Targa 4 utilizes the 911's 3.0-litre twin-turbo horizontally opposed six making 379 horsepower and 332 lb-ft of torque, plus Porsche's eight-speed Doppelkupplung (PDK) automated gearbox with steering wheel paddles as standard equipment (this new automatic improved by one forward gear over the previous Targa's seven-speed PDK), resulting in 4.4 seconds from standstill to 100 km/h in base trim or 4.2 seconds with the Sport Chrono Package.
A seven-speed manual transmission is available as an option when choosing the Sport Chrono Package in the new 911 Targa 4S, which together with a more formidable 443 horsepower 3.0-litre six boasting 390 lb-ft of torque only manages to match the less powerful Targa 4's 4.4-second sprint to 100 km/h due to the more efficient PDK transmission, but when the more powerful car is hooked up to its dual-clutch automated gearbox the Targa 4S is good for much more lively acceleration equaling 3.8 seconds in base trim and 3.6 with its Sport Chrono Package.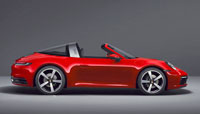 Just like the new all-wheel drive Carrera 4 and 4S models introduced earlier this year, the new Targa 4 and 4S use an innovative water-cooled front differential that incorporates reinforced clutches to increase load capacities and overall durability. When combined with standard Porsche Traction Management (PTM), the updated front axle drive system enhances the two Targa models' traction in slippery conditions, while also improving performance in the dry.
Additionally, all 2021 911 Targa owners benefit from a new standard Wet mode added to the updated steering wheel-mounted drive mode selector, the unique technology automatically maintaining better control over watery or snowy road surfaces when engaged.
All new 911s receive standard autonomous emergency braking with moving object detection as well, improving safety further, while a high-definition backup camera and rear parking sensors are also on the standard equipment list.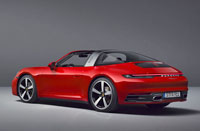 Additionally standard, Porsche Active Suspension Management (PASM) includes electronically variable dampers with both Normal and Sport settings, while Porsche Torque Vectoring Plus (PTV Plus), standard with the Targa 4S, is now optional with the Targa 4, and features an electronic rear differential lock with fully variable torque distribution.
The Targa 4's standard brake discs measure 330 millimetres front and rear, and feature black-painted monobloc fixed calipers with four pistons up front, whereas the Targa 4S model's 350-mm calipers get a coat of bright red paint and utilize six pistons at the front. The Porsche Ceramic Composite Brake (PCCB) system is optional, as are staggered front to rear 20- and 21-inch alloy wheels.
The all-new 2021 Porsche Targa 4 starts at $136,000 plus freight and fees, while the 2021 Targa 4 S can be had for $154,100. Both can now be ordered at your local Porsche retailer.
To learn more about all the 2020 Carrera models and 2021 Turbos, check out CarCostCanada's 2020 Porsche 911 Canada Prices page and 2021 Porsche 911 Canada Prices page (the 911 Targa and 2021 Carrera models will be added when Canadian-spec details are made available), where you can configure each model and trim with available options, plus find out about valuable rebate info, manufacturer financing and leasing rates (currently available from zero percent), and otherwise difficult to ascertain dealer invoice pricing that could save you thousands.
Story credits: Trevor Hofmann
Photo credits: Porsche
Make sure to check out our gallery above, and the following four videos (Dreamcatcher filmed in Vancouver) that show the power-operated roof (and car) in action:
The new Porsche 911 Targa (1:07):

 
The new Porsche 911 Targa – Dreamcatcher (1:21):

 
Virtual world premiere: The new Porsche 911 Targa (3:53):

 
The 911 Targa – the timeline of a Porsche legend (2:15):