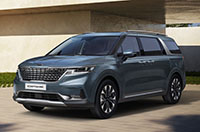 Would you rather ride around in a Carnival or a Sedona? While a Carnival sounds like a lot more fun, it may depend on where you're driving, as many Arizona residents might want their chosen city to be displayed on their vehicle.
This said, Kia Sedona owners may not have a choice if they choose to trade up to the brand's fourth-generation minivan when it arrives later this year as a 2022 model, or so claims a VIN decoder published by the Sedona Forum, which sourced its information from the NHTSA.
The mid-size three-row van, set to debut with an entirely new look that says goodbye to the current model's comparatively conservative front fascia and more fluid lines all-round, and hello to a much more angled, distinctive and upscale design, may be adopting the Carnival nameplate in order to maintain global continuity, which helps a brand make the most of advertising market bleed and more.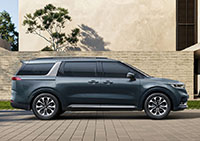 Someone watching an NBA basketball game in Asia, for instance (a regular occurrence in some countries), might not realize that the Kia Sedona shown on the HD scoreboard is in fact their market's Carnival, or alternatively that the Carnival seen by North American F1 fans on electronic billboards around the upcoming Saudi Arabian Grand Prix at the new Jeddah Street Circuit is actually their Sedona (not that any of these marketing campaigns actually exist). Kia did something similar years ago by aligning the name of their Canadian-market Magentis mid-size sedan (the basis for the Sedona, incidentally) with the U.S.-specific Optima, and more recently rebadged this car the K5 in both markets in order to align with the newly redesigned model's global marketing push.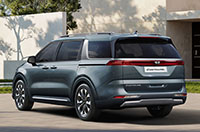 The van debuted last June in Kia's home market of South Korea, showing off its sharp new styling and a completely redesigned, more luxurious interior to go along with it. The ultra-plush Hi Limousine variant, boasting business class-seating and premium level refinement, won't likely enter our market, but the current Sedona raised the bar significantly in the North American minivan segment when it arrived for the 2015 model year, and has steadily been improved since, so we can expect to be impressed with its top-line trims when they arrive.
Initial photos show available twin-screen digital displays that join a configurable gauge cluster and multi-information display up with an extremely large centre-mounted infotainment touchscreen, similarly in concept to Mercedes-Benz with its MBUX system, while the model incorporates a knurled metal-edged rotating gear selector on the lower console, similar to Hyundai and Genesis (and Kia K5) models, putting an end to the traditional gear lever that's still being used in today's Sedona.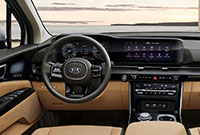 This will continue to control an eight-speed automatic transmission, connecting through to a 3.5-litre V6 engine making 294 horsepower and 261 pound-feet of torque, which is a significant bump up from the current model's 276 hp and 248 lb-ft. Other markets will also have the option of a 2.5-litre turbocharged four-cylinder gasoline-powered model, and a 2.2-litre turbo-diesel, the latter good for 202 horsepower and 325 lb-ft of torque, but no one should expect that mill here.
Kia doesn't offer an all-wheel drive Sedona variant at this time, and it looks as if this will be the case for the Carnival as well, based on information from the aforementioned NHTSA documents and an update by South Korean auto portal Autocast, which also reports that no gasoline-electric hybrid version will be offered either. This will be seen as a negative by environmentally-focused buyers, especially considering Toyota's new Sienna is only offered with a hybrid power unit that includes standard all-wheel drive. Additionally, Chrysler has long offered a plug-in hybrid Pacifica with real EV driving capability, not to mention an AWD powertrain in its conventionally-powered model.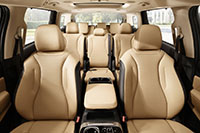 We can expect details about the Canadian-spec 2022 Carnival to surface sometime this spring, at which point we'll know more about how this intriguing new entry will stack up against the recently redesigned Toyota Sienna and Honda Odyssey, plus the always strong-selling Stellantis group—FCA (Fiat Chrysler Automobiles) and Peugeot—vans, now including a Chrysler rebranded, entry-level version of the pricier Pacifica minivan dubbed Grand Caravan in order to gain some name recognition advantage from one of Canada's best-selling nameplates (this model is called Voyageur in the U.S., which ironically pays no heed to the market-bleed concern noted earlier).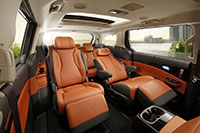 When it goes on sale later this year, Kia probably won't increase the new 2022 Carnival's entry price by much over the current 2021 Sedona's base LX trim MSRP of $32,295 plus freight and fees, although it's quite possible a more luxurious variant could push up the current top-line Sedona SX Tech's window sticker beyond $42,795. Additional 2021 Sedona trims in between include the $34,695 LX+ and the $38,695 SX, while CarCostCanada was reporting up to $750 in additional incentives at the time of writing, and get this, the automaker's Dodge brand is selling off its now-discontinued 2020 Grand Caravan with up to $11,780 worth of available incentives.
To learn more, check out their 2021 Kia Sedona Canada Prices page, and make sure to find out how a CarCostCanada membership can help you save money by making you aware of manufacturer financing and leasing rates, telling you about any available factory rebates, and always giving you dealer invoice pricing that can save you thousands when negotiating over a new vehicle. Additionally, download the free CarCostCanada app from the Apple Store or Android Play Store, so you can have all this important information when you need it most, at the dealership.
Story credits: Trevor Hofmann
Photo credits: Kia