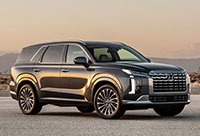 After three years in the Canadian auto market, the Hyundai Palisade will get a refresh for 2023, featuring a whole host of notable updates worthy of attention.
First off, changes to frontal styling include a much chunkier chrome grille outline incorporating larger, rectangular chromed insert pieces that Hyundai refers to as "rugged parametric shield elements," resulting in a bolder overall appearance that should appeal to more masculine tastes. Additionally, an updated lower front fascia mirrors the bolder grille opening above, with air vents in between that the Korean automaker's namesake brand claims to optimize the front cooling area, as does an unseen extended internal air guide, plus aerodynamic underside panels below the SUV. At the very base of the fascia is a redesigned lower front skid plate featuring new strake detailing that adds ruggedness to the SUV's visual presence.
Additionally, redesigned LED headlight clusters attach to reworked vertically-connected LED composite daytime running lights to each side, making the Palisade's entire frontal view appear wider yet more upright than before, not to mention more traditionally SUV-like.
Refreshed styling aids aerodynamics front to back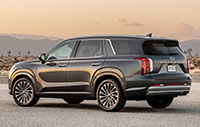 We're not quite sure what Hyundai was referring to when claiming the Palisade's "fast A-pillar angle" as something new, being that the basic hard-points of this SUV haven't changed at all (perhaps they were highlighting carryover design elements, although it was unclear in the press release), but extremely sharp eagle eyes might detect the new auto-dimming side mirrors from the rear three-quarter view. Most are more likely to initially pick up on the fresh set of "dark-finish, rugged-themed" 20-inch alloy wheels, however, plus Hyundai also points out new rear wheel aero deflectors to minimize drag.
Aero upgrades in mind, a new rear spoiler side garnish aids airflow as well, and while the Palisade's LED taillights appear identical to those on the outgoing model, Hyundai has cleaned up the rear bumper cap with a broad, narrow strip across its centre portion incorporating light reflectors and reverse lamps; this in place of the rectangular lenses previously found at each side. This removes the L-shaped chrome garnish that currently wrap around the outside of said lenses, before stretching forward to the back edge of the rear fender flare. Again, the new look is cleaner, as is the metallic brush plate-style bumper garnish that now features a straighter line across its top section, plus squared off creases down below.
Improvements made to one of the most refined cabins in the mid-size SUV segment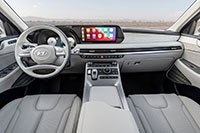 A new four-spoke steering wheel greets the driver upon entry, while a redesigned instrument panel features updated air vents across an entirely new horizontally-themed centre section, which starts at the ignition switch just below the main touchscreen display, and finishes off to the right of the front passenger before butting up against new door panels.
The fully digital driver's display has been updated too, not that the outgoing design required revision, as it's arguably class-leading thanks to integrated monitors that automatically respond to turn signal input by providing clear rearward views down each side of the SUV before changing lanes, plus a segment-exclusive (other than the Kia Telluride that also gets a refresh for 2023) monitor that lets inattentive drivers know if the car in front has accelerated away after waiting at a stoplight.
New digital rearview mirror enhances confidence and safety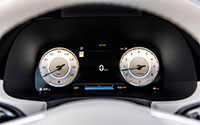 The main infotainment touchscreen appears unchanged, although Hyundai speaks of new 12-inch navigation with 720p resolution, while the audio panel below is more obviously modified with simpler matte black buttons and black on metallic dials, instead of the full aluminum-look design previously used.
Up at eye-level, a new digital rearview mirror (a Hyundai first) is also available, making it possible for the driver to see completely past multiple rows of passengers. Conveniently, a conversation mirror lets the driver visually communicate with rear passengers while that digital rearview mirror is in use, a best-of-both-worlds scenario.
Additional tech upgrades include new USB-C ports replacing outdated USB-A ports (you'd better upgrade your USB cords), which allow quicker charging (up to 3 amps), as well as a new 15-watt wireless charging pad that provides faster smartphone charging than the old five-watt pad. Lastly, Hyundai as enhanced the Palisade's dynamic voice recognition.
More comfortable seats get extra heat and cooling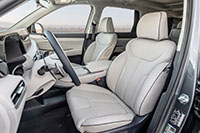 That driver will enjoy a new "Ergo-motion" seat, as it's reportedly more comfortable over long hauls, plus new first-class airline-style winged headrests for the second-row outboard positions. All rows get new upholstery too, while a second-row armrest angle adjuster comes as part of the new eight-passenger configuration; eight being the highest occupant capacity of any Hyundai vehicle ever sold in North America.
All passengers will enjoy new ambient lighting themes, while those in the second-row outboard positions get optional heated and ventilated cushions. Those in the very back of upper trims not only benefit from one-touch second-row seats for easier access, but also power-reclining and new heatable third-row seats, while those in the aft cabin of the Calligraphy model might also appreciate the quieter acoustic-laminated rear door glass.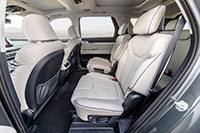 The rear liftgate powers open, of course, while the same powered mechanism that lets the rearmost passengers recline their backrests also allows unoccupied rear seatbacks to be folded down and back up again electrically.
Notable advanced driver assistance and convenience systems include Forward Collision-Avoidance Assist, Navigation-based Smart Cruise Control, Highway Driving Assist, Reverse Parking Collision-Avoidance Assist, and Remote Smart Parking Assist, while the new 2023 Palisade will also features Ultrasonic Rear Occupant Alert and new standard rear side-impact airbags.
Powerful performance remains a Palisade strong suit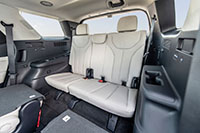 The Palisade's powertrain might be its strongest and weakest link simultaneously. Strong is its 291 horsepower and 262 lb-ft of torque, this resulting from a big, capable 3.8-litre V6, but most competitors, including the updated 2023 version of the entire mid-size SUV segment's best-selling Toyota Highlander, utilize turbocharged four-cylinder power to achieve similar or better performance with significant fuel economy gains.
The new 2023 Highlander will receive a slightly detuned version of the same 2.4-litre turbo-four as found in the upcoming 2023 Lexus RX 350, making 265 horsepower and 309 lb-ft of torque as a Toyota, which while down 26 horsepower on the Palisade, and even more than in its own 295-hp predecessor, it puts out considerably more torque, a figure that matters most when hauling heavy loads. What's more, the Highlander has long offered a hybrid model that will continue forward into 2023, while there's a good chance a plug-in variant will be added, due to the Lexus RX 450h+ PHEV having already being announced. So far, we've only heard talk about the impressive new Santa Fe Hybrid PHEV's plug-in drivetrain being applied to the larger Palisade, but it will likely make the grade sooner than later.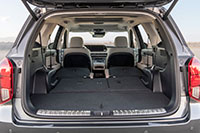 As it is, the 2022 Palisade, which utilizes the same engine, eight-speed automatic transmission and all-wheel drive system found in the new 2023 version, achieves a combined city/highway fuel economy rating of 11.1 L/100km, compared to 10.3 L/100km for the regular 2022 Highlander with its 3.5-litre V6, eight-speed auto and AWD. The 2022 Highlander Hybrid is good for a claimed city/highway rating of 6.7 L/100km, incidentally, while the upcoming 2023 Lexus RX 350 with its new 2.4-litre turbo-four boasts a rating of 9.8 L/100km combined, expected to slightly less when tuned for the future Highlander. Similar scenarios play out with some other segment rivals, meaning Hyundai will want to improve fuel economy in the Palisade to make it more competitive.
Palisade grows Hyundai's place in the seven-passenger mid-size SUV segment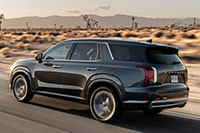 On the positive, since arriving in June of 2019, the Palisade has played a significant role in Hyundai's lineup, not to mention Canada's entire three-row mid-size crossover SUV market segment. Taking over from the elongated Santa Fe XL that bowed out during the same year, the Palisade was a significant step forward in style, refinement and interior roominess, resulting in a sharp uptick in sales volume.
During its most popular calendar year of 2014, the Santa Fe XL sold just 2,332 units, whereas the Palisade hit the road running with 3,845 deliveries in its first half-year, plus Hyundai sold 7,279 Palisades during 2020's rather tumultuous health crisis response-influenced sales cycle, and 6,739 examples were delivered last year; the slight downturn likely caused by the chip shortage.
Palisade has secured solid mid-pack popularity on the sales charts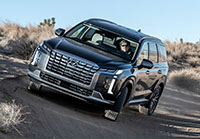 Either way, the mid-size SUV segment's (including the Toyota 4Runner) sixth-place (as of 2021) Palisade has passed right on by previous heavy-hitters like the Nissan Pathfinder (13th), Dodge Durango (7th), Chevrolet Traverse (8th), and GMC Acadia (11th), while Mazda's CX-9 has been making progress (albeit nevertheless finds itself behind the current Palisade in 9th), Subaru's Ascent continues to languish (12th), and corporate cousin Kia's internally competitive Telluride has steadily been rising up through the back-marker ranks (10th).
So as not to leave them out of the equation, Jeep's three-row Wagoneer and Grand Wagoneer were introduced late last year with a nominal take-rate, but these two new offerings, along with the new three-row Grand Cherokee L, should shake things up a bit further in the seven- to eight-occupant class moving forward.
All in all, updates made to the 2023 Hyundai Palisade appear to be what's needed from a design perspective, while all the new features will no doubt be welcomed. Those who love big powerful V6 engines will also be happy nothing has changed behind that bold new grille, but such consumers are getting harder to find as fuel prices rise, so the jury remains out on the Palisade's future success, at least until it adopts some of its thriftier powertrains from the Santa Fe.
The Redesigned PALISADE | Hyundai (1:02):

2022 NY Auto Show | PALISADE Reveal | Hyundai (16:33):

Story credits: Trevor Hofmann
Photo credits: Hyundai