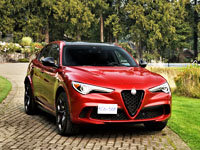 What matters most to you in a performance car? Zero to 100 km/h? Top speed? Handling? The ideal mix of everything?
Most will give the nod to the latter, wanting a perfect combination of acceleration, ultimate speed and road-holding, and to be fair this is probably best with respect to road cars and performance SUVs. Still, achieving a high mark in every category requires compromise all-round, yet
when an SUV is as good as Alfa Romeo's Stelvio Quadrifoglio it's not exactly like you're going to feel let down.
In fact, it's tied for fastest off the line in its compact luxury SUV class (with Mercedes-AMG's GLC 63 S), comes close to tying for the segment's top track speed (BMW's X3 M Competition beats it by 1.6 km/h), and holds more track lap records than any SUV currently made. About the only thing it can't do is beat a Jeep Wrangler up Cadillac Hill.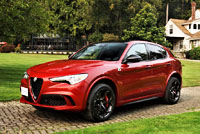 That Alfa Romeo is infused with more racing pedigree than most of its competitors doesn't hurt matters either, the brand even fielding a Formula One team, which can't be said for all of its key competitors except Mercedes-AMG—Aston Martin's larger and much pricier DBX isn't a direct competitor.
That hardly matters, however, as the DBX only bests the Stelvio Quadrifoglio in terminal velocity, managing 291 km/h (181 mph) compared to 283 (176), the one parameter most of us will never attempt to verify. The little Italian is dominant from standstill to 100 km/h, leaving the Brit behind like it's standing still, the two brands' official 0-100 km/h times claimed to be 3.8 seconds to 4.5. That's not even remotely close.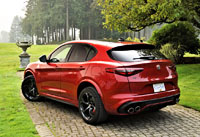 No doubt Aston will follow up this first foray into family hauling with a more formidable version of the DBX, just like Porsche provides its Cayenne Turbo S E-Hybrid and Bentley defies physics with the Bentayga Speed, but for the time being we can't deny the numbers, and the Stelvio Quad even beats these bad boys off the line. To be very clear, it's not the quickest SUV of all. That honour is bestowed upon Lamborghini's Urus, capable of whisking past the 100 km/h mark in just 3.4 seconds, while independent testers are even claiming faster sprint times.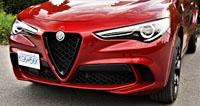 Such is true for all of the above and the bevy of ultra-fast SUVs not yet mentioned, such as the Dodge Durango SRT (4.6s to 100km/h and a 250km/h/155mph top speed), the Mercedes-AMG GLA 45 (4.5 and 250/155), the Rolls-Royce Cullinan Black Badge (4.5 and 250/155), the Porsche Macan Turbo (4.5 and 269/167), the Range Rover Velar SV Autobiography Dynamic Edition (4.5 and 273/170), the Range Rover Sport SVR (4.5s and 291/181 respectively), the Jaguar F-Pace SVR (4.3 and 250/155), the Mercedes-AMG GLE 63 S (3.9 and 280/174), the BMW X5 M Competition (3.9 and 285/177), the Maserati Levante Trofeo (3.9 and 301/187), the Audi RS Q8 (3.9 and 306/190), the Ford Mustang Mach-E GT (3.7 and 209/130), the Tesla Model Y Performance (3.7 and 217/135), the Durango SRT Hellcat (3.7 and 289/180), the Jeep Grand Cherokee Trackhawk (3.7 and 289/180), and the Tesla Model X Performance (2.8 and 262/163). The BMW X3 M Competition gets to 100 km/h in 4.2 seconds, by the way, while the Bentayga Speed and Cayenne Turbo S E-Hybrid need a respective 4.0 seconds and 3.8 seconds to complete the same feat.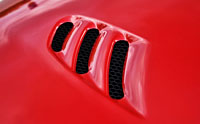 I won't pretend that jamming my right foot down on the Quad's pedal when first away from stoplights wasn't fun, especially when factoring the sensational audio track that accompanied the G-forces slapping my backside into the ideally shaped leather- and Alcantara-covered driver's sport seat, but for me a vehicle's performance matters more through the curves than merely in a straight line.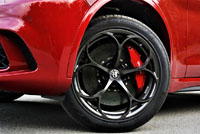 Believe me, I tried to go slow. I really did. I somewhat succeeded in maintaining the posted limit around town and on rural freeways, where I know evil radar gun-toting fun-suckers lay in waiting, but failed miserably when past my city's suburbanites and within its wilder valley region, where perfectly paved patches of ultimately straight tarmac stretch diagonally across farmland to join tiny communities with circuitous secondary backroads and faster-paced connecting highways. This is where the Stelvio Quadrifoglio was born to rule, and where I became enamoured with its shockingly quick capabilities.
Rotate the Quad's DNA drive mode selector to the "d" position for a sportier Dynamic range, or twist it one position farther for "RACE" mode, resulting in even greater intensity (just why Alfa uses both lowercase and uppercase designations for this dial is anyone's guess, but it disturbs my inner need for grammatic equilibrium), and get ready for outrageous speed and one of the most delectable crackling and popping exhaust systems anywhere.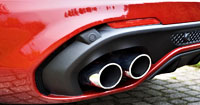 Alfa shoes the Stelvio Quad in 255/45R20 front and 285/40R20 rear Pirelli P Zero performance tires that can hang onto most any type of manmade road surface, these combining ideally with a wonderfully sorted chassis that defies the SUV's top-heavy profile. Don't get me wrong, as its roofline is relatively low as far as sport utilities go, but it's no sport wagon either.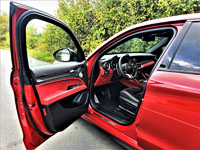 The driving position is excellent, combining a partially squared-off leather-clad sport steering wheel that's just large enough to feel substantive without being cumbersome, with thumb spats ideally formed and a long set of alloy paddles just behind, fitted to the steering column rather than the wheel, so they're always where you expect them to be. That column's tilt and reach are ample too, the latter joining good seat adjustability for fitting my long-legged, short-torso body, resulting in optimal control and good comfort overall.
No wonder Alfa's bevy of professional drivers had no problem besting track lap times across the world, the Stelvio Quadrifoglio leading all SUVs at Silverstone (2:31.6), Donington Park (1:21.1), and the Indy Circuit at Brands Hatch (55.9), although in fairness I need to make sure you know that its record-setting 7:51.7-minute lap around the Nürburgring Nordschleife was broken after only a few months by the previously mentioned GLC 63 S, the Merc managing just 7.49.369 minutes.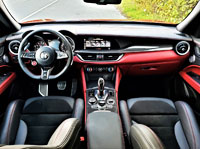 Both are quicker around the 20.832-km mountainside track than the next-best Porsche Cayenne Turbo S, mind you, which managed a respectable 7:59.7 minutes just the same, or for that matter a Range Rover Sport SVR that could only lap the course in 8:14 minutes. Until one of the aforementioned VW-underpinned super-SUVs (Urus, RS Q8, Bentayga Speed, or Cayenne S E-Hybrid) choose to take on the wee compacts, they'll remain the undisputed kings of the "Green Hell".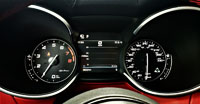 Back to being unreasonably fair, Lamborghini's Urus took the Stelvio Q's title away at one of my personal favourite race tracks, Laguna Seca. The 641-hp raging bull pulled off a 1:40.9-minute single lap compared to the Stelvio's 1:43.5-minute stint, which is impressive until we start comparing bang for the buck.
Yes, the 2021 Alfa Romeo Stelvio Quadrifoglio starts at only $98,995, compared to $285,000 for Lambo's SUV. The hyper-fast Merc-AMG GLC will set you back $94,900, incidentally, while a W12-infused Bentayga will cost you even more than the Urus. A happy medium might be the super-quick Audi at $126,500, but that's still a lot of extra coin for slower straight-line speed and a bit more at the top end. Of course, there's a lot more to any of these SUVs than pure performance, but this said the top-tier Stelvio will hardly have you feeling like you're living in the slums.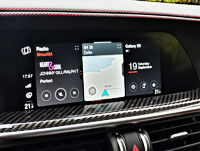 No matter which premium branded super SUV you choose, its interior comes complete with all the contrast-stitched hides, plush faux suede, brushed and polished aluminum, and high-gloss carbon-fibre weave you can handle, not to mention premium soft-touch composites where the above materials can't be added, the Stelvio Quadrifoglio no exception. Anyone joining you in the passenger's seat will be impressed, with its interior design and beautifully crafted build quality.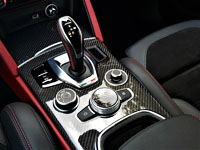 Additionally, I was pleasantly surprised to experience a much-improved infotainment display in this test model, compared to one used in a four-cylinder Stelvio driven previously. It's more intuitive graphically, making it easier to use, while it's also more customizable due to a drag and drop tile/widget layout. It can do anything its rivals can, as well as compile performance stats via a number of "pages" displaying boost, torque, lateral Gs, and more.
While I've really liked some of the fully digital displays offered by Alfa's competitors, I can't say I was disappointed to see a set of analogue dials housed within sporty circular shrouds, not unlike the beautiful dual-gauge clusters found in the marque's collectable classics. The speedometer and tachometer flanked a large high-definition multi-information display at centre, filled with loads of useful info, so it was as modern as it needed to be, but that nod to the past is always appreciated in a brand with as much rich history as Alfa Romeo.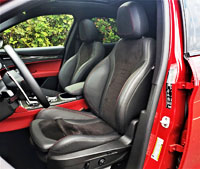 As impressive as the Stelvio Quadrifoglio's beautifully finished interior and insane performance is, I'd be remiss for not mentioning anything about its practical attributes. This is an SUV after all, and thus it comes with a comfortable, accommodating second row featuring three seatbelts abreast, plus window seat warmers with three temperature settings, dual USB-A charging ports on the backside of the front console, excellent rear ventilation found just above, plus overall rear finishings as well executed as those up front. Likewise, the cargo compartment is as nicely finished as its compact luxury SUV segment gets, plus it's large enough for most peoples' needs and made even bigger via ultra-useful 40/20/40 split-folding rear seats. Alfa even includes an intelligently engineered aluminum track system for tying down your belongings, which is a good thing when considering the lateral Gs those items may be forced to deal with.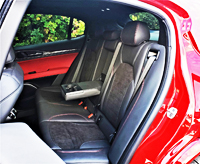 Although we're well into the 2021 model year, there's a pretty good chance that 2020 models may be available and this SUV hasn't changed at all in its top-line Quadrifoglio trim, which means you can save about $2,800 right off the top, due to the latest version going up in price by that amount since last year. Alfa Romeo is offering factory leasing and financing rates from zero percent on either model year, while CarCostCanada can provide additional info about any available manufacturer rebates, as well as dealer invoice pricing to help you pay the lowest possible price when negotiating. Find out how their system works, and also be sure to download their free app from the Apple Store or Google Play Store in order to have such critical information on your phone when you need it most.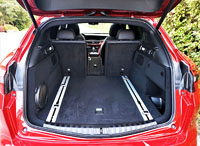 As I went over in detail earlier, the Stelvio Quadrifoglio is up against plenty of high-performance competitors, but only Lamborghini's Urus completely outguns it. Mercedes' quickest GLC is a better match and should be considered, but its twin-turbo V8 won't provide the higher-pitched aural edginess as Alfa's 2.9-litre twin-turbo V6, which will be less appealing to some (including yours truly). There's also the standard features and options issue, with the Stelvio Quadrifoglio mostly loaded except for about $4k worth of extras, compared to the AMG GLC 63 S that starts a bit lower, but can be configured with more than $26k of options that mostly come standard from Alfa. All of a sudden the Stelvio Quadrifoglio looks like a really good deal, even though once you've driven it you probably won't care what it costs.
Story and photos by Trevor Hofmann