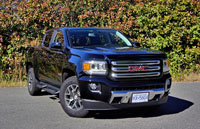 Exactly why Ford and Dodge (now Ram) gave up on the small truck market is difficult to surmise. There's a sizeable market for smaller trucks after all, evidenced by key models like Toyota's Tacoma and General Motors' Chevrolet Colorado and GMC Canyon. For this reason it's equally odd that Nissan hasn't redesigned its Frontier pickup in so long it should be facing child abandonment charges.
Rubbing salt in blue oval brand's wound, the Ranger was once the bestselling pickup truck in the compact class, as was the Dakota in its slightly larger mid-size segment. I'm not sure if the Frontier ever held the top spot, although Datsun probably did back in the '70s when my dad, my sister, and just about everyone else owned a "Sportruck".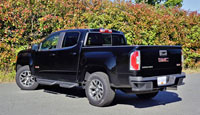 Of course, the only brands suffering from this lack of investment are Nissan, Ram and Ford. Ford and Ram will argue their clients are merely purchasing lower end versions of their F-150 and 1500 pickups respectively, but Nissan's Titan doesn't attract enough buyers to make such a claim. As it is, Nissan could only find 2,293 Frontier buyers over the first six months of 2017, whereas Honda's all-new Ridgeline managed a much healthier 2,579. Next in line was this very GMC Canyon that sold 2,792 units at the close of Q2, whereas its badge-engineered Chevy Colorado sibling managed 3,583 deliveries. Altogether, General Motors sold 6,375 collective examples of both trucks, which are pretty well identical under the skin, resulting in 61 more than the total number of Toyota Tacomas delivered over the same six months—6,314 if you'd rather not pull up your calculator app. I think congratulations are in order, or maybe such applause comes a bit early being that the year was only half over when I tallied up these numbers.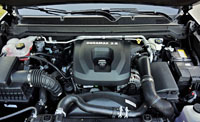 Still, I can't help but give GM a big pat on the back every time I test one of its new mid-size pickup trucks. Just take a look at this GMC Canyon in its 4WD Crew Cab SLE All Terrain setup. I think it looks great, and always enjoy spending time behind the wheel thanks to its class-exclusive turbo-diesel four-cylinder powerplant, the type of engine Toyota should be putting into its Tacoma and Nissan needs to consider for its long overdue Frontier replacement.
I spend a lot of time in and around Metro Manila, Philippines, my second home (Antipolo City to be exact), and have witnessed all the diesel trucks on offer. The Ford Ranger mentioned earlier is easily one of the best looking trucks there or anywhere, also diesel powered, whereas the Asian-spec Navara is the pickup Nissan should've imported to North America along with its fuel-efficient turbo-diesel powerplant. The Philippine-market Toyota pickup is dubbed Hilux and diesel-powered as well, while Chevy also sells a diesel-powered Colorado in the Philippines, although the rebadged Isuzu D-Max isn't even close to North America's Colorado.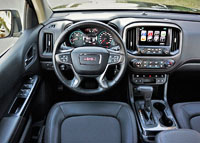 Diesel power is the first reason I'd recommend our Canadian-spec Canyon or Colorado to truck buyers here, even over the Tacoma. Some Canadians might pretend that fuel economy isn't as big an issue now as it was before the oil crash, but a quick study of our current economic situation will show that it's even more important to find economical transportation now than it was then, especially in a smaller, less-expensive pickup class that's likely being purchased for financial reasons first and foremost. Last week pump prices rose to more than $1.40 per litre in my part of the country, which is considerably higher than just before the bottom fell out of big oil. What's more, the majority of Canadians should be well aware how these low oil prices hit our collective Canadian gross domestic product (GDP) bottom line, not to mention the wallets of many Canadians' personally, plenty which come from parts of the country where pickup trucks are a larger percentage of the market, such as Alberta, so it's probably not a good time to be loose with our fuel budgets.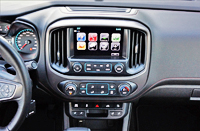 As for where the Canyon and Colorado fit within the overall scheme of things, let's face the fact that most buyers would rather own a full-size Sierra or Silverado than anything midsize. Bigger trucks deliver more space, performance and functionality, albeit at a higher price. This need to target entry-level pickup buyers is exactly why the smaller Colorado and Canyon exist, but before I go on let's make sure we're both perfectly clear about why these two trucks are succeeding in a market segment where others have failed miserably: they're sensational.
I can't speak for anyone else, but I happen to think both trucks look great. I'm a bit more partial to the Canyon that Colorado, unless the latter is upgraded to new ZR2 off-road race truck spec. Interestingly, styling might matter more amongst pickup trucks than the sports car market, buyers in this sector wooed by rugged designs that appear like they could trek across seemingly impassable terrain as if they were domesticated equivalents of an M1A2 Abrams tank, or in the case of this smaller pickup something along the lines of the now-discontinued M551 Sheridan.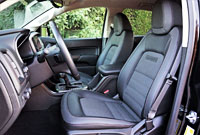 Adding an oil-burning variant only ups their go-anywhere character, the 2.8-litre Duramax turbo-diesel under my 2017 Canyon 4WD Crew Cab SLE All Terrain tester's sculpted hood capable of a stump-pulling 369 lb-ft of torque from just 2,000 rpm, not to mention a very efficient 12.0 L/100km in the city, 8.2 on the highway and 10.3 combined. It makes 181 horsepower at 3,400 rpm too, incidentally, but that's not as important a number in pickup truck circles, where useable towing twist is king for some and the ability to delve deeper into the wilderness on a single tank of fuel reigns supreme for others.
Another GM pickup game-changer is the CornerStep-infused rear bumper, an intelligent design that adds handy toe cutouts to the corners of the back bumper to ease smaller statured and/or maturing folks up onto the cargo bed with more grace and less potential bodily harm, the latter especially relevant when wet weather transforms the otherwise tiny rounded nubs at each corner of every competitive truck's rear bumper into a slippery accident waiting to happen.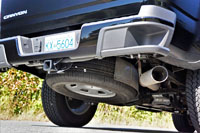 I've said too much, this being an "In Our Garage" story and all. Then again there's plenty more that makes the Canyon worthy of your attention, all of which I'll go over at length in my upcoming road test review. Until then take a glance at the photo gallery for some details, my 4WD Crew Cab SLE All Terrain nicely outfitted with 17-inch alloys, a Z71 off-road suspension, skid plates, body-colour bumpers, side steps, remote start, powered and heated front seats, auto climate control, 8.0-inch colour touchscreen infotainment with Apple CarPlay and Android Auto, Bluetooth streaming audio, voice activation, satellite radio, four USB ports, OnStar 4G LTE and Wi-Fi, plus a sliding rear window, a tow package, etcetera.
Come back soon to get my take on how all this gear works, how it's all put together, plus how this particular diesel-powered Canyon 4WD Crew Cab SLE All Terrain drives…