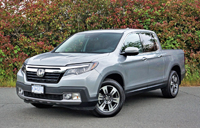 True to my predictions when reviewing the all-new 2017 Honda Ridgeline Black Edition, it's selling reasonably well during its honeymoon period, albeit with 2,096 year-to-date Canadian sales (as of April 30, 2017) it probably won't exceed the previous model's 2006 calendar year high of 4,988 units. The question remains whether Honda will be able to build upon this growth let alone hang on to it moving forward.
To be clear, after peaking in 2006 the model's sales numbers steadily dropped to a low of 1,713 units in 2011, after which it climbed just above the 2k mark for a couple of years before falling to 1,803 deliveries in 2014, its last full year of availability before Honda started winding down production of the first-generation model to prepare for this second-gen version (2015 saw just 229 sales).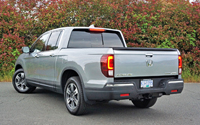 The new 2017 Ridgeline is better than the outgoing version in most respects, so it makes sense that it should find more buyers, but as most people are very aware the pickup truck sector is a fickle beast that's filled with enviably loyal clientele (you need to completely forget that you even have a pickup truck like Nissan has done with its long-in-tooth Frontier in order to push owners over to another brand, or even worse cancel a once bestselling model like Dodge did with its Dakota or Ford with its Ranger), so the Ridgeline's continued success is anyone's guess.
Honda is trying to sell a very refined truck to a market that normally buys rough and tough manliness over intelligently thought-out sophistication, with the former most often touting over-the-top styling, performance, off-road capability, load hauling and towing specs, etcetera.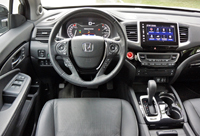 The Ridgeline is the alternative pickup truck, totally unlike anything else on the market. It starts with unibody construction formed off the back of Japanese brand's Pilot SUV, and even pulls many of that model's styling elements into the mix, for a design that takes a softer and smoother approach to Honda's current creased and angled origami-inspired styling. This was purposeful, as Honda isn't trying to market to those wowed by the long-time bestselling Toyota Tacoma's new military-spec style TRD Pro 4×4, or the rejuvenated Chevy Colorado's latest ZR2 off-road replica racing truck.
I must admit the two performance trucks appeal to the weekend warrior side of my personality, having been raised by an outdoorsy dad who oftentimes had something rugged in the garage, a favourite being our '70s era Toyota Land Cruiser FJ40. Yet at the same time we took 2WD pickup trucks, camperized vans, and even the family's '61 Pontiac Strato Chief wagon and go-anywhere '66 VW Beetle into areas that no sane motorist would dare to go (no offence dad), and came away mostly unscathed and a true believer in the power of "Come-A-Long" hand winches. In other words, just because a truck might ride lower to the ground and only offer all-wheel drive instead of part-time four-wheel drive with a bull low range doesn't mean you're forced to remain solely on paved roads and light-duty gravel surfaces.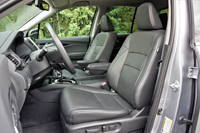 Honda proved this during the introduction of the original Ridgeline, in which we scaled some fairly steep and untoward off-road terrain (but nothing that caused a pit in the stomach like a few hair-raising Jeep, Land Rover and Hummer launch programs). Opportunity to show how easy it is to load a Honda ATV via attachable ramps were part of that past event too, plus back-to-back 5,000-pound trailering sessions against the competition. The Ridgeline was better than its rivals at these tasks, and its other innovations left a gaggle of auto scribes mostly impressed.
I didn't take part in this current Ridgeline's press event, but I'm guessing it's at least as capable of roughing it now as it was then, but this new iteration is substantially more refined, with a more SUV-like cabin filled featuring soft-touch surfaces, fancier trims, top-tier electronics, and more; plus it plays well to families due to the highest safety rating ever given to a pickup truck; it has a much more utile box on its backside that's even capable of accepting a regular off-the-rack canopy; and it keeps its innovative cargo bed trunk as well as its ultra-useful dual-purpose swing-out and drop-down tailgate intact.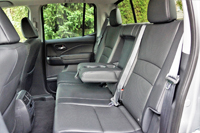 A shortlist of standard features includes a 280 horsepower V6, AWD, a fully independent suspension, 18-inch alloy wheels, LED taillights, remote start, proximity keyless access with pushbutton ignition, a tilt and telescopic multifunction steering wheel, a 7.0-inch colour TFT multi-information display, heatable front seats, a multi-angle backup camera, an 8.0-inch infotainment touchscreen with Android Auto and Apple CarPlay, SMS- and email-reading capability, Siri Eyes Free, Bluetooth phone and audio streaming, a 225-watt seven-speaker stereo, front collision warning with autonomous braking, lane departure alert with lane keeping assist, emergency responding telematics, and more for the Ridgeline's base price of $36,790 plus freight and fees.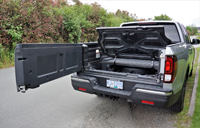 Additionally, available features in upper trims include more chromed exterior trim, LED headlights with auto high beams, fog lamps, power-folding side mirrors with memory and reverse tilt down, an auto-dimming rearview mirror, rain-sensing wipers, a heatable steering wheel, a 10-way powered driver's seat with memory, leather upholstery, cooled front and heated rear seats, a tri-zone auto climate control system, navigation, voice recognition, Wi-Fi, 540-watt eight-speaker audio, satellite and HD radio, an exclusive truck-bed audio system, front and rear parking sensors, dynamic cruise control, Honda LaneWatch that projects a camera view of the blindspot on the infotainment screen when applying the right turn signal, blind spot warning with rear cross-traffic alert, and more, with all of the active safety features adding up to a class-exclusive IIHS Top Safety Pick Plus rating.
Of course, I'll go into much more detail when I review the new Ridgeline for a second time, the occasion being a Touring trimmed version that Honda kindly loaned me (which I think looks much better in silver than my previous tester's black), so stay tuned for a fair and impartial look at Honda's evermore impressive pickup truck…