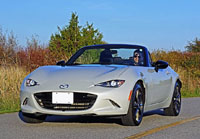 Anytime we're offered a week in a Mazda MX-5 we rejoice, and then say yes followed quickly by thank you.
I know the MX-5 isn't the most powerful, fastest, or the most lust-worthy two-seat roadster on the planet, but it's one of the better handling and therefore one of the most enjoyable to drive. That it's also the least expensive of its kind doesn't hurt matters either.
At $31,900 plus freight and fees, the MX-5 GX beats the new Fiat 124 Spider Classica by $1,595, whereas the Nissan 370Z Roadster's $49,498 MSRP puts it in a totally different league (odd considering the base 370Z Coupe starts at just $29,998).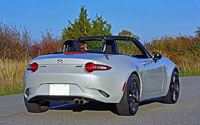 Two-seat roadsters are a rare breed, at least amongst mainstream volume brands. Of course there's the $69,795 Corvette Stingray Convertible that's very well priced for what it is, while its one-time competitive Dodge Viper is only available in GTS coupe form now, and not for much longer, while more down to earth competitors like Pontiac's Solstice and Saturn's Sky are as alive and well as their brands—not. I suppose the Honda S2000 deserves mention because its insanely high-revving four-cylinder was so fabulously fun, as is the even more intoxicating Lotus Elise with its final edition Toyota turbo four (let's hope new owner Geely—Volvo's parent—breathes new life into this legendary British marque), but enough of digging long deceased roadsters up from their graves.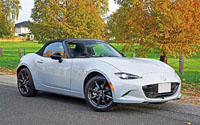 The S2000's wonderfully high-strung first-gen engine (it spun to 9,000 rpm in stock tune) reminds me of what I like least about the MX-5, its 2.0-litre Skyactiv four-cylinder. Not necessarily its output that's adequate at 155 horsepower and 148 lb-ft of torque, but rather its loping somewhat lethargic 6,800-rpm redline and its less than inspiring engine/exhaust note. The 124 Spider's 1.4-litre MultiAir turbo four is more responsive at 160 horsepower and 184 lb-ft of torque, but it's only more exciting to listen to due to its smaller, higher pitched song, as it's actual redline is just 6,500 rpm. How I long for the 8,000-plus rpm song whine of Toyota's wonderful little 1.6-litre twin-cam when stuffed into the aforementioned Elise, but alas this Miata mill will have to do.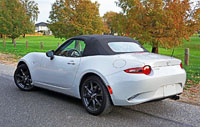 That said I've gone way too far into personal opinion, because I don't normally make such comments in my garage entries, but the MX-5's four-cylinder just leaves me wanting so much more. It's a tough little engine though, known to keep on ticking after years of taking a licking with only regular maintenance. Consumer Reports' latest 2017 Annual Reliability Study places Mazda in third place amongst mainstream brands behind Toyota and Kia (yes, Kia), while Vincentric gave the alternative Japanese brand top billing for its latest "Best Value in Canada" award—ok it has nothing to do with reliability, but it's pretty cool just the same.
All of this helps build the Mazda name, and the powers that be should be very happy that MX-5 sales are up. After wallowing in the low 500s to even lower 700s for the past half-decade, its 2016 model year redesign pumped up the volume to 903 deliveries, and after only five months of 2017 and an impressive 609 units down the road it's targeting an even stronger year.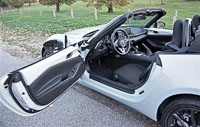 That puts the MX-5 well ahead of the Toyota 86 (Scion FR-S), Hyundai Genesis Coupe, and Nissan 370Z, all of which beat it on the sales charts last year, but the order has reshuffled with the best of the rest Z achieving just 378 deliveries, the 86 at 349 (after a nameplate change, new Toyota branding, and a refresh), and the Genesis Coupe selling out its final stock (RIP) with just 144 down Canadian roads so far this year. There are two stories in these numbers, 1) that the MX-5 is doing very well, and 2) that its closest competitors aren't.
It would be tough to choose the best driver's car amongst this bunch, but the MX-5 should get the nod for its racing pedigree alone. It's one of the most track-tested cars of all time, a true weekend warrior that's turned 9–to–5 working zeros into autocross and road course heroes on many a Sunday. And before you take offence to my anti-ode to the working schlepp, take heart that I slot myself into that mind-atrophying category too (just add another 5–6 hours to each day and another 10–15 on weekends).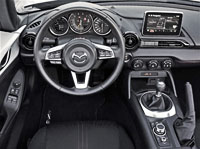 All the MX-5 news this year is targeting the RF, or "retractable fastback". Mazda offered a folding hardtop for the previous generation MX-5, but I must say this new one is a lot more enticing as it looks like a reincarnated Triumph GT6, albeit probably closer to the Elise I've been lamenting in this overview. Rather than a roadster is more of a classic targa-like roof, although instead of manually lifting it off and storing it in the trunk like targas of yore, the rear buttresses rise upwards and the top panel slots neatly behind the seatbacks above the trunk area (only stealing three litres of cargo volume from its 130-litre trunk).
Being more of a two-door coupe lover I'm all for the rear design, but maintaining the car's connection to the wide-open elements is a bonus for sure, even if it adds 56 kilos (or 53 kg with the auto) to the regular MX-5's overall mass.
While all this newfound style and retractable substance is exciting, my tester is carved from tried and tested fabric topped MX-5 tradition, including its standard six-speed manual transmission (as it should be).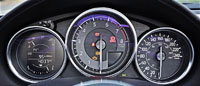 The GS starts at $35,800, a bit more affordable than the $39,200 GT (the RF adds $3,000 to these two upper trims), and includes a limited slip differential, a sport suspension with Bilstein shocks, a front strut tower brace, an induction sound enhancer (that's what you do when your engine sounds like a direct-injected diesel), a noise isolating windshield, 17-inch gunmetal-finish alloys (replacing the base model's 16s) circling 205/45 tires, piano black painted mirror caps, a leather-wrapped steering wheel rim, shift knob and parking brake handle, plus rain-sensing wipers, 7.0-inch colour Mazda Connect touchscreen infotainment with navigation, SMS- and email-reading/responding capability, HD radio, Aha and Stitcher internet radio, another USB port, Mazda's "HMI Commander Switch" rotating infotainment controller, an alarm, plus blindspot monitoring with rear cross-traffic alert.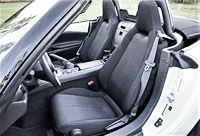 All that gets added to the base GX model's standard menu, which is already nicely equipped with auto on/off and auto-leveling full LED headlamps, LED taillights, a rear window defroster, power-adjustable side mirrors, remote keyless access, pushbutton ignition, powered windows, vanity mirrors, tilt steering (but strangely without telescoping capability), steering wheel controls, cruise control, a trip computer, air conditioning, six-speaker (including speakers in the headrests) AM/FM/CD/MP3/USB/AUX audio with speed-sensing volume, Bluetooth phone and audio streaming, manually adjustable cloth seats with contrast stitching, body-colour interior door trim, a mesh aero board wind-blocker, hill launch assist, tire pressure monitoring, all the usual active and passive safety gear, and more.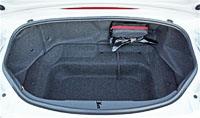 The only option was $200 worth of Crystal White Pearl paint, but Mazda could've upped my tester's content to include a GS Sport package featuring unique 17-inch BBS alloys, red-painted Brembo brakes, and heatable Recaro leather seats, but no such luck, while the top-line GT boasts heatable leather upholstery as well, plus its own unique 17-inch alloys, adaptive cornering headlights with auto high beams, auto-dimming rearview and driver's side mirrors (the latter two heated as well), auto climate control, nine-speaker Bose audio with satellite radio, a Homelink universal garage door opener, an insulated liner for the convertible top, lane departure warning, and more.
I'll go into more of the touchy-feely stuff when I write the review, so be prepared for some fun in the sun, wind through the hair action. Now I'd best get my featherlight Puma race shoes on, head to my driveway, jump into this little darling, adjust my mirrors, turn on some driving tunes, drop the top, and practice power sliding…